Understanding Your W-2
Understanding Your W-2
The following information is intended to answer the most frequently asked questions regarding the content and distribution of your W-2, which is needed to file income tax returns.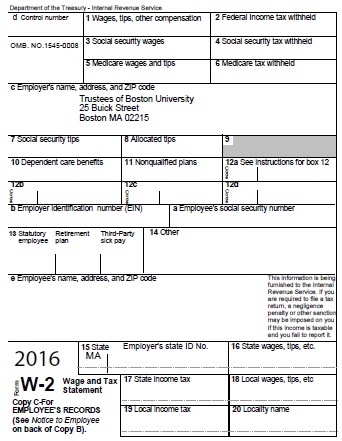 Explanation of Boxes
Box 1 - Wages, Tips, Other Compensation
Box 2 – Federal Income tax withheld
Box 3 - Social Security Wages
Box 4 - Social Security Tax Withheld
Box 5 - Medicare Wages and Tips
Box 6 - Medicare Tax Withheld
Box 10 - Dependent Care Benefits
Box 12 - Codes
Box 13 - Checkboxes
Box 15 - State
Box 16 - State wages, tips, etc.
Box 17 - State income tax
Box 18 - Local wages, tips, etc.
Box 19 - Local income tax
Box 20 - Locality Name
Common W-2 Questions
Why do the year-to-date gross wages on my last December paycheck not match the Box 1 wages on my W-2?
What is included in Total Compensation?
What is imputed income and how does it apply to me?
How are my 403(b) Retirement Plan contributions reported on the W-2?
What are "other pre-tax deductions?"
Why does the amount in Box 1 (federal taxable wages) of my W-2 form not match Box 3 (Social security taxable wages) and/or Box 5 (Medicare taxable wages)?
Where are my Dependent Care FSA contributions shown on my W-2?
How do I request a W-2 Form from prior years?
How can I print my W-2 Form from my own computer?