Features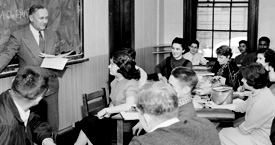 Once the best-kept secret in liberal arts education, the College of General Studies celebrates its 60th anniversary with a growing national reputation.
By Andrew Thurston
The seven Terriers competing at the 2012 Olympics weren't BU's only representatives in London this summer. Fourteen communication students reported from the city during a one-off study abroad program.
By Ashley Lisenby (COM'13)
The ambitious Campaign for Boston University will go a long way to defining BU's future. It'll also have a positive impact on today's students.
By Rich Barlow