BTS
Click the BTS logo to go to their official website.
Bts is kpop boy band from BigHit Entertainment.Bts means Bulletproof Boyscoucts in korean but they have recently changes their english name to Beyond the Scene.They have seven members (3 rappers and 4 vocalists) and debuted on June 12th, 2013. Their fandom name is Army. Since then they've accomplished many things. One of these things is that they have attended the Billboard awards in America and won the Top Social Artist Awards.
Rap Monster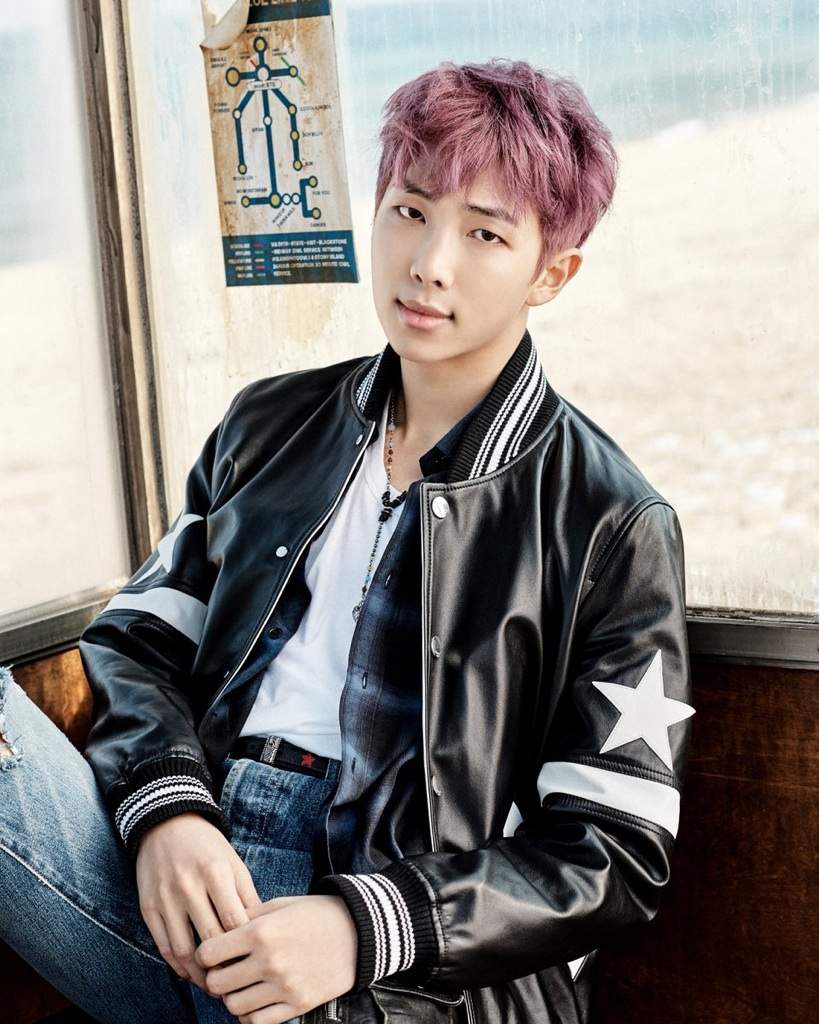 Real Name: Kim Namjoon
Position: Main Rapper, Leader
Birthday: September 12, 1994
Zodiac Sign: Virgo
Birthplace: Ilsan, Gyeonggi-d
Height: 181 cm (5'11")
Weight: 67 kg (147 lb)
Facts about Rap Monster
He studied in New Zealand and lived/stayed there for 6 months.
He speaks English fluently
He is nicknames the God of Destruction because he destroys everything he touches.
Rap Monster was the first to join BTS and the only one from the original line up.
He said the famous quote, "Jimin, you got no jams."
The dad of Bts
"My name is Rap Monster, not Dance Monster."
Jin
Real Name:Kim Seokjin
Position: Vocalist, Visual
Birthday: December 4, 1992
Zodiac sign: Sagittarius
Birthplace: Gyeonggi-do Gwacheon
Height: 179 cm (5'10.5")
Weight: 63 kg (139 lbs)
Facts about Jin
Jin has an older brother.
He is the oldest member.
He blinks his left eye when he is hungry.
Jin's favorite color is blue. (His favorite color used to be pink.)
He is a very good cook.
He has teh widest shoulders in the band (basically the size of the Pacific Ocean).
He says alot of Dad jokes
He's the mom of the group.
He loves Mario.
"Win, lose, I don't care because at the end of the day I still have this face so who's the real winner here?"
Suga
Real Name: Min Yoongi
Position: Lead Rapper
Birthday: March 9, 1993
Zodiac sign: Pisces
Birthplace: Buk-gu, Daegu
Height: 176 cm (5'9″)
Weight: 59 kg (130 lbs)
Facts about Suga
Suga has an older brother.
He's in charge of fixing the things that Rap Monster breaks. He changes the light bulbs, fixes the toilet, etc.
He loves playing basketball. When he was a trainee he played basketball every Sunday.
He loves sleeping.
He was named "Suga" by his CEO, because when he smile he is sweet, so Suga comes from sugar.
Suga's personality is quite straightforward.
He's bad at drawing.
His favorite color is white.
He wants to be a rock in his next life.
"Infires"
J-Hope
Real Name Jung hoseok
Position: Lead Rapper, Main Dancer
Birthday:February 18, 1994
Zodiac sign: Aquarius
Birthplace: Gwangju
Height: 177 cm (5'10")
Weight: 65 kg (143 lbs)
Facts about J-Hope
J-Hope has an older sister.
Was the rapper in 2AM's JoKwon's "Animal".
Chose the name "J-Hope" as his stage name because he wants to be a source of light and hope to his fans.
He loves kimchi.
He's the best dancer in BTS.
J-Hope used to be a tennis player in elementary school and played in competitions. He once received a bronze medal, out of 3 team competitors.
Before debut J-hope hated doing aegyo but now he changed his mind.
Initially he auditioned for JYP Entertainment, together with B.A.P's Youngjae and Halo's Dino.
When he was younger he was quite famous in the Gwangju dance underground.
"I hate snakeu"
Jimin
Full Name: Park Jimin
Position: Lead Vocalist, Main Dancer
Birthday: October 13, 1995
Zodiac sign: Libra
Birrthplace: Busan
Height: 173.6cm (5'8.3″)
Weight: 61 kg (134 lbs)
Facts about Jimin
Jimin has a younger brother.
He views himself as "fat" and his self conscious of his looks and cheeks.
He jokingly hits his fellow members as a way of showing his affection for them
If music is playing he will start to dance no matter where he is.
Once he wrote some lyrics and gave them to Suga. Suga said: "You called these lyrics?!" (the lyrics sounded like a children song). Suga asked him to redo the lyrics, but in the end he still couldn't use Jimin's lyrics.
He is most confident in his eyes.
Jimin usually solves his problems himself. If he can't solve it, he will share it with V and ask for his advice.
Jungkook is always teasing Jimin about his height.
He has to use eyeliner while practicing the choreography, else he can't seem to show strong expressions and he will get shy.
He has small hands.
"Excuse meee"
V
Real Name: Kim Taehyung
Position: Vocalist
Birthday: December 30, 1995
Zodiac sign: Capricorn
Birthplace: Daegu
Height: 178 cm (5'10″)
Weight: 62 kg (137 lbs)
Facts about V
V has a younger brother and sister.
He has been in the group for awhile, but fans didn't know of hear of him until the time around his debut.
They call him Blank Tae because of his blank expression.
Members say he is a horrible cook.
Fans said V looks like Baekhyun (EXO) and Daehyun (B.A.P.). He said Baekhyun is his mother and Daehyun is his father.
V comes from a poor family: "I came from a poor family and I never thought I would become famous." He grew up under a family of farmers and often takes pictures of the farm they own.
V is a mood maker in BTS, along with Suga.
He has a square smile.
He's like a koala.
He wears alot of Gucci.
V likes to act, he was in Hwrang.
"My grandma loves me chubby so I keep eating."
Jungkook
Real Name: Jeon Jungkook
Position: Main Vocalist, Lead Dancer, Sub Rapper, Center/ Face of the Group, Maknae
Birthday: September 1, 1997
Zodiac sign: Virgo
Birthplace: Busan
Height: 178 cm (5'10")
Weight: 66 kg (145 lbs)
Facts about Jungkook
He has an older brother.
He likes shoes and makeup.
He has a weird habit where he sniffles a lot because of his rhinitis. He also wriggles his fingers a lot.
Said to be a very skilled cook.
His role model is G-dragon from BIGBANG
He's a fanboy of IU
He's shy around girl idols.
His members call him muscle pig.
He doesn't lke it when older fans call him oppa.
He likes to go bowling.
He likes overwatch, he plays with V and Suga.
"My name is... Jungkook, scale is... international playboy."