2012 Conference: How Can the HPS Contribute to Contemporary U.S. Science Teaching
December, 2012
The conference on How Can the History and Philosophy of Science Contribute to Contemporary U.S. Science Teaching, co-hosted by Boston University's School of Education and the Center for Philosophy and History of Science, will bring historians, scientists, philosophers, and science educators together. The objective of the conference is to define a research agenda to evaluate the value and use of the history and philosophy of science in the classroom.
The talks on Friday, December 7th, were part of the Boston Colloquium for Philosophy of Science and were free and open to the public (no registration required). For more information on the public conference, please contact the Boston University Center for Philosophy and History of Science (cphs@bu.edu, phone: (617) 353-2604).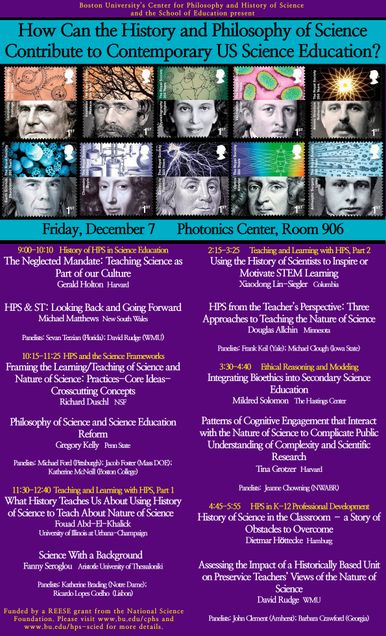 These conferences have been sponsored by the National Science Foundation's Division of Research on Learning in Formal and Informal Settings under REESE grant 1205273.