Mapping an Opera
How composer Nico Muhly (BUTI'96,'97) gets from a blank page to the Met
By Andrew Thurston | Photos by Cole Saladino
A taxidermied bat. A carved stone tablet inscribed with a single "M." A cherry-colored harmonium. A burrito. Composer Nico Muhly's office, a soundproofed studio in New York City, is like an eclectic museum gallery. But the clutter isn't random. Each object plays a role in fueling his creative process, allowing Muhly (BUTI'96,'97) to create the critically acclaimed operas, concertos, and albums that have earned him a reputation as, according to the Daily Beast, "one of the world's hottest young composers."
Two of his most recent operas, Two Boys (2010) and Marnie (2017), had their worldwide debuts at the English National Opera and their North American premieres at the Metropolitan Opera. In February 2019, Marnie, an operatic adaptation of Winston Graham's 1961 novel, was shown in primetime on PBS' 13th season of Great Performances at the Met.
Muhly, an artist-in-residence at BU Tanglewood Institute, is a "prodigious talent," according to the New Yorker; he's also a prolific one. As well as arranging for dozens of orchestras and ensembles, he's released solo albums; worked with artists like Björk, Usher, and Grizzly Bear; and collaborated with musicians Sufjan Stevens, Bryce Dessner, and James McAlister on a solar system–inspired album the Guardian described as a "heavenly suite of songs."
Being in demand means racking up a lot of air miles: Muhly splits his year between London and New York, but work may also take him to Hamburg, Singapore, Sydney, Los Angeles, and other cities around the globe. Muhly hasn't bent his artistic process to suit a life spent on the road; rather, he's molded the world to fit his preferred style of working. For extended trips, he packs his desktop computer, full-size keyboard—it must have a number pad—and portable MIDI keyboard. He prefers to stay in apartments where the tables are sturdy enough to hold all of his equipment.
"I need to have a physical space," says Muhly. "If I'm somewhere for longer than four or five days, I put up pictures of my friends, things that are totally a-musical that I can look at when my eyes tire of the page." He doesn't see these objects as distraction.
"The opposite. It's much more grounding," says Muhly. "It's just a way to create a sense of continuity because I travel so much."
He also roots himself by listening to music with a score every day, even if only for five minutes. "It doesn't matter where I am, what I'm doing; just to remind myself where I come from," he says of connecting with his profession. "Just a little bit of grounding and listening is really important and having a dialogue in your mind with other people's music."
Muhly is interested in the habits of other composers, not to emulate them but as a way to "look toward someone else's detail." In an October 2018 diary article for the London Review of Books, Muhly wrote that what he wants to hear from other composers is "shoptalk: What kinds of pencil are you using? How are you finding this particular piece of software? Do you watch the news while you work? I find these details telling."
When Muhly talks about his creative process with CFA magazine, the conversation is loaded with telling details: his favorite type of pen, his document storage preferences, how he maps a composition. His descriptions turn composing from an ethereal act to a tactile one.
Drawing a Map
When Muhly started composing, he'd pull notes, snippets of rhythms, from the air and throw them onto paper. Then he'd stitch all the bits together. For listeners, he says, the finished piece of music was like an unsatisfying dinner at a fancy small-plate restaurant: the morsels were delicious, but you left hungry and made a beeline for a pizza joint. "All my pieces were 55 great ideas in a row—there was no structure."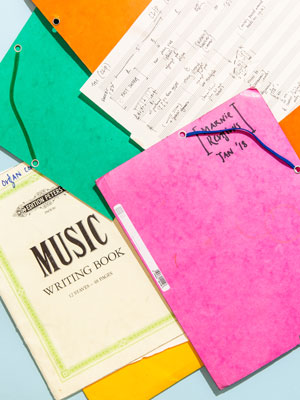 Today, when he's working on a commission, he doesn't notch any notes until he's mapped out the piece's structure.
"What are the high points? What are the low points? If it's an opera, what is the narrative of the piece?" he says. "It's just a diagram. It almost looks like an EKG of your heart."
Down the Rabbit Hole
A conversation with Muhly rarely stays in one place. It ambles from the "incredibly moving" blog dedicated to Old and Middle English that he adores and thinks you might too, to an "extraordinary" stone carving business in Rhode Island to his "obsession" with how to balance a whaling ban against the rights of first peoples.
So many topics pique his interest—art, history, current affairs. "I'm constantly doing things that aren't writing music, which makes the music better." In fact, before writing a single note, Muhly has a period of what he has called "improvisational research": diving around the internet, printing articles and pictures, soaking up ideas.
"You go down the rabbit hole and that's such a pleasure," he says. "There's an element of procrastination, which I will freely admit, but I find myself deeply productive when I'm thinking about another thing."
In his diary for the London Review of Books, Muhly described his research as a "magical vessel full of information and possibility." And, if it's hard to see how the study of whaling policies can shape a cello concerto, Muhly can't explain it either.
"This is the magic trick, right? I don't know how it comes out, but I do know that it does," he says. There's no direct connection between A and B, "but it's more like you just feel yourself expanding."
Placing Furniture
With the structure in place and rabbit holes explored, says Muhly, the music flows quickly. Knowing the physical boundaries of a piece helps him figure out which notes should go where. He says it's like deciding where to put furniture in a new apartment.
"Sometimes, it's once you've marinated in the empty space long enough and you know the physical restrictions—you know how big it is, you know how wide the doors are, the things that aren't going to change—and that's musically structure," he says, and then "things present themselves in this kind of magical way, and you think, 'Oh, this is where the Welsh dresser can go.'"
In the past, Muhly would write everything out by hand, then input it into the computer where it would stay. Today, it's a more fluid process. In his studio, his computer is hooked up to two screens—one horizontal, one vertical—two chunky speakers, and a MIDI keyboard. He'll input the bulk of a composition using the music notation software Sibelius, then print it out and scribble on it (he prefers uni-ball pens, for those interested in the shoptalk details), repeating the process through revisions and editing.
"I still find the case—and this is absolutely generational—that when my neck is bent, looking down, I feel much more productive than when I'm looking at a screen, which feels to me like a passive exercise."
Physical Compartmentalization
Although a conversation with Muhly is freewheeling, his working process is tightly organized. Every new project gets a physical folder—always with flaps—which will become home to Muhly's maps and research. As the composition progresses, he'll also use the folder to store manuscripts.
He came up with the system as a student in New York at Columbia University and the Juilliard School, squeezed into a tiny dorm room.
"New York spaces you have access to are very, very small," says Muhly. "You have to figure out how to compartmentalize your work, just physically." As a student, he could easily grab his work and run to class; as a professional composer, he finds the folders bring a similar benefit. "When I'm at Tanglewood, I'm teaching in the afternoons, but in the mornings, I have some time to write, so I get up and I can just grab the red folder and I'm going."
Wherever he travels in the world, the folders travel too.
Editing an Ecosystem
From the moment he prints a manuscript, Muhly is editing. Sometimes alone, sometimes with an editor, sometimes with a collaborator. With choreographer Benjamin Millepied, Muhly says, the collaboration starts with a discussion about structure over a meal, "then I go away and start sending him music. And I've learned from him that either he says, 'Yes, this is great, this is perfect,' or, 'I need more time here or less time here.' So that's more of a group editing process."
With Nicholas Wright, the librettist for Marnie, a lot of that work was done in person. The two were even editing together right up until opening night: Wright and Muhly chopped an entire scene at the last moment. When they brought Marnie from the United Kingdom to the United States, they continued tinkering, adding a short scene to close a gap in the story they felt their previous cut had exposed.
"We found it left a hole in Marnie's trajectory—something terribly important that wasn't dealt with in her story," Wright told Broadway World Opera in October 2018. "It was all about Marnie's recovery and journey from the act of violence at the hands of her husband—to make sure that was adequately dealt with."
Every project and every collaboration is different, says Muhly. "With collaboration, you just have to see each thing as its own ecosystem."
The End Product
When Marnie debuted in the US, the Met said the score was "simultaneously rooted in lyric tonality and highly innovative techniques. The work is, in a sense, a grand opera, with 18 soloists, a prominent role for the chorus, and large orchestral forces—including piano, celesta, piccolo trumpet, and offstage percussion." Muhly has said he doesn't read reviews—for Marnie they ran the gamut (though even the more conditional reviews had plenty of praise for Muhly). Instead, "He accepts criticism from fellow composers," reported the Daily Beast in October 2018. By the time the reviews publish, Muhly has moved on: he typically has about three or four projects brewing at once—though always at different stages and "completely different parts of the brain."