Scott Gage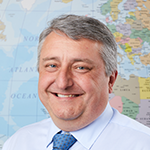 Title

Academic Program Manager

Email
Scott Gage joined CELOP in March of 2017 as the Academic Program Administrator. In this role, Scott manages CELOP professional programs and projects within the CELOP Academic Programs group. Additionally, Scott provides organizational support for the development of new CELOP programs and works closely with CELOP faculty to ensure the success of CELOP programming.
Prior to joining CELOP, Scott held several different roles at Merrimack College and most recently served as the Director of Diversity Education and Transitional Programs where he initiated, administered, and led all advising and award-winning pre-collegiate and support programs for underrepresented student groups on campus.
Scott has a BA in English from Hobart College and an MA in Literature from Ball State University. An avid traveler, Scott has spent extensive time throughout Europe.