Michelle Smith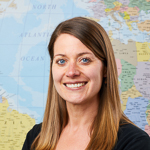 Michelle's early teaching career brought her to public schools in the US, language institutes abroad, and community-based immigrant programs in Massachusetts. For the past twenty years, she has taught in higher education at various universities around Boston. Her teaching philosophy is student-centered. She tries to learn her students' individual needs and goals in order to build lessons that are meaningful and relevant. She has been at CELOP since 2014.
Michelle earned a BA in German Language and Literature from Boston University. Later, she returned to BU to get her EdM in TESOL (Teaching English to Speakers of Other Languages).
Michelle is happiest when she is traveling, especially to places she has never been to before.
Memberships and Activities
TESOL International Association
MATSOL (Massachusetts Association of Teachers of Speakers of Other Languages)