Ketan Gajria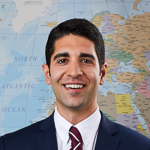 Title

Associate Director, Business Development

Email
As the Associate Director of Business Development at CELOP, Ketan Gajria leads efforts to grow the program's reach through productive partnerships and initiatives which maintain CELOP's position as a vibrant and diverse community of learners. Ketan manages collaboration with university partners, recruitment partner agencies, and organizations that work with CELOP to realize its mission of helping students and professionals succeed in their academic and work lives.
Ketan has a history of involvement in international education professionally and academically. He comes to CELOP from one of the largest private international education companies for secondary students in the country where he held leadership responsibilities in international student recruitment, international event marketing, international student orientation development, and domestic institutional partnership development.
Ketan's passion for international education began as part of his undergraduate studies at Tufts University where, in addition to majoring in Psychology, he completed a minor in Arabic and lived abroad in Amman, Jordan for a semester where he conducted educational research overseen by the Jordanian Ministry of Education. After earning his degree, Ketan moved to live in Damascus, Syria for two years to continue his Arabic studies and received a fellowship from the University of Texas at Austin to study at the Center for Arabic Study Abroad, the leading Arabic-language program for American students.
Ketan is as also an award winning photographer and avid traveler whose work spans more than 35 countries around the globe.