In January of last year, Alison Fong (CAS'01) bought a used DHL delivery truck from a man known as Big Jim. She then drove the truck to a Connecticut company that specializes in installing restaurant-grade kitchen equipment in spaces originally designed for overnight packages.
Buying and outfitting their truck was the first tangible step for Fong and husband, Patrick Lynch, in turning their business plan into business reality. Today, their Bon Me food truck—still painted a cheery DHL yellow—parks in Boston's Dewey Square at lunchtime and on Commonwealth Avenue (near BU's Morse Auditorium or near the College of Fine Arts) in the afternoons and evenings, serving up banh mi sandwiches and other Vietnamese-inspired fare to hungry passersby.
Fong had her sights set on law school when she graduated from Arts & Science's sociology program a decade ago, but an uninspiring stint as a paralegal and an interest in cooking led her to enroll in New York's Culinary Institute of America instead. She then worked in several New York and Boston restaurants (some with kitchens no bigger than her 8-by-14-foot truck) before taking a job at the Brimmer and May School, a private K–12 school in Newton, Massachusetts, where she is now director of food services and is determinedly adding asparagus, quinoa, and wheat berry to the cafeteria's customary carrots, peas, and pasta.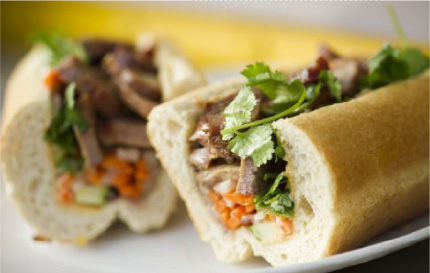 Photos by Kalman Zabarsky
In late 2010, Fong and Lynch stumbled across an advertisement for the City of Boston's Food Truck Challenge, a contest designed to bring healthy food options to Boston's nascent food truck scene. Longtime lovers of mobile dining, they entered the challenge and were thrilled (and a little daunted) when their Bon Me concept was named one of three winners. With guidance and technical assistance from the city, they opened their truck for business in April 2011, with Fong acting as head chef—preparing food every evening in a rented Boston-area kitchen—and Lynch, a former Wall Street derivatives trader, handling day-to-day business affairs.
"We've had really amazing reception to our food and our brand during our first year of business," Fong says. In fact, Bon Me's 2011 revenues exceeded initial projections by more than 50 percent. And despite the pressure of working two full-time jobs (adventuresome lunch lady by day, enterprising food truck chef on nights and weekends), Fong loves owning her own business and cooking for Boston's sophisticated food crowd, which appreciates her pâtés, homemade spicy mayonnaise, and sides of kabocha squash with crushed caramelized onions and sea salt.
Fong has also mastered the most difficult part of running a food truck: remembering to put everything on the truck. "If we forget to bring our eco-friendly rice bowl containers, then we can't serve our rice bowls—even if we have all the dozen things that go into the rice bowl—because we literally don't have anything to put them in," she says. To avoid such mishaps, she's developed very specific routines—and checklists, lots of checklists.
Such diligence has led to consistently good food service and a loyal clientele. On a recent Wednesday afternoon, Kelsey Shaw (CAS'12) stopped at the Bon Me truck for a bowl of noodle soup to warm her up between classes. "I'm obsessed with this truck," she confesses. "It's convenient, and I also think it's pretty healthy. I love the flavors, and the people on the truck are really friendly." Her favorite Bon Me dish is the noodle salad with chicken and soba noodles, she says, "but I think I've had everything on the menu—and I like it all."