A Light Mood
The luminous "skyscapes" of Roy Perkinson
by Jean Hennlley Keith
Detail from Train Tracks, Winter, oil on panel, 2011.
Layers of plum, coral, and dusky blues capture twilight settling over downtown rooftops. Tangerine streaks spread upward into a sweep of ultramarine, vividly heralding daybreak along a lonely stretch of highway. Big moody skies fill Roy Perkinson's city scenes and expansive vistas—what his wife calls his "skyscapes."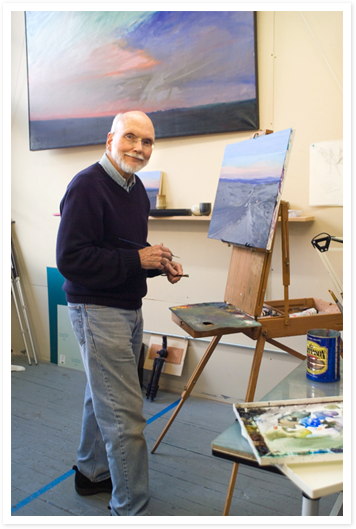 Roy Perkinson in his Fountain Street studio. See his portfolio, including his newest works, and show information at www.perkinsonpaintings.com.
Photo courtesy of Lynne Damianos Photography
Growing up in a tiny town on the edge of Texas hill country, Perkinson (GRS'70) says he has a dual affinity for "uninhabited open spaces" as well as urban settings. Rendered variously in oil, pastel, and watercolor, his images, from the craggy coastline of Maine's Monhegan Island to the broad wheat fields of Charente, France, all share a quiet solitude that invite the viewer to contemplate.
Perkinson's paintings appear infused with light—washed iridescently over Tuscan foothills or concentrated in a bright flash of reflected neon outside his studio building. "A sense of light, and I don't mean just illumination, is really important," he says. "I've come to realize over the years that it's almost Zen. For me the key is the opposition of cool and warm colors . . . that can bring a scene to life and give it that ineffable sense of light."
The son of an artist father—"the smell of oil paint was a regular feature in our house," he says—Perkinson has drawn and painted throughout his life. With an education in physics from MIT and a life-changing hiatus at art school in Texas, he earned a master's degree in art history from BU, where, Perkinson says, Professor Samuel Edgerton "fired me up." In 1967, while still in grad school, Perkinson began working as an apprentice in the paper conservation laboratory at Boston's Museum of Fine Arts, where he eventually spent most of his career, becoming director of the lab and restoration program. The artist/physicist/art historian says he daily "reached into that bag" of knowledge of aesthetics, pigment stability, and historic context to select appropriate treatments for damaged artwork. After 36 years at the MFA, he retired in 2006 but remains closely connected to the museum: his work is part of its collection and he occasionally narrates for its exhibitions.
Perkinson now paints at the Fountain Street Studios, an artist community in Framingham, Massachusetts, where he delights in having "just one job." He says, "What I've longed for, and now have, is the opportunity to truly see the benefits of full-time engagement with the materials. I think about it even when I'm not here: wrestling with problems, looking for solutions, trying to work out ideas and designs. There's so much to do." ■