| | |
| --- | --- |
| 16 July 1999 | Vol. III, No. 2 |

Feature Article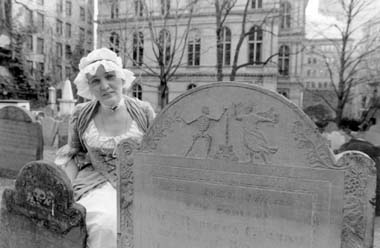 Mistress Elizabeth de la Rue brings Boston history to life. Photo by Kalman Zabarsky
---
Romancing the stones
Her graveyard shift illuminates headstones and sometimes the occupants
By Hope Green
Most days, Donna La Rue (UNI'00) lives in the 20th century, and is happy to be just herself -- a University Professors doctoral candidate, professional accordionist, vocalist, dancer, and choreographer.
But on summer Saturday afternoons she becomes Mistress Elizabeth de la Rue --widow of an 18th-century sea captain -- guiding visitors through Boston's oldest burial grounds in a program sponsored by the city's Parks and Recreation Department. To each crowd of history buffs La Rue imparts expertly researched lore describing the curiously engraved headstones and the people laid to rest beneath them.
"The tour interpretation work is in some sense theater, although it's not quite scripted," she says. "Mistress de la Rue doesn't know anything that happens after 1773. She has to be in her place and time and expects that people will accompany her there."
La Rue, who directs the Liturgy, Worship, and Arts Program at the Boston Theological Institute, prefers not to be "stereotyped as someone who has a morbid fascination with graveyards." What drives her instead is a passion for history, and as a scholar of liturgical arts, she is intrigued by the symbolism in the headstone carvings.
Besides the tours, she has begun working on a series of booklets describing Boston's historical church sites and burial grounds. Eventually, she hopes to develop tours with occupational themes, such as the gravestones of doctors and midwives, lawyers, teachers, and prominent military and scientific figures. She has also conducted bus tours and slide lectures for school and historical groups.
La Rue was first drawn to gravestone explorations in the mid-1980s while assisting with a study of the Christ Church burial grounds in Cambridge. Later, she continued her work on this side of the Charles River. "I realized there were a lot of questions about Boston church history that needed to be resolved," she says.
Mistress de la Rue debuted at the Copp's Hill burial ground a decade ago, in a tour for the Bostonian Society. Soon after, La Rue presented a slide lecture to the Lothrop/Lathrop Genealogical Society -- an old Boston family with ancestors buried in the area. In 1992 the Parks Department hired her as Mistress de la Rue, a role she has performed annually ever since.
Wearing costumes that she sews herself, La Rue shares historical anecdotes regarding the stones to give her audiences a glimpse of colonial American life. There's Mary Vergoose, for example. Mother of 10, she wed Isaac Vergoose, who already had 10 children by a previous marriage. While large families were common, the Mistress tells visitors, nearly half of all children died before the age of 12 and about 40 percent of women died in childbirth.
Mistress de la Rue strives to clear up common misconceptions about citizens buried in Boston, such as the notion that Vergoose -- whose domestic life resembled that of Old Mother Hubbard -- was the author of the Mother Goose nursery rhymes. In reality, those children's verses were penned by Charles Perreault in France in 1692, and not translated into English until 1745, long after Vergoose had died.
Also contrary to myth, Elizabeth Pain, buried at King's Chapel, was not Nathaniel Hawthorne's prototype for adulteress Hester Prynne in The Scarlet Letter. The model more likely was a young woman from Salem, Mass., whose parents sent her away to live with relatives in Virginia.
But exposing false legends at the burial grounds is not La Rue's real mission. Mainly, she aims to encourage "a greater appreciation for the stones themselves." For instance, she likes to point out the skull figures on many 17th- and 18th-century grave markers. The skulls tend to accompany inscribed reminders about the fleeting nature of one's existence. "I interpret the death's-head as consistent with the words on the stones, as a reminder that one needs to be happy with what one is doing in life," she says.
La Rue's interest in the carvings follows naturally from a self-styled academic career in the liturgical arts. She has earned all of her degrees through independent studies, with such program titles as Arts for Praise and Prayer (bachelor's program at Ohio State University), Arts for Worship and Growth (master's at Leslie College) and Arts for Then and Now in BU's University Professors program.
For her dissertation, La Rue is examining a 14th-century manuscript from Sens, a town 70 miles south of Paris, referring to an unusual religious ceremony that appears to have included a dance segment within a chanted procession. "I'm trying to establish a standard of investigation for liturgical dance history at the level of detail I think it deserves," she explains.
"Most of what I do is related to music, dance, theater, or art history. I believe the arts can be as sustaining, as nurturing, and as expressive as one's faith."
---
For more information about Saturday tours for children and adults, call (781) 306-0724.