Departments
Obituary



| | |
| --- | --- |
| 16 July 1999 | Vol. III, No. 2 |

Obituary

Colonel John W. Pershing (CAS'64), a longtime friend of BU's Army ROTC program and a member of the Veteran Corps of Artillery, State of New York, and the Society of Cincinnati, died June 23 after a battle with vascular disease.
Following service as an enlisted man in the U.S. Marine Corps, Pershing was a distinguished ROTC military graduate from Boston University and was commissioned in the U.S. Army, retiring after 35 years of service, in 1998. He was a private investigator in civilian life.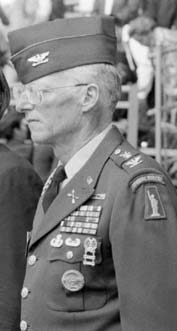 Colonel John W. Pershing Photo by Albert L'Etoile
---
A graduate of the Army War College, he had served in the 10th Special Forces Group in Germany -- becoming its executive officer and then company commander -- and on the staff of the secretary of defense and had held key command and staff positions in the Army Reserve. As a special assistant to Army Chief of Staff Gordon R. Sullivan, he helped define a new role for the Army Reserve as the active military was downsized.

His honors include a Meritorious Service Medal with Two Oak Leaf Clusters, an Army Commendation Medal, an Army Achievement Medal, a Joint Service Achievement Medal, and a National Defense Service Medal with One Bronze Service Star.

Pershing was the grandson of General of the Armies John J. Pershing, commander of the American Expeditionary Forces in World War I. His brother, Richard W. Pershing, was killed in action during the Vietnam War.

A service was held on June 28 in New York City. He was interred at Arlington National Cemetery. He leaves his wife, Sandra Sinclair Pershing, two stepdaughters, Alyson Lloyd Taylor and Robin M. Lloyd, and a grandson, Hollis C. Taylor.

Pershing House, BU's Army ROTC offices at 128 Bay State Road, is named for him. "I can't help but come back with warm fuzzies, particularly with my name on the door," he said during the 1996 Homecoming Weekend dedication, shortly after he and his wife endowed a scholarship. The following year he received an Alumni Award for distinguished service to alma mater.

Contributions may be made in his memory to the Pershing ROTC Scholarship Fund at Boston University, 128 Bay State Road, Boston, MA 02215.