Ibram X. Kendi Awarded BU's Andrew W. Mellon Professorship in the Humanities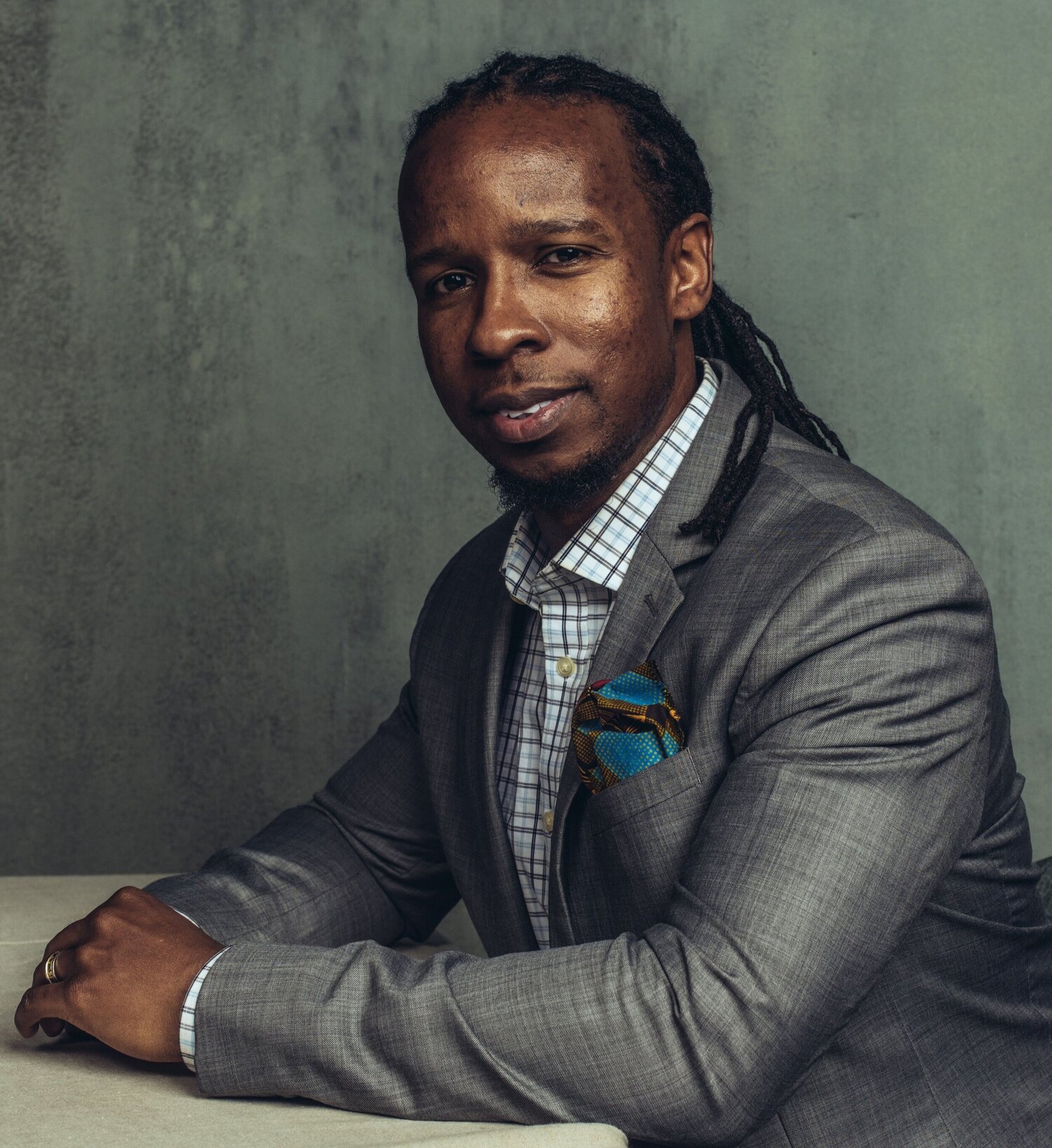 Accolades
Ibram X. Kendi Awarded BU's Andrew W. Mellon Professorship in the Humanities
Director of new Center for Antiracist Research honored as historian and author helping reframe conversation on racism in America
In recognition of his achievements as an historian and author as well as his role as a public intellectual helping to reframe the conversation on racism in America, Ibram X. Kendi, who launched the new BU Center for Antiracist Research, has been awarded the University's Andrew W. Mellon Professorship in the Humanities.
The endowed Mellon Professorship is one of BU's highest honors, held by only one other person in the University's history: Elie Wiesel (Hon.'74), the late Holocaust survivor and 1986 Nobel Peace Prize laureate who fought for decades for human rights around the world and who died in 2016. Wiesel's book Night was based on his experiences as a Jewish prisoner in the Auschwitz and Buchenwald concentration camps. A beloved teacher, Wiesel was the Andrew W. Mellon Professor from 1976, when he joined BU, until his retirement in 2013.

"For me to follow in the giant footsteps of Elie Wiesel is humbling and a deep honor," Kendi says. "He was one of the most important intellectuals, writers, thinkers, and humanists of his time. Elie Wiesel was someone who was not only advocating for the human rights of Jewish people, but also the rights of all oppressed human beings."

"BU is extremely proud to have Dr. Kendi serve as our next holder of the Mellon Professorship," Jean Morrison, BU provost, said in announcing Kendi's appointment as Mellon Professor, as well as a College of Arts and Sciences tenured professor of history. "It is a very special honor, given the professorship's history and record of advancing the human condition.

"Dr. Kendi's achievements in research and scholarship, his record as a teacher, his substantial contributions to discourse on race and society, and his forthcoming engagement in all aspects of University life make him a most suitable holder of this distinction," Morrison continued.

---

Elie Wiesel was someone who was not only advocating for the human rights of Jewish people, but also the rights of all oppressed human beings.

---
The 37-year-old Kendi comes to BU from American University, where he was a professor of history and of international relations. He won the National Book Award for nonfiction in 2016 for Stamped from the Beginning: The Definitive History of Racist Ideas in America. Three of his books, How to Be an Antiracist, the original Stamped from the Beginning, as well as a new version for young adults, Stamped: Racism, Antiracism, and You (coauthored with Jason Reynolds), are currently New York Times best sellers. His new board book, Antiracist Baby, is at number one on the Indie best-seller list.

Widely sought after by radio and television talk show hosts and newscasters as well as for numerous speaking engagements with other writers and public intellectuals, Kendi has been a major voice amid the national uprisings over the recent police killings of George Floyd, Breonna Taylor, and Rayshard Brooks and the growing demands that policymakers address structural racism.

Kendi was awarded the Mellon Professorship upon the unanimous recommendation of an ad hoc committee of University leaders appointed by Morrison last spring and headed by Stan Sclaroff, dean of Arts & Sciences and a professor of computer science.
Kendi "is recognized as among the leading scholars of his generation on African American history and the history of racism, racial ideologies, and racist policies in the United States," says Sclaroff. In addition to his numerous prizes and awards for his books, "through his work as a public intellectual, Professor Kendi is inspiring multiple generations to deeply reengage with the study of history and understand the critical importance of historical humanities perspectives in the pursuit of meaningful and lasting societal change."

Kendi "is an exemplary teacher," Sclaroff says, "someone who challenges his students to rethink current orthodoxies and requires them to uncover and interrogate the links between current issues and the long-standing historical context of racist or antiracist ideas in the US and around the world."

The Mellon Professorship was established at BU in 1973 by the Mellon Foundation as a way to help strengthen the influence of the humanities in higher education. Kendi says he is "a huge admirer" of the work of the Mellon Foundation and is "also deeply honored to represent the Mellon name and the Mellon commitment to humanities and human rights."
As BU's inaugural Mellon Professor, Wiesel drew thousands of people each year to his public lectures. BU was wise not to rush to fill the position, says Michael Zank, director of BU's Elie Wiesel Center for Jewish Studies and a CAS professor of religion, of Jewish studies, and of medieval studies. In Kendi, he says, the University has found "someone who has an extraordinary voice and a way of saying things that draws people in.
"He is someone who speaks to this moment in our society and brings a vision of antiracism and systemic change," Zank says. "How to accomplish such a thing? It starts with finding the right words to build a broad coalition. From what I have seen so far, that is exactly what Professor Kendi is bringing to BU."

While he doesn't think Wiesel and Kendi should be compared as individuals, Zank says there is something they do share. "They both represent awareness of the struggle for humanity—and humanity is an unfinished project."