A Door Opens for Public Health Studies
SPH partnership gives researchers unprecedented data access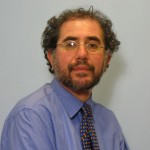 Researchers at the Boston University School of Public Health (SPH) have unprecedented access to medical claims and clinical data, under a partnership forged with Optum Labs, a Cambridge, Massachusetts–based research center.
Optum Labs reached agreements to collaborate with seven health care organizations including SPH—the only school of public health on a list that includes Pfizer, Tufts Medical Center, and the American Medical Group Association.
Partners have access to millions of medical claims and clinical records of insured patients, for research that could range from medication studies to health policy and outcomes analyses.
The de-identified records include information about tests, treatments and costs of care, as well as patients' race, income level and geographical location.
"As a school of public health, we hope to bring to this partnership a whole new set of questions that large data sets are able to address—not just about the effectiveness of medication, as many studies may look at, but everything from understanding environmental health exposures, to basic epidemiology, to health policy questions," says Dr. Dan Berlowitz, a professor of health policy and management at SPH who is leading the collaboration.
"These data represent a broad swath of the population—not just the elderly, as Medicare does, or veterans who are seen in the VA, but children and people of diverse ages and backgrounds," he says. "This broadens the opportunities for our faculty and students throughout the institution to explore issues using detailed data representing millions of people."
Traditionally, access to claims data has been relatively limited, with many studies relying on smaller databases, or on records of patients covered by Medicare and Medicaid, federally funded insurance programs. The partnership with Optum Labs will allow researchers to access a much larger pool of de-identified clinical and claims data, in collaboration with researchers and experts from other health care institutions.
"Data is sort of the life blood of what we do in research," says Dr. Mark Prashker, SPH associate dean of institutional development and strategic planning and an associate professor of health policy and management. "This gives us big data in health care—it allows us to ask questions we couldn't ordinarily ask…I think it has the potential to revolutionize how we think about solving health care–delivery questions."
Researchers who want access to the data are asked to submit proposals to a SPH review committee, which will work with Optum Labs and other research partners to ensure collaboration.
Among the possible areas of research are cost-effectiveness studies related to health care delivery, and comparing the success of various clinical interventions, Berlowitz and Prashker say.
Dr. Paul Bleicher, chief executive officer of Optum Labs, said the partnerships will help Optum Labs "accelerate the pace of our innovation, paving the way for exciting new research initiatives that can be directly translated to improvements in patient care."
Optum Labs—founded by health care company Optum and the Mayo Clinic in 2013—already has more than 20 major research initiatives underway, ranging from studies that compare the effectiveness of various medical devices, to research into how treatment patterns vary across geographic areas. Optum Labs encourages dissemination of research findings through publication in scientific journals and presentations at professional meetings. Several projects are slated for publication in mid-2014.
Optum is an arm of UnitedHealth Group, one of the country's largest health care companies.
Dr. John Noseworthy, president and CEO of Mayo Clinic, said the research collaborative is "excited to welcome the fresh insights and perspectives that new partners will bring." In addition to having access to large sources of clinical and claims information, he said, "all partners will now benefit from the unique viewpoints that others bring, as we work to transform health care in the US." and improve access and treatment.
Other new partners include: Lehigh Valley Health Network, of Allentown, Pennsylvania; Rensselaer Polytechnic Institute, of Troy, New York; and the University of Minnesota School of Nursing.