Where's Sean?
Sean Cox (COM'08) posts about his travels around the world at WanderingAround.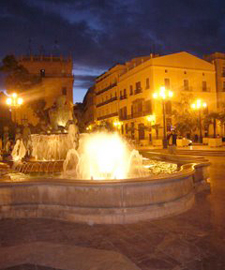 Sean Cox (COM'08) started his blog Wandering Around last September, mainly to keep family and friends updated on his studies in Ecuador and his travels around South America and Europe. Cox, who is at the moment writing from Spain (tough job), makes excellent use of YouTube to post videos of his travels, and he has a great eye for still photography. A recent posting describes the landscape of Valencia, Spain.
"The trip from Barcelona to Valencia runs right along the coast, never leaving the sight of the Mediterranean for more than a few minutes. Valencia was about 10 degrees warmer than Barcelona so it immediately felt better. The Turia River, which used to run right through town, was diverted and now the entire riverbed is a beautiful park — a pretty good use of land. The beach is not right in the city like Barcelona; it takes about 45 minutes to walk from the center, but there are quick trams and buses."
 
To read more, visit his blog at www.seanecuador.blogspot.com, or check out his new — just one week old — political blog at www.seanspain.blogspot.com.
The Web pages listed above are not formally affiliated with Boston University or with BU Today. Boston University is not responsible for their content.