Ana Pantelic Awarded Public Relations Scholarship
COM's Powers scholarship goes to Ana Pantelic (COM'07).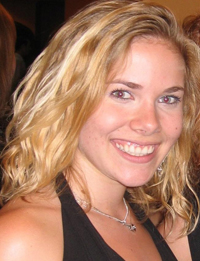 Ana Pantelic (COM'07) has been awarded the 2007 Gerald Powers Public Relations Scholarship. The $2,300 scholarship is given to one or more graduating College of Communication seniors who have demonstrated a commitment to the highest standards in the field of public relations.
"I was very thrilled and proud when I found out," says Pantelic, who accepted the award at a dinner at the Harvard Club on May 17. "It's a great honor to be selected."
Pantelic grew up in both the United States and Serbia and attended high school in Tallahassee, Fla. She will spend the summer in Serbia and return to BU in the fall to pursue a master's degree in international relations.
The Gerald Powers Public Relations Scholarship was established in 1999 as a tribute to Professor Emeritus Gerald Powers, a COM faculty member since 1964, who taught generations of students.

Abby Jordan can be reached at ajordan@bu.edu.