A Poet's Other Words
"The Letters of A. E. Housman" read at the Castle on April 4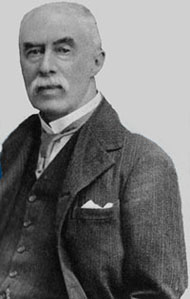 The most comprehensive collection of the letters of poet and scholar A. E. Housman to date begins with a New Year's greeting written by the 13-year-old and his six younger siblings and ends with a postcard to his sister, sent five days before his death, which reads, "Back to the Evelyn Nursing Home today. Ugh."
Those letters, and more than 2,000 others revealing Housman as a renowned classical scholar, a gifted poet, a generous friend, and a loving family member, appear in The Letters of A. E. Housman, edited by Archie Burnett, a College of Arts and Sciences professor of English and codirector of the Editorial Institute at Boston University, and published by the Oxford University Press in March. The collection, Burnett says, "gives as full a revelation of him as you're going to get" and includes material ranging from notes to his publisher to a single letter to the man he loved, deeply and chastely, for most of his life (1859–1936).
To celebrate the book's publication, the Editorial Institute will present a reading titled A. E. Housman: A Life in Letters, today, April 4, at the Castle. Burnett will introduce the letters, and Christopher Ricks, BU's William M. and Sara B. Warren Professor of the Humanities and codirector of the Editorial Institute, will read them — because "it's rather important that someone reads them with an English accent," Burnett says. "And I'm from Scotland."
Burnett, who previously edited a 1997 edition of Housman's poems, says that this project serves as a comprehensive biography, providing new insight into Housman's development as a poet, his interests as a professor of Latin and Greek, and his abiding love for Moses Jackson, his former roommate at St. John's College at Oxford. While Housman and Jackson never had any kind of sexual relationship — nor, Burnett says, did Housman appear to ever have had a sexual relationship with another man — the single letter in the collection, from Housman to Jackson, sheds new light on Housman's utter devotion to his friend.
"It is the last letter he wrote to him," Burnett says. It was 1922, Housman had just published his second volume of poetry, and Jackson was dying of stomach cancer in Vancouver. Housman made a great effort to get a copy of the book to Jackson before he died, and the poet tells his friend in the letter that despite his extraordinary scholarly and creative accomplishments, "I would much rather have followed you 'round the world and blacked your boots."
"It's an astonishing thing to say," Burnett says. "He was smitten by this man and formed an unshakable attachment to him."
The relationship with Jackson, however, is just one facet of Housman's complex life and unlikely path to success. Born in Worcestershire, Housman embarked on a brilliant course of study at Oxford before failing his examinations in his last year and beginning a career as a clerk in the patent office in London. For 10 years, he worked at the office during the day and went to the British Library at night; over the decade he published several scholarly works in classics journals. In 1892, on the strength of his articles and recommendations from noted scholars around Europe, he was named professor of Latin at University College in London, and in 1911 he was given the Kennedy Professorship of Latin at Trinity College, Cambridge, where his expertise in emendation made him one of the most respected and feared textual scholars of his day.
At the same time, he had been quietly writing poetry throughout his years in London, and he astonished his colleagues at University College by self-publishing his first collection, A Shropshire Lad, in 1896. The collection, which includes the well-known Poem XIX, "To an Athlete Dying Young," grew immensely popular during World War I. But poetry remained a secondary pursuit for Housman, who also published numerous classical texts during his tenure in London and Cambridge, including a five-volume edition of Manilius' Astronomicon and works of Juvenal and Lucan. Last Poems, the volume published in 1922, just before Jackson's death, was Housman's last.
The new volume of collected letters addresses these milestones in Housman's life but brings the poet alive in myriad smaller details — the hundreds of pounds he loaned to his publisher and never recouped, the short, funny verses he wrote to his stepmother, the detailed responses he sent to virtually anyone who posed a scholarly query. "I didn't realize he was quite so sociable," Burnett says. "And he's very kind."
Burnett worked for eight years amassing the collection, which includes documents archived at Oxford, Cambridge, and the New York Public Library and others found on eBay and through Sotheby's. He hopes it will be a biographical resource for both poetry enthusiasts and classics scholars and will show Housman as a man of great talent, diverse interests, and fascinating relationships with family and friends.
"He emerges as a more complex person because of the different relationships he had," says Burnett. "You get closer to somebody through letters than through any other source."
A. E. Housman: A Life in Letters will be presented on Wednesday, April 4, at 5:30 p.m. at the Castle, 225 Bay State Rd., sponsored by the University Professors Program, the Editorial Institute, and the Luce Program in Scripture and Literary Arts. A reception follows the talk, and admission is free.
Jessica Ullian can be reached at jullian@bu.edu.