Watch This!
What's hot (and not) on TV at Towers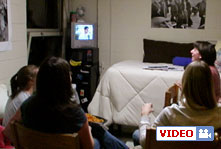 Click the photo above for a video of what shows students love to watch.
You can't call BU students couch potatoes. During a recent visit by BU Today to the Towers, most residents reported that between classes, labs, jobs, and extracurricular activities, they have just a few hours a week to spare for television. That's tough news for network executives desperate to hook the young adult demographic, but it also begs the question: when students do carve out some time for the tube, exactly what do they tune in for?
The clear winner among the denizens of the Towers is Grey's Anatomy, ABC's hit medical drama, which for many students is a popcorn-munching social event every Thursday. Among women viewers, other favorites include Bravo's fashion reality series Project Runway, Gilmore Girls on the CW, and the new NBC drama Studio 60, created by Aaron Sorkin of West Wing fame. The guys tended towards the fast-paced drama 24, starring a terrorism-fighting Kiefer Sutherland, or "anything on ESPN," as one sports fan put it.
Students' taste in TV runs the gamut, but the shows they remember watching in high school have fallen by the wayside in the faster pace of college life. "It's not really that I've lost interest in television," says Paula Griffin (CAS'10). "I've just lost time. Too much schoolwork, but maybe that's a good thing."