UNI and CAS professor Geoffrey Hill to retire
Legendary poet and literary scholar leaves "indelible" legacy"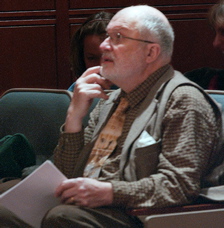 "Let us make one thing clear: Geoffrey Hill is the greatest living poet in the English language," writes Nicholas Lezard, a critic for the British newspaper The Guardian.
Such superlatives about Hill, who will retire on August 31 after teaching at BU for 18 years, aren't limited to one reviewer. Literary scholar Harold Bloom calls Hill "the strongest British poet now alive." A. N. Wilson, a critic for The Spectator, writes, "There is no one alive writing in our language about deeper or more important matters."
Upon his retirement, Hill will become a University Professor emeritus and a College of Arts and Sciences professor emeritus of literature and religion. With a dozen volumes of poetry to his name, he has also published three books of criticism: The Lords of Limit: Essays on Literature and Ideas (1984), The Enemy's Country: Words, Contexture, and Other Circumstances of Language (1991), and Style and Faith  (2003).
    
But it his poetry that has earned him numerous awards, including the 1983 Loines Award from the American Academy and Institute of Arts and Letters; the T. S. Eliot Award for Creative Writing and the Heinemann Book Award for Triumph of Love (1998); and BU's Kahn Award for Canaan (1997). He was elected to the American Academy of Arts and Sciences in 1996.
Hill's retirement comes on the heels of his latest poetry collection, Without Title, which is also wowing the critics. "This poetry makes few concessions," writes Michael Schmidt of The Independent. "It uses every stop and pedal on the organ, and it is musically assured and resonant. When he wants to, he can make the building shake."
According to Bruce Redford, a UNI professor and the program's director, Hill will be remembered at BU as much for his teaching as for his skill at creating powerful verse. "Geoffrey Hill's poetry has been aptly described as 'at once austere and passionate,'" Redford says. "The same could be said for his contributions as teacher and colleague. Professor Hill taught with the dedication and eloquence of an Old Testament prophet, inspiring his students through his fervent commitment to such writers as [George] Herbert and [Gerard Manley] Hopkins and such topics as [his course] Voice and Otherness. Like T. S. Eliot, with whom he has aptly been compared, Hill combines a visionary sensibility with an unswerving commitment to the craft of language. He demonstrates this commitment in his own poetry and prose, in his scrupulous attention to the writing of his students, and in his multifaceted involvement with BU's Editorial Institute."
Hill cofounded the Editorial Institute in 1999 with literary critic Christopher Ricks, BU's William M. and Sara B. Warren Professor of the Humanities and the course coordinator of the CAS Core Curriculum. He served as codirector until 2004.
His recent volumes of poetry, aside from Triumph of Love and Canaan, include Speech! Speech! and The Orchards of Syon [2002).
Writing poetry "is a hobby that's got out of hand," said Hill in a 1998 interview with the B.U. Bridge newspaper. "In my University work, I am a straight-down-the-middle literary scholar. My job is teaching 16th- and 17th-century literature, in relation to religion and politics." According to former student Jennifer Page (UNI'06), Hill "is just as much a teacher who is a poet as he is a poet who is a teacher; his aim is identical in both capacities."
At an event last April titled A Life in Poetry: An Evening with Geoffrey Hill, he read from texts he has enjoyed teaching during his BU career. To listen to the program, click here.
A native of Bromsgrove, Worcestershire, Hill is an honorary fellow of Keble College, Oxford; an honorary fellow of Emmanuel College, Cambridge; and a fellow of the Royal Society of Literature.
 "To the faculty of the University Professors Program he brought a powerful mind, an eloquent voice, and a searching conscience," Redford said. "His legacy is indelible."