Toasting Another Year
BU is throwing its annual Holiday Party for faculty and staff on December 19 from 3 to 5 p.m."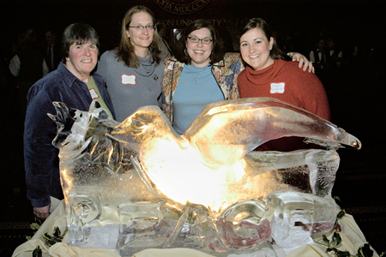 Tuesday afternoon, Metcalf Hall in the GSU will be transformed into a festive area packed with faculty and staff for the BU Holiday party. The annual event provides an opportunity to connect with old friends, put a face to e-mail correspondents, and enjoy some holiday cheer.
Entries in the sled-decorating contest will be on display, and attendees are encouraged to vote for their favorite. Each member of the winning teams will receive a $25 gift certificate to Barnes & Noble at BU. Be sure to bring your party invitation, mailed to every faculty and staff member — it's your ticket to an array of door prizes. Last year's prizes included a cocktail party for 12 guests at the Hotel Commonwealth, a six-month membership to FitRec, and a much coveted year of free parking.