Firing up technology
Ignition Awards aim to ensure that good ideas are not forgotten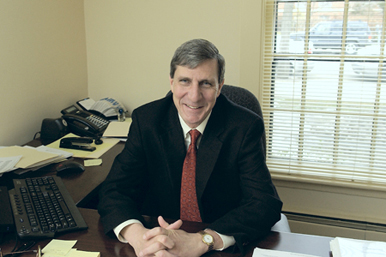 It takes more than $50,000 to bring a new technology from the drawing board to the marketplace, but applied at the right moment, that amount could make the difference between an idea for a new technology being pursued or being forgotten. A new program at Boston University is intended to make sure that market-worthy ideas are developed.
The Ignition Awards program, funded by the Office of Technology Development (OTD), will present up to eight awards a year — each from $25,000 to $50,000 — to professors or students whose ideas the program's advisory board deems promising enough to move from dinner table talk to licensable business initiatives.
"The Ignition Awards are small," says BU President Robert Brown, "but they are meaningful development awards that are meant to spur the translation of research to technology that has commercial value."
Brown says the awards will serve mainly to create an entrepreneurial spirit within the University.
 
Stanford Willie, OTD executive director, says the new $300,000 a year program improves on its predecessor, the Technology Development Awards (TDA), because it has recruited a venture capital advisory board specializing in all areas of technological development to help review applications and work with winners.
One of those advisors is Charles Lax (SMG'82), managing general partner of GrandBanks Capital. Lax says the program serves the interest of both partners in an entrepreneurial marriage. For professors or students with ideas, he says, it can provide a good sense of the viability of a technology. And for the venture capitalists who serve as advisors, it provides access to a valuable conceptual resource.
"This is an opportunity for us to get a first look at the ideas the great faculty and staff at BU are creating," says Lax. "It's really giving us an unfair advantage over our colleagues by seeing what people in the educational sector are working on, and it gives the award winners the chance to commercialize their ideas."
Willie sees yet another beneficiary: the public, which will benefit from new and possibly life-saving technologies. He notes that previous grants awarded by OTD have aided neuromuscular research and better genetic diagnostics.
"A number of the TDA awards have led to new licenses," Willie says. "The hope is that with such a distinguished advisory board, the Ignition Awards will spur even more commercialization."
 
Ignition Awards will be given quarterly, with six to eight awarded each year. Faculty researchers, faculty members, and clinicians at the University are all eligible to apply. Students can apply if the principal investigator of the grant is a faculty member or researcher. Application instructions can be found at the OTD Web site. For more information, click here. The next deadline for applications is April 1.