$750,000 DPH grant to help identify alcohol abusers in emergency rooms
SPH Profs Edward Bernstein and Judith Bernstein team up to combat substance abuse.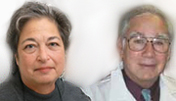 A Boston University husband and wife research team recently received a grant to train hospital emergency department staff in the effective treatment of alcohol and drug abusers. Edward Bernstein, a professor of emergency medicine at the School of Medicine and of social and behavioral sciences at the School of Public Health, and Judith Bernstein, an associate professor of maternal and child health at SPH, were recently awarded $750,000 by the Bureau of Substance Abuse Services of the Massachusetts Department of Public Health to train the state's hospital emergency department personnel to better identify patients with excessive alcohol use and dependency, as well as drug abusers.
The grant will allow the Bernsteins, who lead SPH's Brief Negotiated Interview and Appropriate Referral to Treatment Institute (BNI-ART), to train staff from six regional hospitals in screening, brief intervention, and referral to assessment or treatment (SBIRT) techniques. These interventions, used in the emergency department and delivered as routine health care, have been shown to increase alcohol and drug abstinence and reduce substance-related health and social consequences among patients.
"For too long Massachusetts hospital emergency departments have lacked resources to address the needs of patients who present with substance abuse–related health problems," says Edward Bernstein. "In six new sites, EDs will no longer miss this diagnosis or be forced to 'treat and street' or 'stitch and ditch' patients who would benefit from an intervention to help them change their alcohol or drug use."
Local teams from each of the selected hospitals will travel to Boston Medical Center for the training, and at a later stage, BNI-ART Institute educators will travel to the participating hospitals to provide on-site training.