Jennifer Carter-Battaglino jumps into the Fun Run
Jennifer Carter Battaglino organized this year's Fun Run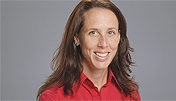 Last year residence hall director Jennifer Carter Battaglino came in third in the Parents Weekend Fun Run; this year she took her participation to the next level by coordinating the event. When Battaglino heard that the Office of Residence Life and the Health and Wellness Center were in charge of organizing this year's Fun Run, she jumped at the chance to chair the committee. The team of Residence Life and Health and Wellness staff members began organizing the 5K race over the summer.
"I became an avid runner about two years ago," says the Shelton Hall director. "I wanted to take one more step in my passion for running, so chairing the Fun Run was another goal for me in my running career." Battaglino has participated in a number of area 5K races, as well as the annual Tufts 10K race. She came in first in the AIDS Awareness Race last April.
Battaglino gives credit to her dedicated committee members, who have worked hard to ensure the success of the Fun Run. The race, which is at 8 a.m. on Saturday, October 15, at the Boston University Sailing Pavilion, is free to all BU students and $20 for University faculty, staff, and family members. First, second, and third places will be awarded to male and female runners, and the first 300 entrants will receive a free long-sleeve T-shirt.