BU to off-campus students: let's keep up your hood and living quarters, together
A welcome wagon and a resource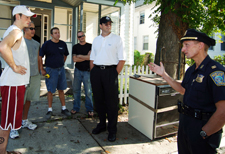 "Hi there," says a friendly man on a street corner. He's wearing a Red Sox cap. No, he couldn't possibly be scalping tickets to a baseball game this far from Fenway Park — near the intersection of Ashford and Linden Streets in Allston.
"Are you a BU student?" he asks a passerby.
"Yes," replies Nick Goodman (CAS'06).
"I'm Joe Walsh, director of community relations at BU's Office of Government and Community Affairs," he says, shaking Goodman's hand. "Nice to meet you."
It's early September, and Walsh is a welcome wagon of sorts for BU students carting their belongings into the neighborhood adjacent to BU's West Campus. As the hordes of moving vans and packed pickup trucks descend on the area, he is joined by Boston Police Captain William Evans. They are walking around to ensure a smooth move-in on the narrow, congested streets, and to inform the new residents of their rights and responsibilities as neighbors.
"I tell them about safety issues and let them know that excessive noise won't be tolerated," explains Walsh, who reminds students of the necessity of smoke detectors in their apartments and the fact that bedrooms must have at least one egress window in case of a fire. He warns them not to "adopt" old furniture discarded at the curb by previous tenants. "There's been a bedbug infestation in Allston recently," he tells Goodman and his father, Bob. "Don't grab an old mattress or a sofa — bedbugs are incredibly hard to get rid of."
Walsh works hard to keep the lines of communication open between BU and its neighbors, and helps BU students make sure that their apartments are habitable. Because some landlords don't make necessary repairs or dispose of trash properly, he brings a representative from the city's Inspectional Services Department with him to look for code violations.
He knows the neighborhood well, having grown up on nearby Glenville Avenue. And, his office organizes many efforts to meet community needs, including distributing books during the holidays to children at the Jackson-Mann Community School, and, with student volunteers, running a youth basketball league at the West End House Boys and Girls Club.
Walsh is also ever-present in his old stomping grounds in the fall. Most September nights, and on many Friday and Saturday evenings throughout the academic year, he rides along with Boston police in off-campus student areas keeping a lookout for loud parties. If a get-together does get out of control, the offending students will face possible criminal prosecution and sanctions from the Office of the Dean of Students that may include expulsion.
"If we get a complaint about noise at a house, we'll ask the people to keep it down," Evans tells the Goodmans. "But if we have to return to the same place, we have a zero-tolerance policy. The hosts of the party will come back to the station with us."
"As a parent, I think it's great that the University and the police are available as a resource today," says the elder Goodman. "Their advice is appreciated."
Walsh and Evans continue walking down Ashford Street, meeting and greeting students and parents on this sunny autumn day.
Walsh says that often, his words of wisdom are heeded. "This neighborhood was a lot louder a few years ago," he says. "It still has its share of parties and noise complaints, but I think the students are getting the message."