Breaking the ice
Women's hockey hits the big-time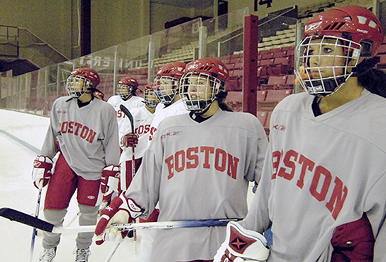 This story is the second in a three-part series on BU women's hockey. Part three will be published tomorrow, Thursday, October 13. For part one, click here.
Among BU's Division I athletes, the women's hockey Terriers are the new kids on the block—their sport was recently elevated from club to varsity status. But female participation in hockey isn't exactly a new phenomenon. In fact, women have been slapping around pucks and crashing the crease for more than a century.
The first recorded women's hockey game took place in 1892 in Barrie, Ont. In the 1920s and 1930s there were female leagues in almost every region in Canada and a few in the United States, although organized women's hockey declined after World War II.
But in the past 25 years there has been a boom in women's hockey. Eight countries played in the first Women's World Ice Hockey Championship tournament in 1990, and popularity has grown exponentially since. The NCAA recognized the sport in 1993. There were a handful of Division I programs in the mid-1990s; now BU becomes the nation's 31st.
Terrier forward Leah Nakamoto (CGS'07) recalls putting together a presentation of pictures of Team USA for her fifth grade current events class shortly after the team defeated Canada, 3–1, to win the first women's Olympic hockey gold medal in Nagano, Japan in 1998. That was the year she joined the newly formed girls youth hockey team in her hometown of Winchester, Mass. "I jumped right in, and it was incredibly fun," recalls the freshman. "I had always liked watching hockey, so I thought I'd give it a try."
The television coverage of that skillfully played, hard-fought gold medal game is credited with contributing to the explosion of women's hockey. There have been steady increases among all ages since then, including the doubling of women playing in adult women's hockey leagues between 1998 and 2004, according to USA Hockey, the governing body of amateur hockey. As of 2004 there were 48,483 girls and women registered with USA Hockey—up from just over 10,000 in 1993.
"The girls youth hockey programs are really popular in Winchester now," says Nakamoto. "I think it's great that my friends and I were part of the very beginning." She describes her first practice, however, as a hardscrabble affair. "I had to borrow my friend's brother's pads and helmet, and my cousin's old skates," she says. And when she skated onto the ice, she did a double take upon spying one teammate's unique headgear—a ski helmet. "Helmets were required, and that was the only helmet she had," says Nakamoto, who was top scoring forward as well as captain of her Winchester High School team.
No longer a boys club
Gina Kearns (CAS'09), another Terrier forward, started playing street hockey with her older brother in the family driveway. After a few pickup games in her neighborhood in Norwood, Pa., she "fell in love with" the sport. But when she wanted to lace up the skates with fellow females her age, there weren't many options for her. "I didn't think there was another girl around who played hockey," she says. There certainly weren't any girls' teams in the area, so she played for the Interboro Middle School boys' team.
The sight of a girl on the ice raised some eyebrows in the stands, but her teammates accepted her. "They were fine with it," Kearns says. But some of her opponents were less than courteous during games. "I guess they were intimidated," she says. "I didn't let them bother me." Her coach told her to ignore the taunts and insults, and she did.
She eventually managed to find other girls to play hockey with, joining the elite Delco Phantoms, a Tier II team in Pennsylvania's Delaware Valley Hockey League, when she was 13. She went on to play with the Philadelphia Little Flyers (Atlantic Hockey League) and the Princeton Tiger Lilies (Mid-Atlantic Women's Hockey Association) and led both squads in scoring. For the Little Flyers, a touring under-19 team, Kearns tallied an incredible 93 goals and 54 assists in just 53 games. The Little Flyers and the Tiger Lilies are Tier I teams that travel up and down the East coast, playing some of the nation's finest women's hockey squads.
Although just five-foot-three, she proved she could also play with the boys at the high school level, earning Offensive Player of the Year in Pennsylvania's Eastern High School Hockey League as a junior and helping lead the Interboro High School team to the state Class A title the following season. She was the first woman to be named to the All-Tournament team in the Flyers Cup, an annual boys hockey tournament in Philadelphia, after posting three points (one goal, two assists) in three games.
Kearns recently added another breakthrough to her hockey résumé: becoming the first women's hockey player to receive a full scholarship at BU. Expected to anchor the Terriers' front line, Kearns marvels at the growth of women's hockey, especially at the youth level in her hometown. "It's so much different than when I was growing up," she says. "There are so many teams, so many players. Everybody wants to play."
A legacy at BU
Women's hockey has a long tradition at BU. The Terrier club team began in 1973, and was one of the University's first club programs. For the past five years the Terriers played in the American Collegiate Hockey Association (ACHA), which consists of only club teams. However, during this time, their schedule included Division I and Division III competition, and they participated in the women's Beanpot Tournament against the varsity teams of Northeastern, Boston College, and Harvard, which is ranked second in the nation.
The club Terriers routinely defeated club and Division III teams in recent years, advancing to the ACHA national tournament in 2002. Still, they had their share of trouble with Division I squads. To wit: BU hasn't won a Beanpot tournament since 1981.
But coach Brian Durocher (SED'79) aims to change BU's fortunes against this stiffer competition. With 5 full scholarships this season and more coming in the following years—culminating in the NCAA maximum 18 scholarships by the 2008–2009 season—the Terriers will likely begin challenging the top Hockey East teams when this year's freshmen are seniors.
That's not to say that Durocher, a former goaltender and assistant coach for BU's men's team, hasn't searched for upperclassmen to play this season. The fact that, unlike their male counterparts, women hockey transfers don't have to sit out a season will undoubtedly speed up the building process. Indeed, junior transfer Cara Hendry (CAS'07) was named captain. Durocher also encouraged women from BU's club team to try out for the varsity squad, saying that his Terriers can benefit from experienced players. BU's club team is now defunct—the University doesn't field club teams in the same sports it has varsity programs. Some former BU clubbers are likely to play on BU men's intramural teams and Boston adult women's leagues. However, three former members of the club team made the varsity roster, and Durocher hired their former coach, Kerstin Matthews, as an assistant coach.
It remains to be seen whether club players and this year's nonscholarship Terriers can keep up with highly recruited skaters who have already competed at a national level for prep school powers and select under-19 teams. Nakamoto, a nonscholarship freshman, hopes to be part of the team as BU gets better. But she's adopting a wait-and-see attitude. "If I can keep playing, that's great," she says. "If I can't, that's OK. We'll see what happens."
In the meantime, she's proud to be part of history—BU's first varsity women's hockey team. When the University announced the upgrade in the summer of 2004, the ripples were felt by women collegiate hockey players across the country: a university with such a storied men's hockey program had made a commitment to women's varsity hockey. Those waving the banner of women's hockey today are confident that the sport is too strong to fall into a lull the way it did after the 1940s. According to athletics director Mike Lynch, BU's move is a great boost to the sport, and the women's Beanpot Tournament—now made up of all Division I teams—will certainly rise in stature.
"In the women's hockey community," he says, "there couldn't be better news than that BU has a varsity team."