Welcome
The Center of Excellence in Sickle Cell Disease, directed by Martin Steinberg, M.D., supports the highest quality of patient care in an attempt to make Boston Medical Center (BMC) the treatment facility of choice for Boston-area patients with sickle cell disease. The Center also promotes interactive basic and clinical research and patient and professional educational activities. 
Components of the Center of Excellence in Sickle Cell Disease

The Basic and Translational Research Program in Sickle Cell Disease (BTRP) 
Arginine as treatment for sickle cell anemia
Hydroxyurea and magnesium in HbSC disease
Sickle cell patient database and biological sample repository
Priapism in sickle cell disase
Neurocognitive studies in adult sickle cell disease
Dexamethasone in acute chest syndrome
The Patkin Sickle Cell Day Hospital (Clinical)
The Day Hospital is a special treatment 3-bed unit located in our newly opened Solomont Cancer Center. This unit is a state-of-the art facility where patients with uncomplicated painful episodes are treated by a specially trained nurse-practitioner whose sole responsibility is the care of sickle cell disease patients.
Sickle cell inpatient services (Clinical)
Inpatient services are available for adults and children. Primary responsibility for care rotates among attending physicians who are all Center investigators with a special interest in sickle cell disease.
Sickle cell outpatient clinics (Clinical)
Outpatient clinics are devoted to the management of adults and children with sickle cell disease and related disorders.
The Hemoglobin Diagnostic Reference Laboratory (Diagnostics)
This laboratory, directed by Dr. David Chui, provides genetic testing for hemoglobinopathies, including antenatal diagnosis, throughout the US and many foreign countries.
The Sickle Cell Clinical Research Network (NHLBI Research) 
The Sickle Cell Clinical Research Network is an NHLBI-supported network for phase III clinical trials.
NIH-supported research projects (Research) 
NIH-supported research projects at the Center focus on the genetic modulation of sickle cell disease, fetal hemoglobin (HbF) regulation in β thalassemia, the biology and treatment of sickle cell pulmonary hypertension, and the development of new agents that modulate HbF expression in sickle cell disease and thalassemia.
For further information, contact: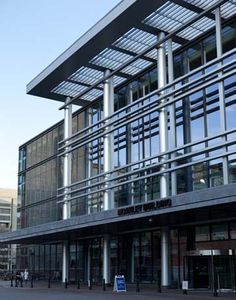 Director
      Center of Excellence in Sickle Cell Disease
      88 E. Newton Street, Room E248
      Boston, MA 02118
updated 9.1.09