Welcome
Lilia Sanchez Selected for IEEE's Power and Energy Scholarship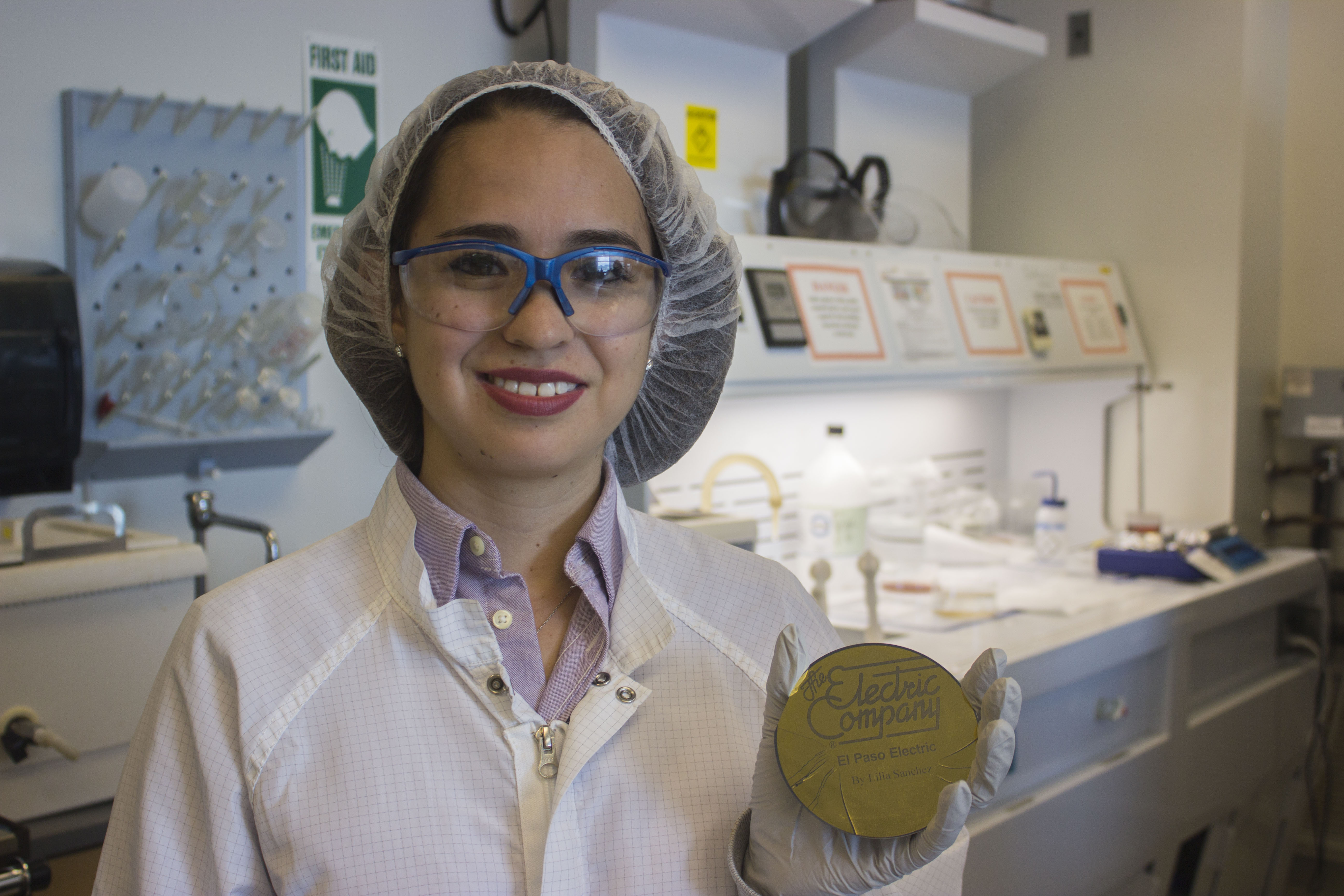 2017 REU participant Lilia Sanchez was named one of the Institute of Electrical and Electronics Engineers (IEEE)'s PES scholars. She is the first student from University of Texas at El Paso to receive an award from IEEE.
IEEE PES scholars are awarded to students who have "strong GPAs with distinctive extracurricular commitments and are committed to exploring the power and energy field."
Congratulations to Lilia from everyone at the REU program! Learn more about Lilia here and find the full list of scholars here.
Congratulations to Lilia Sanchez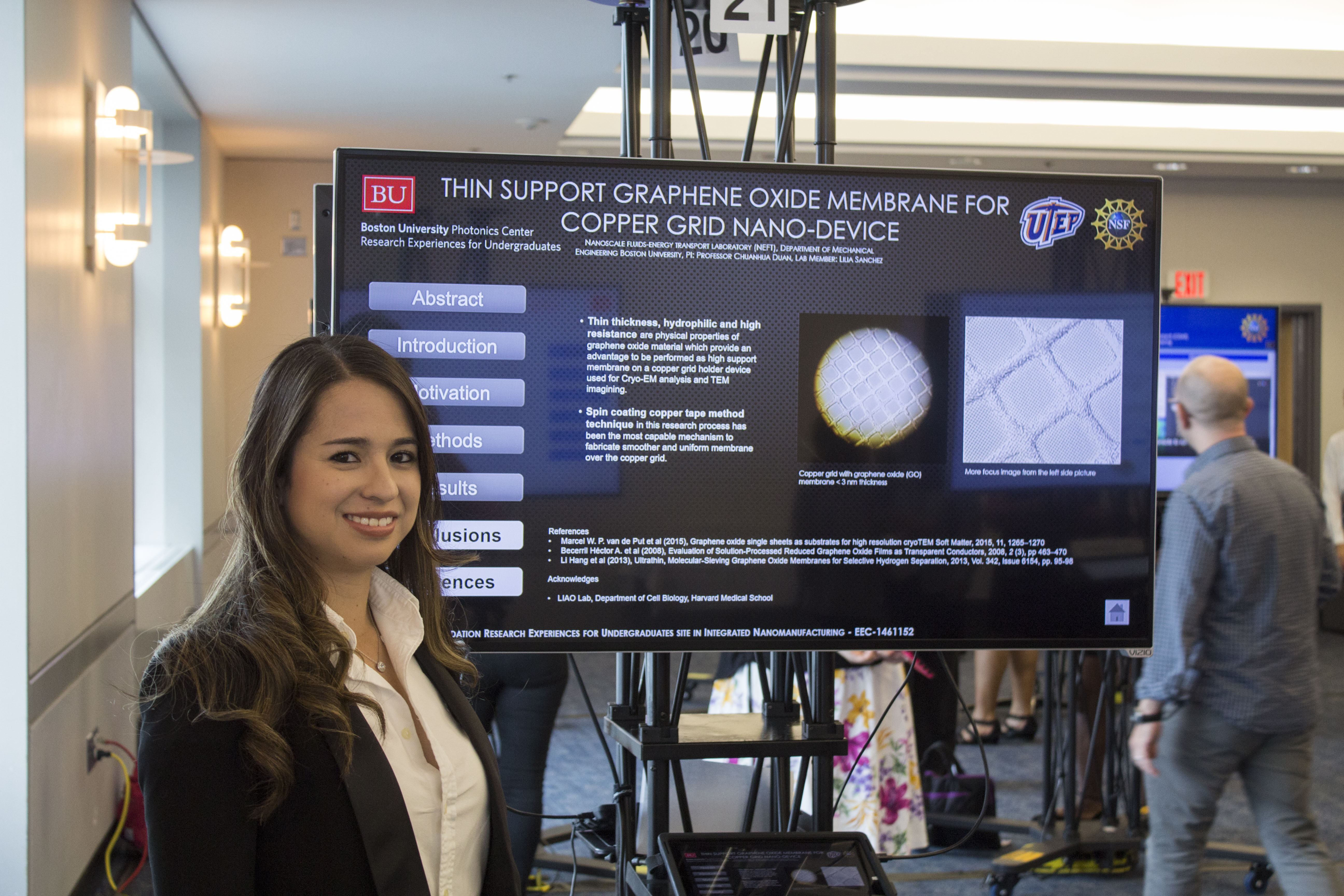 2017 REU participant Lilia Sanchez was accepted to present at the 2017 NSF Engineering and Education Centers Grantees Conference. The conference will take place from October 29-31 in Arlington, Virginia. We are thrilled to see her succeed after her hard work this summer.
Learn more about Lilia and her work here.
Are you a student searching for research opportunities or looking for where to start?
Find out more from two of our participants, Stephanie Emenyonu and De'ja Rogers, here:
Emenyonu is a two-time REU alumni finishing up her 5th year of undergrad, while Rogers just finished her freshman year. They discuss the typical college experience, engineering, and doing summer research at one of Boston's top schools.
Accolades for Participants' Work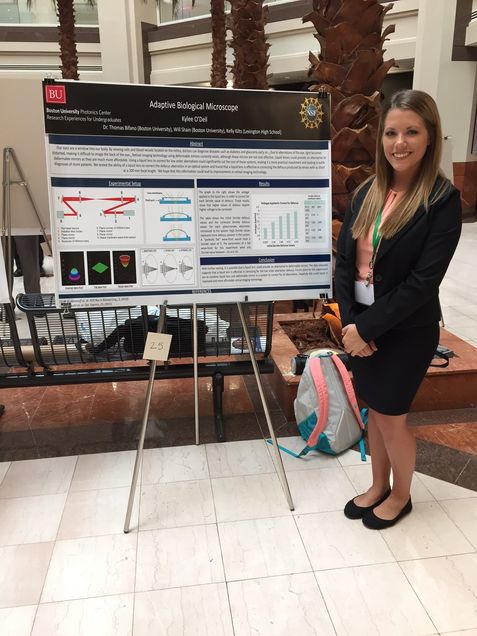 Kylee O'Dell's (right) poster, "Adaptive Biological Microscope," was presented at the Council on Undergraduate Research's (CUR) Research Experiences for Undergraduates Symposium. The event took place on October 23-24 in Arlington, Virginia.
CUR is dedicated to providing research opportunities for faculty and undergraduate students. This conference features keynote presentations, presentations by students from REU programs in all disciplines, sessions for REU students, faculty, and administrators, and opportunities to present to representatives from NSF.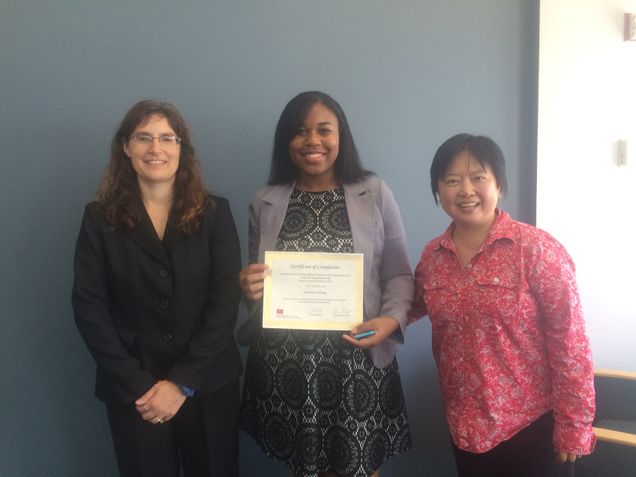 Two-time REU participant Lauren Strong (left) presented her poster, "Fabrication of Mechanically Flexible Photonic Crystal Cavities on Germanium Nanomembranes," at the 2016 Tapia Conference in September in Austin, Texas.
The Tapia Conference brings together students, faculty, researchers, and professionals to celebrate diversity and innovation in the computing field.
Strong's poster was also accepted to be presented at the Council on Undergraduate Research's Research Experiences for Undergraduates Symposium, which took place on October 25-26, 2015. 
Past News
Gabriela Correa was chosen as one of UMass Amherst's 2016 Rising Researchers for her research. Her senior honors thesis led to the development of a new computational model for heat transfer between 2-D van der Waals materials (such as graphene) blanketing 3-D substrates used in the semiconductor industry to build nanoelectronic devices. She gave a talk on this research at the fall 2015 Materials Research Society meeting in Boston, Massachusetts—a rare opportunity for an undergraduate researcher.
Correa also presented her INM REU work based poster at the MC-STEMP GEM GRAD Lab hosted by Tuft's University as well as competed in the NeLSAMP Poster Symposium at GEM Grad Lab on October 23-24, 2015.
Interested in Nanotechnology?
Integrated nanomanufacturing utilizes nanofabrication and materials research into nanoscale systems. The principal challenge in integrated nanomanufacturing is that the fundamental length, the wavelength of light for example in integrated nanophotonics applications, is 10 times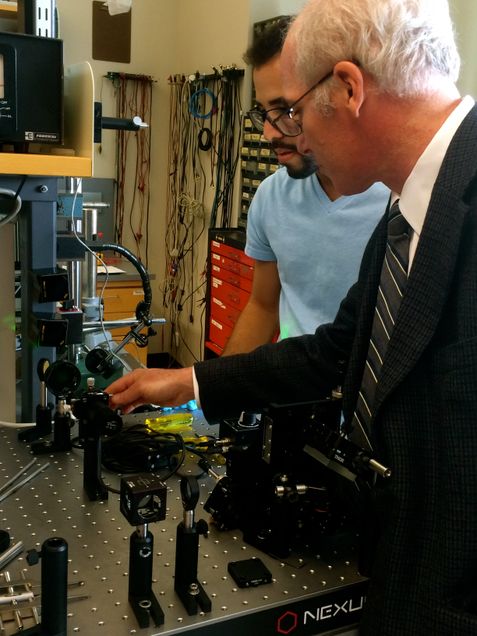 or more the length scale of fabricated nanosystems. This challenge has recently seen fascinating solutions developed using near-field optics, plasmonics, metamaterials, nanoparticle optical response, etc. that link optics to the nanoscale. To learn more about integrated nanomanufacturing research areas, follow the link to projects!
Like us on Facebook and Follow us on Twitter
 
This REU Site at Boston University Photonics Center is supported by the National Science Foundation