Uchimura, Kanzo (1861-1930)
Foremost leader of the Non-Church (Mukyokai) movement in early Japanese Protestantism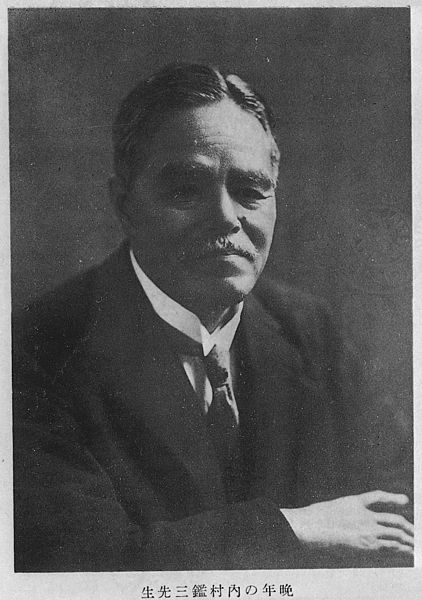 Uchimura did not reject the Christian church as such but developed a nonsacramental, largely nonliturgical mode of church life in implied criticism of historic Western Christianity. Independence rather than rejection was his positive contribution, and his influence upon the whole Christian church in Japan was second to none, as was his influence upon many intellectual leaders of modern Japan.
Like other leaders of nascent Protestantism, Uchimura was born in a samurai family that had supported the Tokugawa regime, and he turned to Western studies as the best avenue to employment. This orientation did not alter Uchimura's independent but passionately intense kind of patriotism directed to the welfare of the whole nation. His Christian faith led him to put Jesus first, but Japan followed a close second.
Born in Edo (Tokyo) in the compound of the daimyo (feudal lord) of Takasaki, Uchimura was sent to the capital of his clan to begin his eduction at the age of six. Showing unusual ability to learn languages, he returned to Tokyo at the age of 11 to begin English language studies in earnest. At 13 he entered the Gaikoku Gogaku (Foreign language school) with intent to enter government service, all with the warm support of his parents. With their permission, Uchimura gained admission in 1877 to the newly opened Sapporo Agriculture College (now Hokkaido University), where  most lectures were in English. This was the year following the eight-month pioneering presence of William S. Clark. Under his influence and that of Merriman C. Harris, the whole first-year class was baptized by the latter the night before Uchimura arrived. Uchimura could not but be influenced by this highly charged atmosphere, but with his customary independence he delayed request for baptism until June 1878.
Uchimura was graduated in 1881 but not without some altercations with Harris, who served as the leader of the church formed by the new students and a few adults. As a result, he and "seven brothers" formed an independent church that became the pattern for his later Non-Church assemblies. After several years of study in the United States, Uchimura returned to Japan in 1888 to teach in a number of schools, from each of which he resigned over disagreement on principles. The most famous incident was when, in 1891, as a teacher at the First Higher School in Tokyo, he refused to bow before the signature of the emperor affixed to a copy of the new Imperial Rescript on Education. He later changed his mind and from a sickbed sent a colleague to bow for him, but the affair effectually ended his educational career.
Uchimura turned to writing and found that as an essayist he could gain readers. By 1897 he had become senior editor of the Yorozu Choho (Myriad reports) with outstanding success. In 1900 he began his own magazine Seisho no Kenkyu (Bible study), of which 357 issues were published before his death. At the same time Uchimura started teaching the Bible on Sundays at the request of his friend from Hokkaido days, Nitobe Inazo, then president of the First Higher School. From these two activities emerged both the still thriving Non-Church movement and Uchimura's abiding influence upon the whole of Japanese Christianity.
Richard H. Drummond, "Uchimura, Kanzo," in Biographical Dictionary of Christian Missions, ed. Gerald H. Anderson (New York: Macmillan Reference USA, 1998), 687.
This article is reprinted from Biographical Dictionary of Christian Missions, Macmillan Reference USA, copyright © 1998 Gerald H. Anderson, by permission of Macmillan Reference USA, New York, NY. All rights reserved.
Bibliography
Digital Primary

Uchimura, Kanzo. The Diary of a Japanese Convert. New York: F.H. Revell Co, 1895.
_____. Representative Men of Japan. Tokyo: Keiseisha, [1908].
Primary

Uchimura, Kanzo. Uchimura Kanzo zenshu. Tokyo: Iwanami Shoten, 1980.
Uchimura, Kanzo, Taijiro Yamamoto, and Yoichi Muto. The Complete Works of Kanzo Uchimura. Tokyo: Kyobunkwan, 1971.
Uchimura, Kanzo and Tetsutaro Kawakami. Uchimura Kanzo shu. Tokyo: Chikuma Shobo, 1967.
Uchimura, Kanzo and Yoshiaki Uchida. Uchimura Kanzo shu. Tokyo: Chikuma Shobo, 1975.
Secondary

Howes, John F. Japan's Modern Prophet: Uchimura Kanzo, 1861-1930. Vancouver: UBC Press, 2005.
Jennings, Raymond P. Jesus, Japan, and Kanzo Uchimura: A Study of the View of the Church of Kanzo Uchimura and Its Significance for Japanese Christianity. Tokyo: Kyo Bun Kwan, Christian Literature Society, 1958.
Miura, Hiroshi. The Life and Thought of Kanzo Uchimura, 1861-1930. Grand Rapids, Mich: W.B. Eerdmans Pub, 1996.
Moore, Ray A. Culture and Religion in Japanese-American Relations: Essays on Uchimura Kanzo, 1861-1930. Ann Arbor: Center for Japanese Studies, University of Michigan, 1981.
Willcock, Hiroko. The Japanese Political Thought of Uchimura Kanzo (1861-1930): Synthesizing Bushido, Christianity, Nationalism, and Liberalism. Lewiston, N.Y.: Edwin Mellen Press, 2008.
Portrait

The photograph is part of the public domain.