Welcome to the Journal of Education
Letter from the Dean
Withi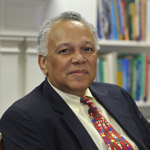 n 20 minutes of my office…there is an elementary school classroom where a teacher has a sound system that allows her to send quiet messages to different corners of her room through her wireless microphone. Most of the children in her class come to school well-fed, clean, and prepared to learn, many from the moment they were born. There is also a classroom within 20 minutes of my office where many of the children may not know where they will be sleeping that night. The culture of their school is very different from the culture of their homes, and their mental and physical health needs may interfere with their preparedness to learn…

Talks with Journal Authors
The Journal of Education is pleased to offer a new online feature  – Talks with Journal Authors.  These recorded interviews between the journal staff and contributing authors offer our readers and listeners another format to explore the key ideas and findings published within each issue.  We will post these recordings with new issues as we move forward, as well as return to previous issues and authors.  We are pleased to announce our latest podcast:
Featured Guests P. David Pearson & Katherine Frankel
"Reflections on Becoming a Researcher"
Professor Jeanne Paratore, Boston University, interviews Professor P. David Pearson, University of Berkely/ California and Professor Katherine Frankel, Boston University, on their co-authored article.Dr. Pearson was Dr. Frankel's doctoral advisor and their conversation is rich in first-hand, shared experiences that serve as a model for preparing future researchers.   Full article here.

Current Issue
Volume 193 • Number 3 • 2013 •Pedagogical Content Knowledge
Featured Article:  What Is Technological Pedagogical Content Knowledge (TPACK)?
by Matthew J. Koehler, Punya Mishra, and William Cain, Michigan State University