Knowledge in the Service of Practice
Welcome to the Journal of Education website. As the oldest educational publication in the country, the Journal has served many purposes in its long history. Our current mission is to disseminate knowledge that informs practice in PK-12, higher, and professional education.
A refereed publication, the Journal offers three issues each calendar year: the Fall theme is Teaching and Learning; the Winter theme is Language and Literacy Education; the Spring theme is Applied Human Development in the Context of Schooling. Each issue includes research reports, explications of theory, reflections, and essay reviews of academic/professional and books for young readers. Every article describes implications for practice beyond the setting in which the work was conducted. The Journal is listed in ERIC. Authors of articles published in the Journal have recorded podcasts that extend the information in their articles. To read articles and reviews published in recent issues visit here and to listen to podcasts by our authors visit here.
Thank you, readers and writers, for your interest in the Journal of Education and for joining us in our commitment to knowledge in the service of practice.
Hardin L.K. Coleman, Editor

Current Issue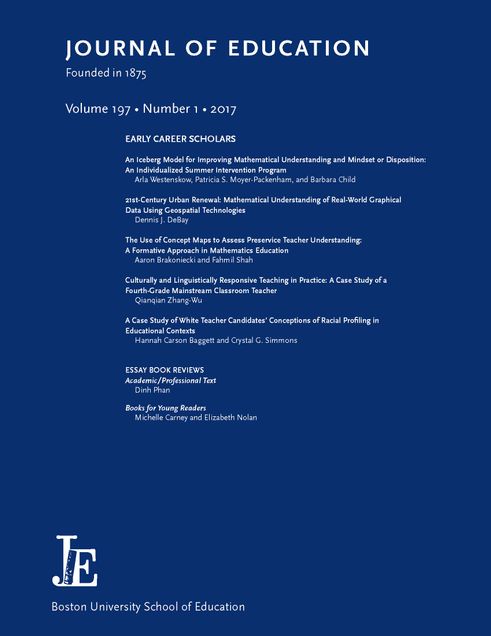 Volume 197 • Number 1 • 2017 • Early Career Scholars

Featured / ESSAY BOOK REVIEWS
Academic/Professional Text:  "Young Children's Mathematics: Cognitively Guided Instruction in Early Childhood Education", by Thomas P. Carpenter, Megan L. Franke, Nicholas C. Johnson, Angela Chan Turrou, and Anita A. Wager.  Reviewed by Dinh Phan, Journal of Education
Books for Young Readers: "Last Stop on Market Street", written by Matt de la Peña, illustrated by Christian Robinson; and  "Waiting", written and illustrated by Kevin Henkes. Reviewed by Michelle Carney and Elizabeth Nolan, Journal of Education

Talks with Journal Authors
The Journal of Education is pleased to offer a new online feature  – Talks with Journal Authors.  These recorded interviews between the journal staff and contributing authors offer readers another format to explore the key ideas and findings within each issue.  We will post recordings from new issues as we move forward, as well as return to previous issues and authors.
Featured Podcast:  Leslie Dietiker
On "What Mathematics Education Can Learn from Art: The Assumptions, Values, and Vision of Mathematics Education"
In a conversation that focuses on her article in a recent issue of the Journal of Education,  Dr. Leslie Dietiker discusses the ways mathematics educators can be informed by the arts. Drawing on Elliot Eisner's perspective that educational challenges can be met by applying an artful lens, she proposes that mathematical problems can be considered as stories, and students can be encouraged to call upon what Louise Rosenblatt called "experiential-linguisitic capital" as they ask, "How is this possible? Why does that happen?  Dr. Dietiker concludes by suggesting that by theorizing mathematics curriculum as an art form, the future of mathematics teaching and learning will be changed and lead to new opportunities.