Exploring Maternal and Child Health in Africa as an Undergraduate
Carolyn Hoffman's BU Study Abroad Experience Fosters Passion for Research, Global Citizenship
Launching a research study as an undergrad can be a daunting endeavor, especially when that study is international in scope and revolves around the effects of a rebel group in power. But Carolyn Hoffman (CAS '19, SPH '20), recognizes an opportunity when she sees one.
"I took my experience studying and working abroad and drew upon my interest in global health to create a research study aimed at examining whether a militant group in Africa had affected maternal and child health," she says.
Hoffman started at Boston University studying international relations in the Frederick S. Pardee School of Global Studies. She also came to BU knowing that she wanted to study abroad and that BU offers unmatched opportunities for students. What she didn't know is that she'd go on to complete the University's Study Abroad Padua Internship Program in 2017 and return to the city in 2019 to conduct a qualitative research study with the NGO Doctors with Africa CUAMM, where she interned in 2017.
Doctors with Africa CUAMM is Italy's leading organization working to protect and improve the wellbeing and health of vulnerable communities in Sub-Saharan Africa, according to its website. Working with international and local teams, the NGO provides medical aid and expertise in eight African countries.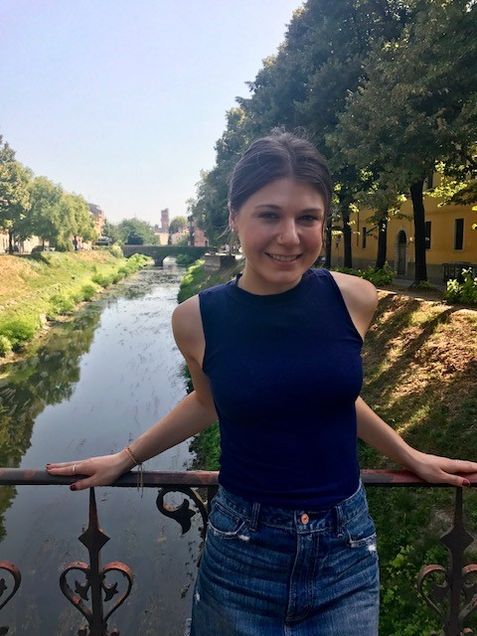 During her internship with them, Hoffman served as a research assistant and worked in various capacities focused on maternal and child health. She also translated communications between their office and their British counterparts and drew up manuscripts.
"It was a fantastic experience; my internship program made my entire study abroad experience," she says. "It also helped me with future opportunities because of the work experience I had gained."
Drawing on the important work she completed with Doctors with Africa while studying abroad in Padua, Hoffman completed an honors thesis and launched her first qualitative study, with the support of BU Professor Mahesh Karra, assistant professor of global development policy at the Pardee School and associate director of the human capital initiative at the Global Development Policy Center.
Professor Karra has conducted field work in Sub-Saharan Africa, South Asia, and Latin America, and his current research uses randomized controlled trials to evaluate the health and economic effects of improving access to maternal and child health services and family planning in Malawi, India, Nepal, Sri Lanka and Tanzania.
"Professor Karra helped me create an IRB [an institutional review board], and I received approval in fall 2018 to do the study with Doctors with Africa," Hoffman remembers. "I received multiple grants to be able to travel back to Padua for the research, and I loved going back and visiting."
Returning to Italy and Doctors with Africa CUAMM, Hoffman met with her research participants and interviewed them for her study. Although she says the sample size was on the smaller side, she learned a lot about setting up, designing a study, and conducting research. She also learned about the grant writing and proposal process.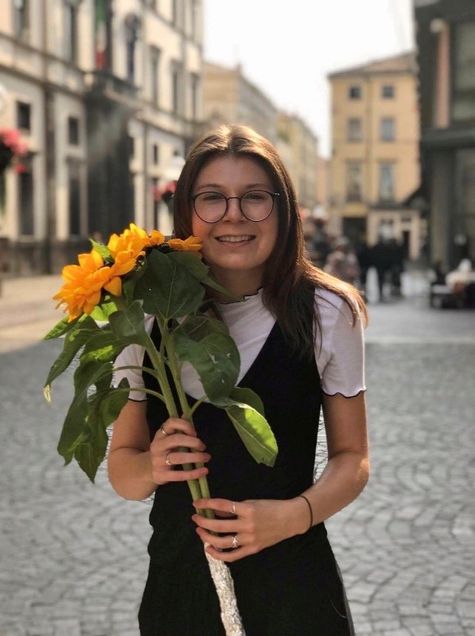 "Being back in Padua reminded me of how much I loved my study abroad experience," she says. "It was pivotal to my experience at BU. I've learned that Americans are fast-paced, unemotional at times, over-stressed…Italian culture has a different way of viewing life. I found Italians to be very warm and welcoming."
Hoffman developed an authentic, rich sense of life in Italy while abroad, as she lived in a homestay with an Italian family.
"We all lived in homestays, but everyone in the program walked to class together and spent time together," she says. "I speak Italian fluently now, and the whole experience really made me slow down and live life fully."
Hoffman also persevered when she had to switch homestays about a month into the program because of food allergy issues. "You have to be ready to get out of your comfort zone," she says. "Elisabetta [the Padua site director] is like a mentor to me…she helped me a lot."
Hoffman graduated from the College of Arts & Sciences (CAS) in May 2019 and started her master's program. She is in the international relations 4+1 BA MPH program offered jointly by CAS and the School of Public Health. As Hoffman has already learned through her study abroad work and research, public health is a diverse field that draws on expertise from many disciplines, including science, law, ethics, sociology, political science, and others. Looking out a few years, Hoffman says she wants to apply to law school and plans to focus on international law. Viewing her world through an international lens is something Hoffman does with ease, and she hopes others try to do the same.
"Our world is increasingly interconnected; it's so important to know what's going on and educate yourself," she says. "I'm very much about being an informed citizen. I think people should strive to be global citizens. You owe it to your community to learn about other people."