CTSA Ansible – June 12, 2020

THE SPOTLIGHT | WHAT'S NEW | GET INVOLVED | CONSORTIUM CORNER
Mike's Blog – June 2020
CTSA Program Fall Meeting – Call for Topics
Spring has come and gone, and we find ourselves at the official start of Summer in a just few days. With the relativity of time now having been tested for several months by our distancing measures as well as our circadian rhythms being completely discombobulated (how many others long to be re-combobulated?) due to continuous and consistent telework, our CTSA Fall Program meeting is suddenly on the horizon. As our planning efforts gear up, we would like to hear from you: What ideas for topics and suggestions do you have, what has worked well in the past and what would you like to see in the fall meeting. BTW, has anyone considered investigating the relationship of 'Zoom-fatigue' towards the adoption of greater utilization of telemedicine?
As always, our goal is to work together with our CTSA Program Community to develop a meeting with topics and activities of high interest to our investigators, participants, and the translational science community. Our objective is to generate a memorable meeting that includes sessions for academic and hub enrichment, and that fosters a collaborative space to share experiences and practices while allowing time for fruitful interactions. Our meeting format, as with the recent Spring meeting, will be virtual (see our Spotlight section below), and we hope that we still get to "see" many of you participate, interact, and share your experiences and knowledge. Continue Reading
THE SPOTLIGHT
SAVE THE DATE – Fall 2020 Virtual CTSA Program Meeting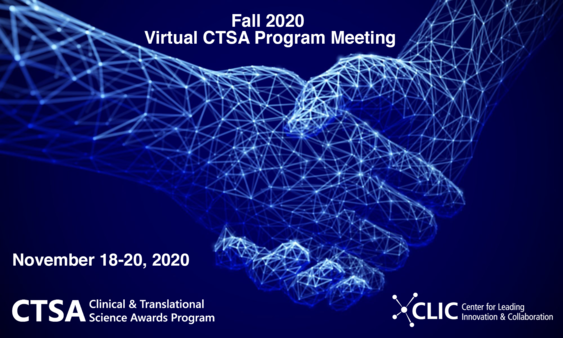 NCATS and CLIC would like to announce that the 2020 Fall Program Meeting will be held virtually on November 18 – 20, 2020. Stay tuned for additional details coming later in the summer!
2020 NCATS Responsive Un-Meeting – Save the Date!
The CLIC hosted NCATS responsive Un-Meeting has refocused and rescheduled to a ½ day virtual UnMeeting Wednesday September 30th, 2020. This new "rapid-response" topic will encourage discussions around the changes resulting from the COVID pandemic. Other potential topics include Identifying clinical research trial design opportunities as a unified network in the post-COVID clinical era? What does training look like? What do remote trials look like? What is the impact on recruitment? Furthermore, what is the role of CTSA Program in clinical research post-COVID. CTSA Program "hub-appointed representative" registration will open in late July and full registration in mid/late August, stay tuned! We look forward to seeing you in the ether!
WHAT'S NEW
The First Blog in the 2020 Insights to Inspire Series is Now Available!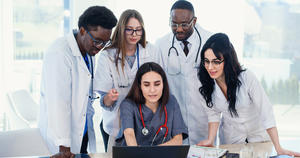 The Insights to Inspire (I2I) series highlights the strategies hubs have used to improve on their Common Metrics. This year's series of blogs focuses on the Careers in Clinical and Translational Research metric. The first blog, Making a Commitment to Diversity & Inclusion, features the tangible initiatives hubs implemented to expand their diversity and inclusion activities. Click below to read this first blog, or you can read last year's I2I series, upload your hub's insights, or read about all Common Metrics activities from the Common Metrics page on the CLIC website!

HL7 Vulcan Accelerator
CONSORTIUM CORNER
| | |
| --- | --- |
| | |
| | |
| | |