Bringing a Fresh Eye to Research
---
Amir Lahav: Rhythmic Rehab
With a ScD from Sargent College and a $40,000 award from the Grammy Foundation, Amir Lahav has come a long way since coaching women's volleyball in his home country of Israel. Lahav, whose father was a famous volleyball coach, says he "grew up under the net," but at the same time took his first steps on the piano. After majoring in physical education and serving as a combat fitness officer in the Israeli army, Lahav turned to music. As a professional musician he composed, performed, and gave piano lessons to beginners and experts alike.
With a desire to combine his passions for music and movement into "something more
scientific," Lahav entered the graduate program in Rehabilitation Sciences at Sargent College in 2003 to study the effect of music on brain function and to explore possible therapeutic modalities. Lahav explains his hypothesis: Blinking lights in a crowded room do not motivate people to move in synchrony, but music or a steady beat starts people tapping their feet and moving to the music. He speculated that this special communication between auditory and motor pathways in the brain could be harnessed to create a useful clinical tool for patients with movement problems, such as those recovering from a stroke.
Working with his advisor, Elliot Saltzman, and his collaborator, neurologist Gottfried Schlaug at Beth Israel Deaconess Medical Center and Harvard Medical School, Lahav designed the Music, Mind, and Motion Laboratory and created software to teach non-musicians to play by ear. "We used the piano keyboard as a model task," he says, "in which learned movements produce sound."
He recruited Roxanne Chess, a Sargent College undergraduate majoring in occupational therapy, as a research assistant through the Undergraduate Research Opportunities Program (UROP). Chess, whose aunt is an occupational therapist and who has a disabled cousin, chose her field because, she says, it takes a holistic, personal approach to therapy, changing and adapting the environment so that individuals with disabilities can participate fully in life.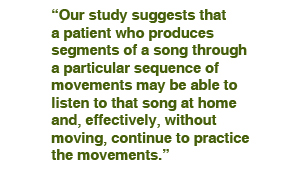 Last summer Lahav and Chess designed a behavioral study to see if music could improve motor skills. "We wondered," Chess says, "if a musician knows a piece of music well, then aside from mentally rehearsing it, can hearing it be a form of practice?"
They taught subjects to play a piece of music and used brain imaging to see what areas were activated while the subjects listened to the music they had learned. They found that listening to a previously learned song activated motor-related regions in the brain, and even improved the subject's performance of the song. "Even listeners distracted by doing puzzles while listening to the music showed a performance improvement somewhere between that of active listeners and those listening to nature sounds," Chess explains. "Our study suggests that a patient who produces segments of a song through a particular sequence of movements may be able to listen to that song at home and, effectively, without moving, continue to practice the movements."
Even though he didn't win a Grammy for his own music, the award will support Lahav's post-doctoral research at Harvard Medical School, where he hopes to further develop his Virtual Music Maker (VMM), the human-computer interface he designed that translates a patient's therapeutic exercises into music. "For patients, listening to the VMM-produced music is like interest on a bank account—you gain a couple of cents. But for a stroke patient those couple of cents could add up to a big benefit, especially where conventional therapy has failed," says Lahav.
Lahav's neuroimaging research won the Sargent College Dean's Award at BU's 2006 Science and Engineering Research Symposium.
To learn more about the Music, Mind, and Motion Lab, visit www.mmmlab.com.
— by Leah Eisenstadt