All

Stories
Rocking CEO
Nacho Guitars founder Ignacio Baños crafts guitars that look and feel just like vintage Fender Telecasters and Stratocasters
As an undergraduate student in his hometown of Valencia, Spain, Ignacio Baños signed up to live with an American family for a summer to improve his English. But Baños (MBA'94) didn't want just any American experience—he wanted the full American experience.
"I wrote a letter to the organizers of the program," he says, "and in my letter I said, 'I want to be a cowboy. I want to go to rodeos. I like country music a lot.'"
So, as the other students in his program caught flights to California—"everyone wanted to go to California"—Baños boarded a plane to Boise. He spent the summer of 1985 on an Idaho farm, riding horses, milking cows, slaughtering chickens, driving pickup trucks, and cheering fellow cowboys at the rodeo.
"I came back with the full outfit," he says. "Cowboy hat, cowboy boots, everything."
Complete immersion is Baños' way. He doesn't have interests; he has obsessions. "If you like something, like it all the way," he says. "If you want to do something, do it all the way."
This all-in attitude shapes the culture of both of Baños' companies: Plastinsa, a Valencia-based manufacturer of merchandising materials for the food and beverage industry, and Nacho Guitars, a boutique maker of premium electric guitars.
Every instrument crafted by Nacho Guitars is a collector's item—less than 100 are made each year. Baños (known to his friends as "Nacho") doesn't take orders from customers; he makes what he wants to make, using materials he chooses. He doesn't work toward deadlines or delivery dates; guitars are finished when he deems them perfect.
"If we feel like we need to do another paint job, or we don't like the shade of the finish, or the wood is not well cut, or some detail could be improved, then we'll do it again," he says.
The guitars are tribute instruments, made to resemble the early 1950s Fender Telecasters that Baños collects—right down to the chipped necks and cracked varnish. While a top-condition vintage Tele can sell for as much as $200,000, a Nacho Guitars replica costs $5,500. (New Fender Telecasters go for around $500 to $2,000.)
Having full creative license over his product is satisfying, Baños says, and the labor-intensive work is fulfilling "because what we do is special. The attention to detail and quality is very high, and people appreciate what we do."
Nacho Guitars has no assembly lines. Baños and two fellow craftspeople painstakingly carve, cut, bolt, wind, solder, paint, stain, and distress guitars and most of their components by hand in a small Valencia workshop. Each year, they make four batches of 15 to 20 guitars, and loyal customers, who range from dentists and lawyers who play music on the weekend to professional studio musicians to legit rock stars, eagerly await each release.
"One of our best clients is Billy Gibbons from ZZ Top," Baños says. "Jeff Tweedy from Wilco uses our guitars all the time."
When Baños makes a guitar, he aims to replicate the look, feel, and tone of the guitars Leo Fender made in his California factory in the early 1950s—and he succeeds. "To see a Nacho Telecaster is to behold the most artfully inspired vintage reproduction ever created," writes the ToneQuest Report, a newsletter for guitar enthusiasts. ZZ Top's Gibbons has reportedly called the sound and style of a Nacho guitar "sheer genius."
Baños began playing guitar and obsessing over music as a teenager. As he studied the covers of his vinyl albums, he noticed the guitarists he most admired—Keith Richards of the Rolling Stones, bluesman Albert Collins, country music legend Roy Nichols—seemed to be holding the same instrument: a Fender Telecaster. Baños wanted one of his own. He saved his money and purchased his first Telecaster in 1987, on his 21st birthday.
As an MBA student in Boston a few years later, Baños says, "I realized that all the guitars I couldn't get in Spain or Europe were easily found in the United States. That was before the market went up through the roof, so for between $500 and $1,000 you could get a pretty good vintage electric guitar."
He decided to trade his apartment in Kenmore Square for a cheaper basement unit on Beacon Street so that he could spend his rent savings on guitars. "When the snow came, we couldn't get out of the place because the front door was blocked," but the tradeoff was worth it, he says.
After he returned to Spain, Baños remained a serious Telecaster collector. To better understand the guitars he owned and loved, he took the instruments apart, analyzed their components, and reassembled them. In the late 1990s, when internet message boards gave Tele enthusiasts a place to connect with one another, Baños quickly became known in online circles as the expert who could answer any Telecaster-related question, settle disputes about Fender trivia, and easily spot fake vintage guitars.
"One day," he says, "someone said, 'Why don't you write a book?'" Baños took on the project as he would a doctoral dissertation.
To add to his already exhaustive Telecaster knowledge, he combed through the archives at the Fender Museum (now closed) in Corona, Calif. He disassembled every guitar he had access to and took measurements and photos of each detail. In 2005, after more than three years of research, he self-published The Blackguard Book, a 420-page coffee-table book featuring thousands of color photographs of guitars and their components. ("Blackguard" is the term for the original Telecasters produced between 1950 and 1954, before Fender switched from black pickguards to white.) The book, Baños says, is "very deep, very dense, very complete."
Baños' next step was to use his unparalleled knowledge of Telecasters to make his own. In 2010, he made his first four experimental guitars and gifted them to musicians he knew and respected. When all four recipients heaped praise on the instruments, Baños decided to make eight more, and then eight more. "And that's been going on for nine years, now," he says.
Turning a hobby into a job can quickly sap the joy from it, but Baños' passion remains strong—perhaps because he makes guitars to satisfy himself, not simply to satisfy customers.
"Not doing it for the money is key," he says. While Nacho Guitars is a profitable business, "I do have another job. I don't need to work on guitars to make a living."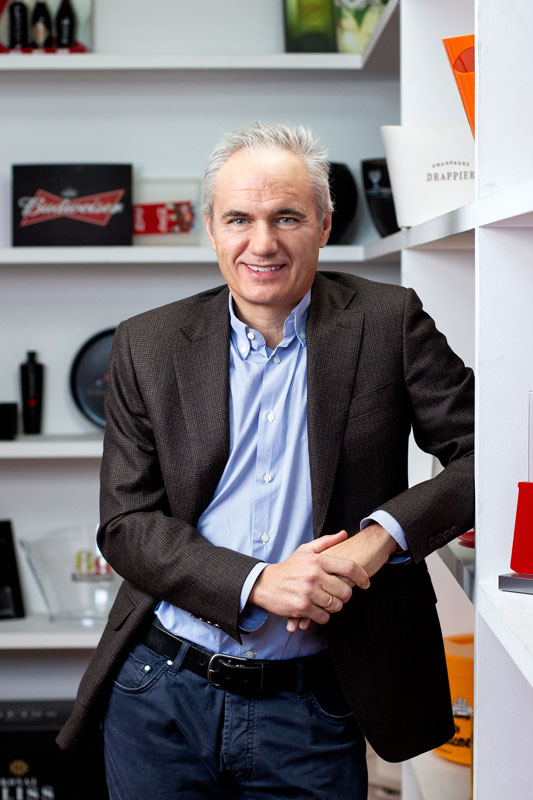 Baños has had his other job since December 1993, taking the helm at Plastinsa immediately after finishing his MBA coursework. He was considering a corporate job in northern Europe when his father—a serial entrepreneur and a pioneer in the Spanish plastics industry—made an offer.
"He said, 'You can go to London and have your career and that would be great,'" Baños recalls, "'but I have this little company here that I think you could have fun with. It's got a lot of potential. You could develop it.'"
As CEO, Baños has since grown Plastinsa from a company with annual revenue of roughly $500,000 to a leader in its industry—with 30 Valencia-based employees, a subsidiary in Hong Kong, and nearly $10 million in revenue. Among his customers are multinational beverage companies Coca-Cola, Campari, Heineken, and Pernod Ricard. Plastinsa designs and manufactures ice buckets, napkin boxes, menu holders, bottle openers, point-of-sale displays, and other items emblazoned with customers' logos to help them promote their brands. The company's market includes all of Europe, and Baños is looking to open a US factory to expand into the American market.
"If you like something, like it all the way. If you want to do something, do it all the way."
In contrast to Nacho Guitars, Plastinsa gains most of its business by responding to requests for proposals. "It's a very competitive setting," Baños says. To win bids, Plastinsa must be aggressive, "going to the limit of our possibilities to make the best product for a certain situation."
Customers are always looking for new ideas to help them stand out in the marketplace, Baños says, "so we have to be creative and innovative—and quality is very important."
He's never considered leaving Plastinsa to focus solely on music-related pursuits. "I like to do different things in life," he says. "If you have the energy and the passion to do different things, why stick to just one?"
Always restless for a new challenge, Baños has added new guitars to his product line, which now includes both solid-body blackguards and whiteguards, bass guitars, and reproductions of Fender's 1949 hollow-body pine prototypes. He has also plowed into another research project with the intent of publishing The Pinecaster Book, which will detail the history of the electric guitar from the 1930s through Fender's prototype stages. He promises it, too, will be characteristically artful—and thorough.