All

Stories
High Ideals and Profits
Her story is the perfect response to those questioning whether ethics equals earnings. Fashion designer Chan Luu's brand is built on a commitment to giving women in the developing world fair wages, good work, and life skills. Her return on investment has been 14 percent year-on-year growth for a solid decade and a global presence in more than 2,000 stores. And the creation of hundreds of safe, well-paid jobs in countries where a decent wage can be hard to find. While many retailers still stock shelves with sweatshop-produced clothes—Business Insider claims "ethically made clothes make up a tiny fraction of 1 percent of the overall $1 trillion global fashion industry"—Luu (BSBA'75) is showing there's an alternative: a fashion line that's chic, principled, and profitable.
A selection of silver pendants on leather cords, manufactured at the factory in Vietnam that she personally selected for its fair labor practices, hangs from Chan Luu's neck. Her wrists are stacked with bracelets from her eponymous fashion line.
She listens carefully as, one by one, Questrom students sit down with her for a coveted half-hour of her time to pitch their business ideas—apps to safely connect students as they sell and trade clothing; games to help sick children manage their medications; a healthful superfood alternative to fast snacks. After each presentation, she asks the same question:
"How will you make money?"
Though she's been lauded in circles as diverse as Good Morning America and the United Nations for championing ethical fashion best practices, Luu (BSBA'75) has achieved her success by never losing sight of the first principle of business: without profit, you don't exist. She learned the lesson early, finishing her undergraduate education at Boston University with less than $500 to her name, and starting her fashion career as a retail worker. She built her design prowess by working in every facet of the industry, and today is at the head of Chan Luu, Inc., a global brand sold in 2,000 retailers around the world and a United Nations partner in bringing fashion work opportunities to developing countries. Luu's support of workers isn't just humane practice, it's proven to be a smart public persona that's helped vault her to the top of the marketplace.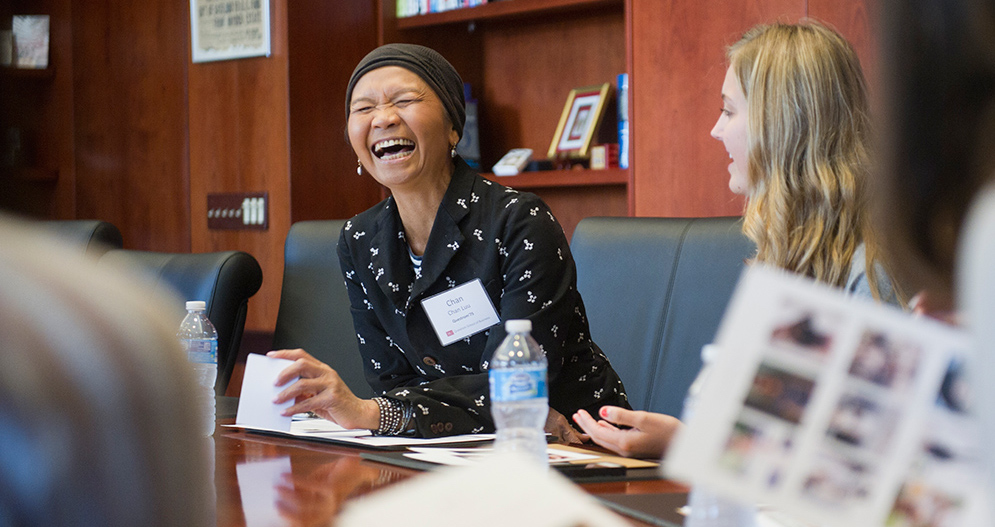 "When you have a product, you have a commodity," she says. "When you have a brand, you have a business."
Growing up, Luu didn't dream of pursuing a career in industry. She was interested in art. Born and raised in Nha Trang, Vietnam, Luu was part of a privileged family that pulled strings—she still doesn't know how—to get her out of the war-torn country in 1972. Once she'd arrived in the United States, they insisted she study business so she could earn a comfortable living; Luu obeyed, though she fast-tracked her classes to graduate in three years instead of four. By her final semester of college, the Vietnam War ended, and Luu was cut off from her parents and her family's financial support by the new embargoes.
When she graduated in spring 1975, she used her last remaining cash to move to Los Angeles, and took a job in a clothing store. She loved the idea of drawing and design, but was aware of her shortcomings—she had no work history, no fashion background, and no real understanding of how the industry functioned. So after her first education, she embarked on her second: a hands-on experience of retail fashion, from the ground up. For nearly two decades, Luu taught herself the business of fashion, working as a salesperson, a manufacturer's assistant, a private shopper, and a fashion buyer. The work gave her a solid footing that served her when she launched her own brand, and allowed her to make mistakes without affecting her own financial solvency.
"I learned at somebody else's expense," she says. "It reinforced each step of my career, because I made fewer mistakes in my own business practice."
In 1983, she parlayed the experience and connections into her own brick-and-mortar store, selling women's clothing and accessories. After years of struggle, she was finally making a living in the industry she'd long admired. And yet she still didn't feel secure. "I was earning money, but retail didn't give me a future," she says. "I wanted to go further."
In 1996, Luu closed her store and began a career in jewelry design by creating a studio in her garage. "I designed, and I answered the phone. I knew every facet of my business, from top to bottom," she says. She later found a studio space, hired a few employees, and, with a collection in hand, went to New York to find a showroom to represent her. A high-end retailer in SoHo called her in and said her work could generate $2 million in sales annually.
"I had a poker face," Luu recalls. "Then I walked out, called my boyfriend, and said, 'Two frickin' million!'"
The Chan Luu brand exploded. The showroom helped place her designs on celebrities and in fashion magazines. When actress Jennifer Aniston was photographed at a fashion show wearing one of Luu's necklaces, demand for the piece, a painted seashell pendant, became so high that the price eventually doubled. After starting at $18, items in the collection reached $42; some half-a-million of them flew off shelves. Today, her signature piece is the wrap bracelet, multiple rows of tightly-packed beads—sometimes hundreds of them—woven into leather. She expanded to a clothing line in 2004, and opened her own showrooms in Los Angeles and New York in 2004 and 2005, respectively. Chief Financial Officer Dennis Dunn estimates that average annual revenues have grown 14 percent each year for the past decade.
Luu credits her success to two factors: everything she knew, and everything she didn't know. Take manufacturing: her experience in the industry had already taught her that domestic manufacturing was safe and productive, but financially out of reach for a small design business. So she sought international manufacturers that were willing to follow United Nations labor standards for equitable wages, and gave enough business to incentivize them to honor her company's commitment to being an ethical fashion line that supports good working conditions and a fair supply chain. "It's how you build loyalty and trust," she says. "I pick the people I want to do business with, and I give them enough business so that they stand on their heads for me. They can't fail me." Luu's overseas partners help her manufacture handicrafts in India, jewelry in Vietnam, and cashmere in Mongolia. The company reports that its overseas production efforts provide jobs for several hundred women.
"It's up to you to decide whether you support what I do or you don't. The people who make this get paid fairly and have a safe place to work.

And some people buy my jewelry only because they love it, but other people do care about those things, and they buy and then they campaign for me."
And when it came to everything she didn't know, Luu outsourced. Early on, she looked for a major money management firm to help with financial planning; when they told her she was too small to be a client, she assured them she wouldn't be small for long. (It took her on.) Later, when she found that managing the business was leaving her little time to design, she hired a vice president of sales and a chief operating officer.
Chan Luu, Inc., is now nearly 20 years old, but Luu says the fashion industry keeps her too engaged to retire. The old models of trade shows and brick-and-mortar stores are changing—Luu no longer has any retail stores; she focuses mainly on direct online sales. She's not interested in chasing every new model, however. Luu believes the preponderance of low-cost, on-trend clothing retailers, known in the industry as "fast fashion," is a threat to designers at all ends of the price spectrum. "I can in no way compete with that," Luu says. "A skirt they're selling for $68 would cost me $198, wholesale, to make. But there's a reason it's so cheap in the marketplace, and it's because we don't go to the factory and see if they're in compliance with labor rules. I make less profit, but I sleep at night. And that's the line I walk for my business."
Anyone can go out and buy an inexpensive knockoff of her signature wrap bracelet, she says, but people who are loyal to the Chan Luu brand appreciate more than its style. They like the story behind the Haiti collection, which uses beads crafted from recycled magazines by earthquake survivors. They like her partnership with the United Nations Ethical Fashion Initiative, which aims to use "fashion as a vehicle for development" and also collaborates with designers such as Stella McCartney and Sass & Bide to teach handiwork skills to women in the developing world. Women like Sophia, a Kenyan grandmother responsible for feeding, clothing, and paying for the education of 10 people in her family. Before she earned a sustainable wage making Luu's wrap bracelets, Sophia reportedly scraped a subsistence living dishing out porridge in a Nairobi slum. According to 2013/14 figures from the International Trade Centre (a joint World Trade Organization and UN agency) provided by Chan Luu, Inc., the company has created 782 jobs in Kenya alone—98 percent of them going to women. For every product sold from her Ethical Fashion Initiative line, Luu also donates a pair of glasses to the Reading Glass Project, which hand delivers them to artisans suffering from age-related presbyopia, a condition that impairs the ability to perform detailed, close-up work.
Luu's customers understand the difference, she says, between a product and a brand.
"It's up to you to decide whether you support what I do or you don't," she says. "The people who make this get paid fairly and have a safe place to work. And some people buy my jewelry only because they love it, but other people do care about those things, and they buy and then they campaign for me." Celebrity fans known for their activism—model and UN Environment Programme Ambassador Gisele Bündchen, actress and UN Women Goodwill Ambassador Emma Watson—are happy to be snapped in public sporting Luu's designs.
In 2014, Luu sold the majority of her company to DRC Capital, a Japanese investment firm. She retains a 30 percent stake in the business, and remains its chief executive officer and designer. She has some reservations, she confesses, about no longer being the majority owner of the company that bears her name, but she's happy with the decision, which will help her expand the brand throughout Asia, considered the fastest-growing market for mid-market and luxury fashion. Japan, she says, has some of the highest manufacturing standards in the world, so she's not concerned about a conflict of values with the new ownership. And, eventually, she says, every businesswoman needs to answer the question she posed to the entrepreneurs at Questrom: how will you make money?
"If there's no profit, there's no business, and at some point it's smart to monetize," Luu says. "I found the right partner, someone who's comfortable with the culture of my practice, and I went for it. I'm very happy."
Interested in sharing your expertise with Questrom students? Connect with us.