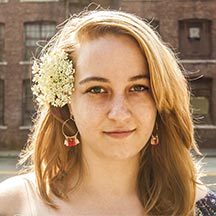 STEPHANIE K. BROWNELL is an interdisciplinary writer, artist, and educator holding an MFA in Playwriting from Boston University. Stephanie was a 2018 Sewanee Writers' Conference Tennessee Williams Scholar and is an alumna of residencies and fellowships nationwide including Ensemble Studio Theatre's New York Theatre Intensives, the O'Neill's Playwright Observers, Taleamor Park Residency, and Company One PlayLab. Her nonlinear exploration of gender roles, She Eats Apples, won the National Partners of the American Theatre Playwriting Excellence Award, was a runner up for UT WomenWorks, and has been developed and produced around the country. Most recently, her short play A House of a Different Color was produced as part of This Place/Displaced, a theatrical response to gentrification and housing inequity in Boston, and her full-length play Chop, a cooking show-style exploration of body image, health, and diet culture, was selected for showcase at the Boston Center for the Arts She Said Festival. 
Stephanie is passionate about teaching adults and teens through both university programs and community education. She has seven years' experience teaching English and writing—including a year teaching high school in Angoulême, France—and currently teaches at Grub Street, the nation's largest nonprofit writing center. Stephanie's creative work is magical, experimental, and intersectional. Her scholarly work focuses on discourses of oppression, resistance, and imagination in contemporary and speculative literature. Publications in fiction, poetry, and drama can be found through the Santa Ana River Review, Typishly Literary Journal, formercactus, and CW Publishing.
As a costume designer, Stephanie has collaborated with Company One, New Repertory Theatre, Milwaukee Opera Theatre, American Repertory Theater, The Story Theatre Chicago, Boston Playwrights' Theatre, Boston Symphony Orchestra, and Flat Earth Theatre, among others. Her artistic practice explores the body through a mix of painting and fiber arts. She is currently based in Boston, where she is the Managing Director of Artists' Theater.