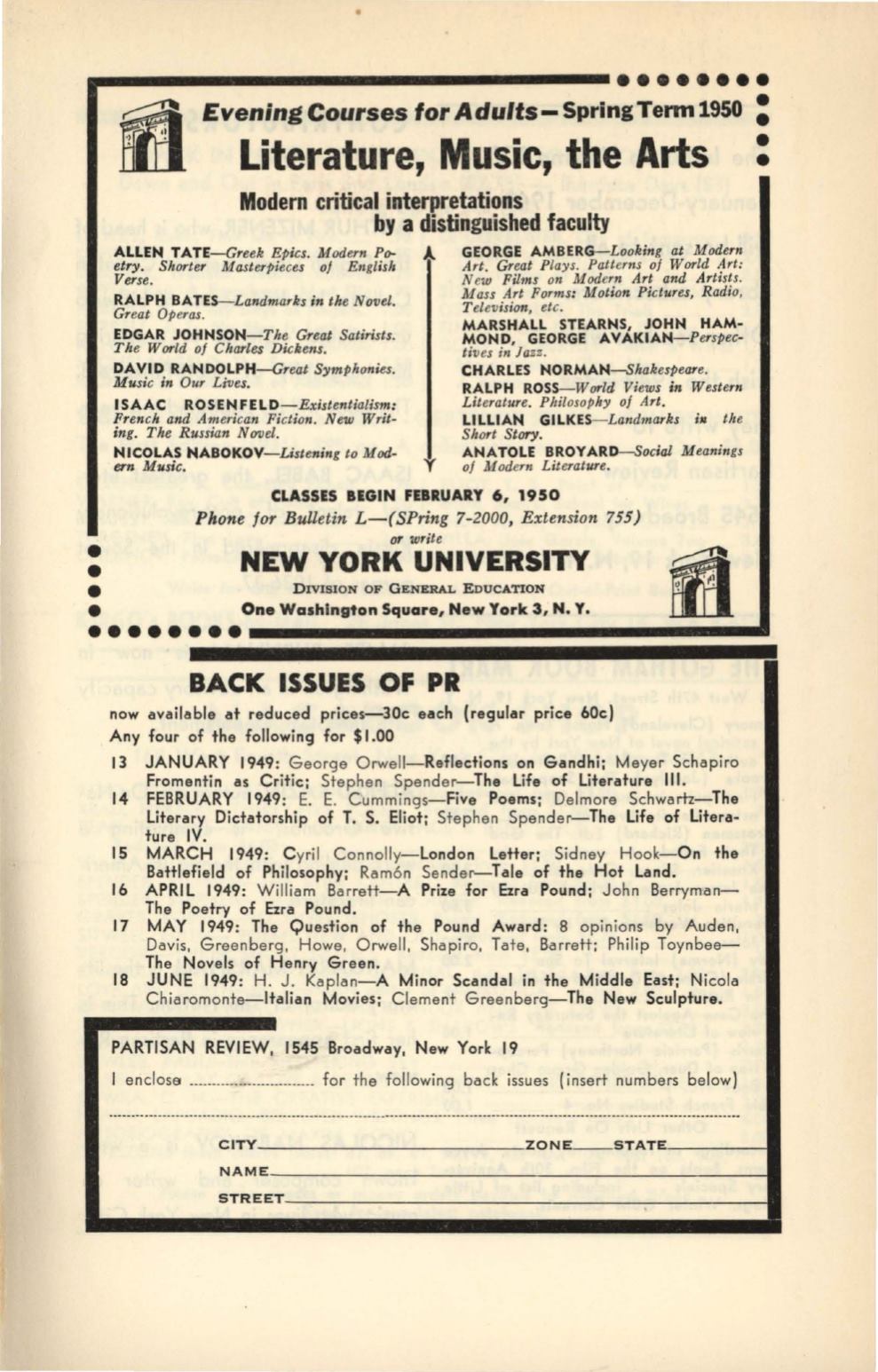 Literature, Music, the Arts :
Modern critical interpretations
Epics. Modern PI>-
AMBERG-Looking at Modern
etry. Shorter Masterpjeces
0/
English
Art. Great Plays. Patterns
0/
World 1rt:
Verse.
New Films on Modern Art and ArtISts.
Mass Art Forms: Motion pjctures, Radjo,
BATES-Landmarks in the Novel.
Televisjon, etc.
Great Operas.
MARSHALL STEARNS, JOHN HAM-
JOHNSON-The Great Satirists.
AVAKIAN-Perspec-
The World
0/
Charles Dickens.
tjves
Jazz.
Symphonies.
NORMAN---5hakespeare.
Music in Our Lives.
ROSS-World Views in Western
ISAAC ROSENFELD-Existentialism:
Literature. Philosophy
0/
Art.
French and Amerjcan Fiction. New Wrjt-
GILKES- Landmarks i" the
ing. The Russian Novel.
Short Story.
NABOKOV-List.ning to Mod-
Meanings
ern Music.
0/
Modern Literature.
CLASSES BEGIN FEBRUARY 6, 1950
Phone for Bulletin L-(SPring
7-2000,
Extension
755)
write
One Washington Square, New York 3, N. Y•
~.~.~::::::::::::::::::::::::::::::::::::::::=-
now availa ble at reduced prices-30c each (regular price 60c)
Any four of the following for $1 .00
13 JANUARY 1949: George Orwell-Refl ections on Gandhi; Meyer Schapiro
Fromentin as C ritic; Stephen Spender-The Life of Literature III.
14 FEBRUARY 1949: E. E. Cummings-Five Poems; Delmore Schwam-The
Literary Dictatorship of T. S. Eliot; Stephen Spender-The Life of litera–
15 MARCH 1949: Cyril Connolly-London Letter; Sidney Hook-On the
Battlefie ld of Ph ilosophy; Ram6n Sender-Tale of the Hot Land.
16 APRI L 1949: William Barrett-A Prize for Ezra Pound; John Berrymon–
The Poetry of Ezra Pound.
17 MAY 1949: The Question of the Pou nd Award: 8 opinions by Au den,
Dovis, Greenberg, Howe, Orwell, Shapiro, Tote, Barrett; Philip Toynbee–
Th e Novels of He nry Green.
18 JUNE 1949: H. J. Kllplon-A Minor Sca ndal in the Middle East; Nicola
Chillromonte-Italian Movies; Clement Greenberg-The New Sculptu re.
PARTISAN REVIEW, 1545 Broodwoy, New York 19
I enclose. ............................ for the following bllck issues (insert numbers below)
CITY_____________ZONE__STATE____
NAME_________________________