Spectrum Explorer
(v. 2.1, build 0066, Dec. 19, 2003)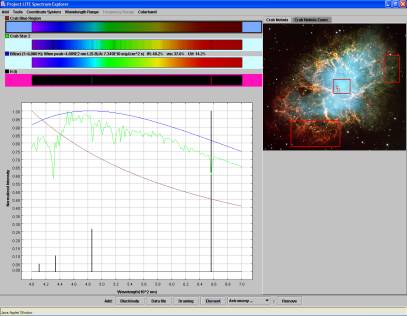 Description
The Spectrum Explorer is a Java(tm) application which allows you to plot and compare a number of different spectra, including blackbody, stellar data, and hand drawn plots.
System Requirements
You need the Java Plug-in to run the Spectrum Explorer applet from your web browser.
It has been tested on WindowsXP and MacOS X with Java 1.3.1 and later. It should work on any platform which has Java Web Start. It won't work with earlier versions of Macintosh computers (pre-OS X).
Macintosh Users: The program works best after installing the Java 1.4.1 Update.
Apple Software Update instructions.
Java for Mac OS X information.
Run the Spectrum Explorer using Java Plug-in
Install the Spectrum Explorer
Because certain features are restricted when using the Java Plug-in (such as printing and saving data files) an installer is provided. Follow the instructions on the installer page to get the Spectrum Explorer with all features enabled. Note: An update is in the works which will enable these features using Web Start.
---
If you have problems running the applet or the application please send email to Peter Carr.

This site was created as a collaboration between Professor Kenneth Brecher, Professor Peter Garik, Peter Carr, and Erin Weeks.
Project LITE - Spectrum Explorer is a subcategory of Project LITE
Supported by NSF Grant # DUE-0125992
© Trustees of Boston University 2002,2003