Andre Sharon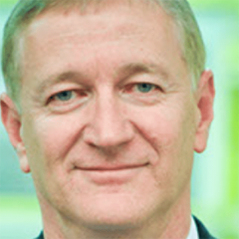 Affiliated Faculty, IGS
Professor of Mechanical Engineering
Executive Director, Fraunhofer CMI
Education

MS and PhD in Mechanical Engineering from the Massachusetts Institute of Technology
BS (summa cum laude) in Mechanical Engineering from the Polytechnic Institute of New York

Email
Andre Sharon, affiliated faculty with the Boston University Institute for Global Sustainability (IGS), has accumulated over 20 years of experience, both academic and industrial, conducting research, developing, and deploying computer-controlled automation systems, devices, and instruments for several industries, ranging from sub-micron, high-precision machinery for optoelectronics, biotech/biomedical, and semiconductor fabrication to laser-based processing machinery to high-speed assembly of consumer products.
As Director of the Fraunhofer Center for Manufacturing Innovation and Professor of Mechanical Engineering at Boston University, Sharon works closely with faculty, students and engineers to develop next-generation technologies for local and international companies. Drawing upon Fraunhofer's and Boston University's vast research base and working closely with industry, the Center goes beyond the scope of traditional academic research to develop and deploy actual working technologies all the way to deployment. These emerging technologies are incorporated into Sharon's courses in Engineering, educating a cadre of future engineers with proficiency in high-precision machine design and instrumentation.
Prior to joining Fraunhofer / Boston University, Sharon co-founded and led the MIT Manufacturing Institute, created with NSF funding, to bridge the gap that exists between traditional academic research and the needs of industry. Prof. Sharon also proposed and led a large program, funded by DARPA, aimed at cost reducing the manufacture of fiber optic gyroscopes through the development of cost-effective, sub-micron automation equipment. He developed and deployed several first-of-a-kind systems that fully automated optical fiber preparation, pigtailing, splicing, and winding. Sharon also served as the Associate Director of the MIT Laboratory for Manufacturing and Productivity, one of the country's premier manufacturing research centers.
Prior to joining MIT, Sharon spent seven years at IBM's T.J. Watson Research Center and IBM's General Technology Division developing automation and test equipment for computer components. Shortly after its introduction in the early eighties, Sharon was the first to interface an IBM PC to an anthropomorphic robot, achieving for the first time, full real-time control of a robot using a PC platform.
Sharon received his MS and PhD in Mechanical Engineering from the Massachusetts Institute of Technology, and his BS (summa cum laude) in Mechanical Engineering from the Polytechnic Institute of New York. He served for many years as the Editor-in-Chief of the International Journal, Robotics and Computer Integrated Manufacturing. In September of 2000, Sharon founded kSARIA Corporation, and was successful in raising over $35M in venture capital to produce cutting-edge process automation equipment for the optical communication industry. Sharon also acquired funding and established the Boston University – Fraunhofer Alliance for Medical Devices, Instrumentation and Diagnostics, aimed at accelerating the process of taking medical innovations from the laboratory to the patient point-of-care.
Sharon is the first American recipient of the prestigious Joseph Von Fraunhofer Prize in recognition for his work on plant-based pharmaceuticals production.