Ian Dwyer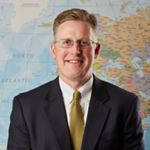 Title

Director of Finance & Operations

Office

Global Programs

Email

Phone

(617) 358-6350
As Director, Finance & Operations, Ian Dwyer provides support to Global Programs on all financial matters, with primary responsibility for all aspects of developing, maintaining, and analyzing Study Abroad's budgets and financial plans. While working closely with Global Support and Study Abroad senior management, Ian oversees the day-to-day financial operations of the Study Abroad offices domestically and overseas. In this role, he works closely with the Assistant Vice President of Finance & Operations in support of BU's global initiatives and projects, with an emphasis on analytics, long-term planning, and regulatory compliance.
Ian has spent more than 20 years at BU in financial roles, including with Oral & Maxillofacial Surgery (BUSDM), the Comptroller, Treasury, Grant & Contract Accounting (now PAFO), and Internal Audit & Institutional Research. Earlier in his career, he worked as a securities trader at a Fiduciary firm in Boston.
Ian holds an MBA and bachelors in English, both from Boston University. A sports enthusiast, he enjoys hockey, cycling, and skiing, and spent four years as a BU student athlete on the crew program.