The sea surged over the docks, flooded subway tunnels, and swamped beachfront neighborhoods when Hurricane Sandy hit New York and New Jersey on October 29, 2012. Between the property damage and lost business, the region took an economic hit estimated at $50 billion. But for the timing of the tides, the same disaster would have befallen Boston.
Triggered by a warming of the oceans, most climate scientists agree, extreme weather events like Sandy are increasing in frequency.
"This is not some hypothetical future situation," says Professor Graham Wilson, chair of the CAS political science department and director of BU's Initiative on Cities, which cosponsored the fall 2014 conference Sea Level Rise & the Future of Coastal Cities. "There's been a measurable rise in sea levels, and Boston's come close to serious damage several times."
"THE MOST EFFECTIVE THING WE CAN POSSIBLY DO IS FIGURE OUT HOW TO USE AND REUSE THE PLACES THAT WE'VE ALREADY BUILT"
But there's no need to panic yet. Wilson's conference brought planners from around the globe to discuss tools that coastal cities can employ to be ready for the rising tide. It also showed them how they might find answers in an unexpected place: historical preservation.
Far from a hidebound endeavor concerned with freezing artifacts of the past, historic preservation could help save our cities—conserving old buildings might be better for the planet than tearing them down and replacing them with environmentally friendly edifices. In fact, says Professor Daniel Bluestone, the new director of preservation studies at CAS, preservation is the keystone of sustainability.
"We can't build ourselves out of the problems related to climate change," Bluestone says. "We need to preserve our way out. And one of the ways of doing that is to recognize the incredible resources that exist—we've already paid people to lay brick on brick on brick, or to pour the concrete, and the most effective thing we can possibly do is figure out how to use and reuse the places that we've already built, and only build new what we absolutely need beyond that."
OBSOLESCENCE IS OBSOLETE
In the early 20th century, preservation efforts centered on buildings of grand historical import, such as Monticello, President Thomas Jefferson's mansion (which is not far from Charlottesville, Virginia, where Bluestone directed the University of Virginia's preservation studies program for 20 years before joining BU in 2014). Many such national treasures had fallen into disrepair and even faced the wrecking ball, and it took devoted philanthropists and volunteers to save and maintain them. Over time, preservation theory evolved to consider also the architectural and aesthetic value of the buildings erected by previous generations. Then in the 1950s, urban renewal projects destroyed entire neighborhoods. Bluestone, a Boston native, remembers how thousands of working-class residents were displaced from the old West End (near the existing TD Garden), with winding residential streets razed to make way for high-rise towers, to cite one notorious example. In response, preservationists broadened their focus to recognize the cultural significance of not only individual structures, but whole neighborhoods and other larger sites such as parks and farms.
Today, preservation is a multifaceted professional field that encompasses archaeologists, landscape architects, historians, and museum curators. At CAS, students learn how to research a site's architectural history, inspect buildings, analyze materials, navigate zoning and other relevant laws, and plan and even finance preservation efforts.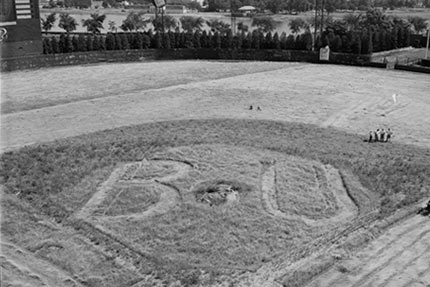 "I love old buildings, but I also love old buildings' ability to get us to think about the world that we live in," says Bluestone, whose award-winning book, Buildings, Landscapes, and Memory: Case Studies in Historic Preservation (Norton, 2010), trumpets this broader mission of preservation. "One of the important things we do in historic preservation is try to figure out how to tighten the connections between people and places, and people and each other." That impulse led Bluestone to launch a cross-disciplinary class for nonmajors called "What's Boston?" that helps freshmen better understand the complex city they've chosen as their home for four years. He's also strengthened the overall program's field component and, with support from CAS' Academic Enhancement Fund, taken students off campus to study local neighborhoods. "What you really want is for people to understand the way in which the world developed historically, partly because they can then understand that those same forces are playing out around them in their contemporary world and they can participate in that. They can play a role in shaping their own world."
One force preservationists must battle against is the 20th-century mindset that a building has somehow expired after 40 years, which Bluestone says is an arbitrary figure that came out of tax law. It is a preservationist's goal to "figure out how to get extra years out of buildings that already exist, not to tear them down," says Bluestone, who over the course of his career has successfully nominated almost 30 sites to the National Register of Historic Places.
This is where preservation dovetails with sustainability, Bluestone explains. While concerns about greenhouse gases are focused on automotive exhaust, and rightly so, less known is that 43 percent of carbon emissions in the United States comes from the operation of buildings. Add to that the pollution generated by the extraction, manufacture, and transportation of building materials. That's why, instead of demolishing a structure, trucking the wreckage off to a landfill, and starting over, it makes far more sense to preserve an old building and update it with modern insulation and heating and cooling systems to make it operate more efficiently, says Bluestone. In doing so, we conserve what preservationists call "embodied energy."
STREETWISE, GREEN SMART
BU is an exemplar of this practice, according to Bluestone. "Historic preservation is in BU's DNA," he says. Its birth is one of adaptive reuse: When Boston University was chartered by that name in 1869, it was located in two formerly residential townhouses on Beacon Hill. When, by 1883, BU's College of Liberal Studies (as the College of Arts & Sciences was then called) outgrew those confines, the University purchased an empty Baptist church around the corner on Somerset Street and filled it with offices and classrooms.
After the turn of the century, the still-growing University transformed Boston's old Automobile Row on Commonwealth Avenue into the Charles River Campus, turning dealerships into classrooms. The pattern was repeated across this new swath of the city: Kenmore Square hotels became dorms; Bay State Road brownstones housed academic departments; Braves Field was rechristened Nickerson Field and began hosting college football instead of National League baseball.
In part, this policy of adapting and reusing whenever possible reflected BU's "entrepreneurial" sense, says Bluestone. "It's being streetwise and being able to respond to the opportunities around us." The pleasing side effect of such cost-saving measures has been to preserve many architecturally and historically important structures that sit alongside the University's more modern buildings. Bluestone points to the scene outside his office window overlooking Bay State Road. "This is a landscape that gives character to our University," he says. The mix of old and new just a block apart makes for "a dynamic urban setting that's beautiful."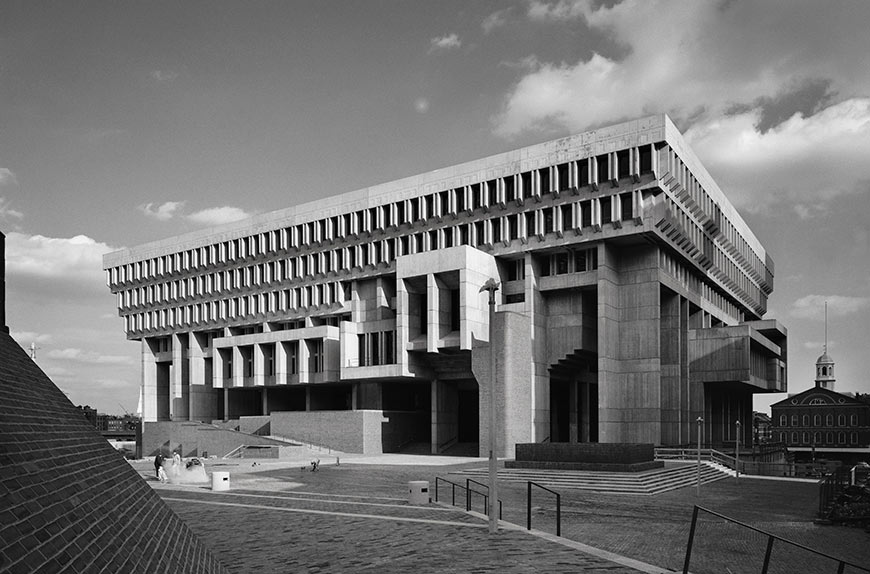 The reuse policy might have been expedient in the past, but BU now perpetuates it mindfully, with a greater awareness of its carbon footprint. Today, one of the most visible construction projects on campus is the School of Law addition and renovation. Designed by Josep Lluís Sert (Hon.'70) and completed in 1964, the LAW tower rises 265 feet high over the Charles River. Workers are rehabbing the tower's exterior and installing thermally insulated windows and making other energy improvements to meet green building certification requirements. A five-story addition, the Sumner M. Redstone Building, opened in fall 2014. Most of the School's classrooms are now on the Redstone building's first two floors, encouraging students to use the stairs and drastically reducing elevator use.
"They've figured out how to get another 50 or 100 years out of this building, and to do it in an environmentally responsible way," says Bluestone. "Some people complain about the aesthetics of this building, its architectural Brutalism, but if you do the math on this, it made great sense to preserve it."
An obvious parallel is Boston's City Hall, another much-maligned Brutalist landmark. Bluestone recalls an important speech a few years ago by Richard Moe, former head of the National Trust for Historic Preservation. Moe estimated that at 500,000 square feet, Boston City Hall contains 800 billion BTUs in embodied energy—the equivalent of 6.5 million gallons of oil. Were the hall to be demolished, all of that energy would be wasted.
At 200,000 square feet, the LAW tower isn't as large as that, but it is significant. Even smaller buildings such as the Noyes Buick dealership (now the College of Fine Arts) and the Boston Braves' old front office (now the BU Police Department), says Bluestone, "represent a mine of energy, of resources, of capital. And BU's been very effective at figuring out how to tap that mine."
PRESENT AND FUTURE
The conscious choice by a large urban university to favor density and reuse matters because what happens in cities matters. Cities cover only 3 percent of the Earth's surface, but they are responsible for 70 percent of the world's carbon emissions, says Assistant Professor Lucy Hutyra, an expert on the carbon cycle.
Many of the nation's most populous cities, such as Boston, sit on the coasts, where they are vulnerable to the perils of climate change, especially when (as in the cases of Boston and New Orleans) large portions of them are built on filled-in land. "Most scientists agree that extreme weather events have been increasing in recent decades, and evidence suggests that some of these increases are directly related to human activities—greenhouse gas emissions in particular," says Hutyra. She and CAS earth & environment colleague Professor Nathan Phillips are studying what they call the carbon "metabolism" of Boston, thanks to a grant from the National Science Foundation and the US Forest Service. (The goal is to learn where exactly a city's carbon dioxide not only originates but is stored.) "Hurricanes Sandy and Katrina are both dramatic examples of urban vulnerabilities to these extreme events, exposing critical infrastructure, transportation, and governance weaknesses. As we continue urban development and redevelopment, we need to keep both weather extremes and shifting background conditions, like sea level rise, in our planning process."
Boston's municipal leaders have indeed begun planning for climate change, says Wilson. Policies include rules forbidding new buildings from locating essential equipment such as generators and electrical equipment in the basement or even first floor. Indeed, it was to assist in the long-term planning that the Initiative on Cities cohosted the sea level rise conference, where Boston officials and experts heard from CAS researchers—including Bluestone and Hutyra—and met with counterparts from coastal cities the world over. Those leaders shared ideas for solutions that are either under construction or under consideration, including higher seawalls and built beaches to block tidal waves, but also planned marshes and mudflats that would absorb them.
Even Venetian-style canals—introduced as a potential option for Boston in a 2014 Urban Land Institute report coauthored by BU Director of Sustainability Dennis Carlberg—shouldn't be dismissed out of hand, given some projections that the sea may rise five feet by the end of the century.
When it comes to Boston, such a rise should concern even the most hidebound of preservationists. Letting the Atlantic lap ever higher would mean Boston's tourists donning scuba gear to check out historic highlights such as Faneuil Hall and the Freedom Trail.
In the classroom, Bluestone is training tomorrow's planners and builders to work with environmental scientists, politicians, and lawyers to preserve Boston's story-laden buildings and show how the city's past can help play a role in preventing—or at least adapting to—a soggy future.
"Basically there are two strategies for dealing with rising sea levels in coastal communities," says Bluestone. "There's the retreat strategy—just vacate the land. And then there's the adaptation strategy, which is to figure out ways of [for example] permitting water into basements during periodic flooding events and just to be prepared for that." Given Boston's, and BU's, adaptability in the past, Bluestone has good reason to be optimistic. "There's so much important heritage in Boston [at risk] that people will obviously figure out ways of adapting those buildings to keep them around."
John O'Rourke contributed reporting to this story.