In his clothbound daybook dated summer 1932, Lieutenant Thomas Hammond described escorting five American women across the Atlantic Ocean to visit their sons' graves in France. The US War Department sponsored more than 1,300 of these "pilgrimages of remembrance" between 1930 and 1933 to honor widows and mothers of soldiers who had died in World War I. Though the program was short-lived, Hammond's family kept the diary, which his son shared with his friend April Smith (CAS'71), a television writer and producer. Smith thought the mothers' journey "was just the most compelling story in the world"—but it would take her more than 20 years to find the right way to tell it.
"I was writing a lot of movies of the week at the time, so I was trying to pitch it in that arena," she says. "The genre was really current crime stories based on tabloid headline stories about women killing their husbands, setting their pants on fire—that kind of thing." Historical drama did not fit in with this sensationalist programming, and in the years before cable television emerged, there were no alternatives.
Smith shelved the idea and moved on to write and produce several hit television series, including Cagney & Lacey, the first crime show to feature two female leads. To immerse herself in the world of police detectives, she accompanied New York cops on ride-alongs and became addicted to "the visceral experience of pulling up in a squad car somewhere on 42nd Street, with a big crowd gathered, and running with the cops and not knowing what you were going to find," she says in an interview for literary website Identity Theory. "Running [through] a doorway and up these dingy stairs with a trail of blood on them and, at the top of the stairs, who knew what you would find? That adrenaline rush stayed with me." Adrenaline-fueled, character-driven plots became Smith's trademark both in her television work and her popular mystery thrillers starring Ana Grey, an FBI special agent who lives "aggressively without God" and works hundred-hour weeks to advance a career plan "so tight you could plot it on graph paper."
Throughout four Ana Grey novels, a stand-alone thriller starring a female baseball scout, and numerous television series, Smith could not shake the account of the pilgrimages, convinced that the story needed to be told, if she could only find the right way to tell it. She was under contract to write the fifth Ana Grey thriller when a profound personal loss led her back to the war mothers at last.
Smith's father had always wanted to be a writer. He had worked for his college literary magazine, published a science fiction short story, and written two nonfiction books about his career as a doctor in the Bronx, but his fiction-writing dreams took a back seat to his medical profession. He would come home from the office at three o'clock, around the same time Smith finished school. They would have a snack, and then he would lie across her bed with his tie draped over his eyes and tell her science fiction stories. Though he repurposed plots from paperbacks and movies, he had a natural flair for storytelling and inspired his daughter to write. "Because he was so naïve and sweet, he encouraged me to send stories to real magazines like Fantasy & Science Fiction and the New Yorker—and that was when I was eight!"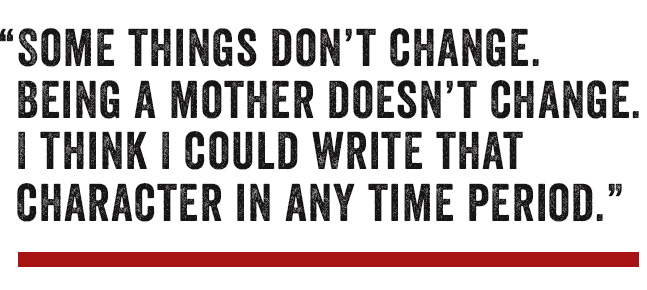 When her father passed away, Smith was devastated. "I experienced deep, abiding grief for the first time," she says. "When you lose someone that important to you, you spend months feeling groundless." Her husband, a psychotherapist, suggested it was time to write about the pilgrimages of remembrance. Smith was "emotionally with these war mothers" and began to write a book about their journey without telling her editor, who was expecting an Ana Grey novel in six months.
Strangers at the start, the five mothers of A Star for Mrs. Blake have nothing in common but the fact that their sons were killed while serving in the Yankee Division of the American Expeditionary Forces. The women become mixed up in a murder, uncover army secrets, and say good-bye to their sons. Before the characters could embark on their journey, however, Smith needed to make the pilgrimage first.
"I always go to every place I write about, and that includes the Dominican Republic or Dodger Stadium in the winter," she says. She visited the National Archives to study the original military records, which documented the pilgrimages in detail. Each of the nearly 7,000 women who made the voyage across the Atlantic had an individual itinerary so specific that Smith discovered where they stayed and where they had tea. She re-created their pilgrimage route to France and toured the Verdun battlefield, "where you can still see the shell craters in the buildings." Along the way, she visited the hotels and cafés, and though "the buildings weren't always there, at least I could be in the same spot. That's where imagination comes in."
It was equally important for Smith to know the mothers making the pilgrimage, and she traveled to each woman's New England hometown. Her main character, Cora, is the librarian in the small fishing village of Stonington, Maine, where Smith had rented houses for many summers. Researching Cora's character "was like going home. All I needed to do was soak up the atmosphere, walk in the rain, talk to people, eat the food, and just take it in." She interviewed the locals about their grandparents' lives as farmers and lobstermen and met "a lady who was 104 years old and sharp as a tack. She told me great stories"—which Smith won't reveal because "it's all in the book." Though Cora's life in the 1930s would have been different from the lives of modern Maine residents, "some things don't change," Smith says. "Being a mother doesn't change. I think I could write that character in any time period."
When it came time to send the manuscript to her editor at Knopf, Smith was nervous, "especially when I didn't hear from Knopf for three weeks. I've been working with them for over 20 years, so we're all on the same team, but publishing is a business, and I was going outside the lines. It was a huge risk." In a remarkable coincidence, editor Carole Baron had just bought a photograph of war mothers from the 1930s because "they touched her heart the way they touched mine," Smith says. Baron bought the novel. Now, more than 20 years after Smith read Hammond's diary, and 80 years after the last pilgrimage, A Star for Mrs. Blake will be published in January 2014.