| | |
| --- | --- |
| Week of 21 January 2000 | Vol. III, No. 20 |

Arts

SFA cellist to revive works with "maximum expression"
By Hope Green
He has soloed in concert halls from Baltimore to Bucharest. He has worked with some of the world's most distinguished conductors. His achievements as a teacher and performer have earned him the highest accolades in his profession. Yet at 80 years old, cellist and Professor Emeritus George Neikrug says he will never tire of going onstage and acting like a child.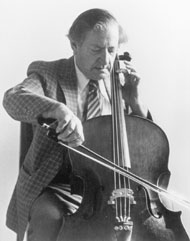 George Neikrug
---
"As humans, many of us are taught not to attract attention to ourselves," says Neikrug, a School for the Arts professor of cello for nearly three decades. "But as a performer you have to go out and use your instrument to cry and scream. Many of the great musicians are those who haven't lost that childlike quality."

A free-spirited, uninhibited style of playing is the example Neikrug has set for hundreds of cello students at SFA and in private lessons. The popular instructor will share his talents with a wider audience when he joins pianist Kathleen Forgac in a recital at the Tsai Performance Center on January 25.

"I've always wanted to do a concert like this," he says. "The program includes three pieces from the first part of the 20th century that have been neglected for the past 50 years and deserve a permanent place in the repertoire."

One of the works is the American premiere of a Franz Reizenstein sonata, which Neikrug performed with the composer at Royal Festival Hall in London, in 1958. In researching the program notes for the upcoming recital, Neikrug was astonished to learn not only that Reizenstein had been a guest composition teacher at SFA in 1956, he also had accompanied SFA Professor Emeritus Roman Totenberg on a South African tour.

The other selections are a piece composed by Nikolai Lopatnikoff in memory of his wife, and a sonata by Franco Alfano, an opera composer who was considered the logical successor to Giacomo Puccini.

Neikrug, too, has a legacy to perpetuate. Born in New York, he was a pupil of the legendary cellist Emanual Feuermann and made his debut in 1947. But his greatest influence has been Demetrius Dounis, a teacher, physician, violinist, and mandolin virtuoso, who was his mentor in the 1940s and early 1950s. Neikrug is considered to be his chief disciple.

Dounis was a consultant to prominent musicians of the past century, including the great violist William Primrose. "He called his method the 'expressive technique,' " Neikrug says. "He would address your technical problems one at a time, and help you to redevelop the instincts you were born with, so that you could achieve maximum expression."

Among other problems, Dounis helped string players treat tendinitis, a frequent hazard of the profession, by correcting their posture and playing habits. For reasons of professional pride, concertmasters of the era tended to keep their visits to Dounis a secret, says Neikrug, "but I was so amazed by his knowledge that I studied with him for 15 years. He set me on a course of perpetual learning."

The association with his mentor eventually would inspire Neikrug to devote his life to teaching. But first he attempted a career in Hollywood, working for a time as principal cellist with the Paramount and Columbia recording studios. (Listen for his cello solos on the soundtrack of Spartacus. He also played with the orchestras for Shane, A Place in the Sun, "and many other films I can't remember.")

When the old contracted studio orchestras broke up, however, Neikrug found the freelance routine untenable. In the early 1960s, he headed to Europe on a Fulbright professorship and taught at Hochschule für Musik in Frankfurt, Germany. Returning to the States, he taught at the Oberlin Conservatory of Music and the University of Texas before arriving at BU in 1971.

Over the years, Neikrug has performed widely in solo recitals and with the Baltimore and Pittsburgh symphony orchestras, the Los Angeles Philharmonic Orchestra, and the Bucharest Philharmonic. In 1995 he received the Artist Teacher Award from the American String Teachers Association, and in 1996 he was presented with the Chevalier du Violincelle award for outstanding lifetime achievement on the cello, at Indiana University.

Neikrug is currently at work on a book of cello exercises for advanced players, which will include a CD-ROM of him demonstrating technical exercises for both hands. The project, he says, is based on a lifetime of teaching and studying, largely reflecting Dounis' influence. A publisher has already expressed interest in the book, which Neikrug expects to complete this spring.

Former students, who have gone on to orchestral positions in Boston, Philadelphia, Cleveland, and abroad, will likely be grateful to see Neikrug recording his teaching methods for posterity. In the meantime, the professor emeritus plans to keep giving lessons at SFA indefinitely. "Teaching," he says, "is one profession where your skills increase with age."
---
Neikrug and Forgac will perform on Tuesday, January 25, at 8 p.m. in the Tsai Performance Center, 685 Commonwealth Avenue. Admission is free and open to the public.
---
| | |
| --- | --- |
| | The Muir String Quartet (left) will host guest artist Stephen Walt on the bassoon on Friday, January 21, at the Tsai Performance Center. They will perform works by Beethoven and Grieg as well as the Boston premiere of Richard Danielpour's Feast of Fools, a concertino for bassoon and string quartet. The concert begins at 8 p.m. For more information, see the calendar item on page 8. Photo by Susan Wilson |