EVENTS
April 7th, 2023, 11:45am ET, Lunch & Learn Alumni Astronaut
Bob Hines graduated from BU's Aerospace and Mechanical Engineering Department in 1997. He also holds a master's degree in aerospace engineering from the University of Alabama and a master's degree from the US Air Force Test Pilot School. He was commissioned in 1999 by the Air Force Officer Training School and has served 18 years on active duty and in the reserves. He has logged more than 3,500 hours of flight time in 41 aircraft, many of these hours as an experimental test pilot for NASA. He recently ended his trip to the ISS and will be sharing his experiences with us.
Please register to attend. You can do this by clicking on the following link:
RSVP: https://forms.gle/EQ9gimnxhGVSmfjK9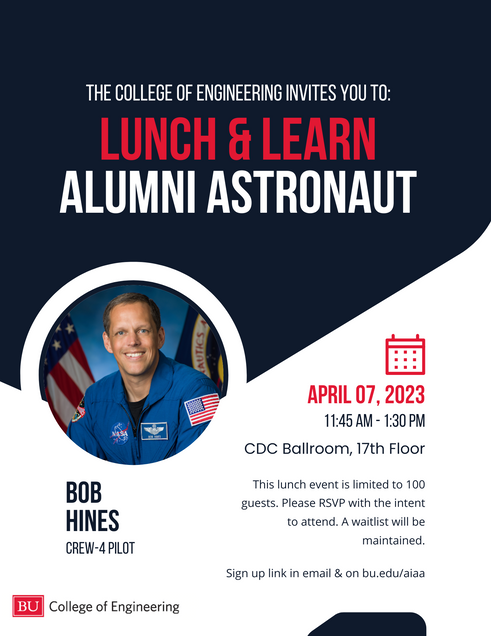 ________________________________
Past events 2020-2021
November 11th, 5:00 pm, Aerospace Concentration Night
Stop on by and ask current AIAA upperclassmen and faculty how to navigate the process with any questions or concerns you might have, or just listen to others to get a better grasp of what the aerospace concentration at BU looks like!
Updated Zoom Link: https://bostonu.zoom.us/j/98477188429?pwd=Ti9NMWZ2b0RXbHhHZXJqNFBXczJ0Zz09
Meeting ID: 984 7718 8429
Passcode: 988697 
October 5th, 6:30 pm :  Virtual panel discussion 
This event is being put together to help students get some information about a few companies that will be recruiting at the October 9th career fair.
Alumni Joe Owen : BAE Systems
Alumni Tony Tang : General Dynamics
Alumni Kayla Kruper : Raytheon
October 2nd: Access GE @ BU Overview

Session A is all about lean with GE Healthcare and Session B is going to be a livestream from the GE Aviation Customer Technical Education Center (CTEC) going over Jet Engine Basics.
September 26th; Pacific Northwest Aero Expo (organized by Portland State University)

Register:  https://sites.google.com/pdx.edu/pdxaerospace/psas-event
September 21st; Career Panel. 

Ruby Precourt : GEAE (Evandale, OH)
Kendra Toole: Blue Origin (Kent, WA)
Larry Wirsing: Aurora Flight Sciences (Cambridge, MA) 
2020 Engineering Splash :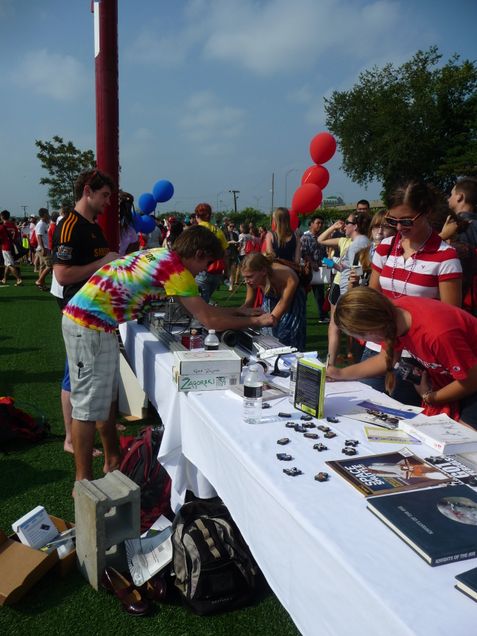 September 11th 4:00 pm.  Join us at the Zoom address : Zoom
_____________________________________________
PAST ACADEMIC YEAR EVENTS: