Member of the Symposium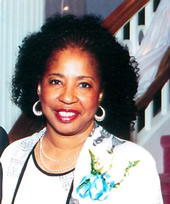 "I encourage people to think of themselves as history makers and cultural bearers…"
-- Jane Wilburn Sapp
Jane Wilburn Sapp is a nationally known cultural worker, artist and educator, who has been a pioneer in the struggle to define cultural work more broadly than entertainment or separate from the work of social justice. Instead, Jane actively engages people in creative cultural processes such as singing, songwriting, storytelling, festivals, oral histories—as a means of building a foundation for empowerment and organizing.
Jane Wilburn Sapp was born in Augusta, GA. At age 9 she began playing the piano for two churches, and at age 12 Jane was the director of two church choirs. She has since performed in concerts at colleges, concert halls, and local communities throughout the U.S., including Carnegie Hall with Pete Seeger. Her performances and cultural work have been presented in schools, conferences and concerts in Sweden, Canada, Senegal and Mali, West Africa. Jane's work is rooted in the spiritual, creative and historical experiences of African-American communities.
Ms. Sapp received a B.A. degree from Marymount College in Salina, KS with further studies at the University of North Carolina in Chapel Hill, N.C.
Jane Wilburn Sapp is currently the Program Coordinator for the Grantee Evaluation and Documentation Project of the Bert and Meyer Foundation in Atlanta, GA. From 1998-2004. She was a Community Fellow and Mel King Fellow at the Massachusetts Institute of Technology in Cambridge, MA. During the same time period, she acted as artist/consultant at Brandeis University. From 1995-2005, Jane directed Voices of Today, a program she created for inner city youths in Springfield, MA, that used music as a vehicle to hear and learn from the experiences and struggles of young people. She was also the co-producer of "Who Will Speak for the Children?" featuring young people from Selma, AL singing songs of struggle; she was the co-producer of "We've All Got Stories," which features children from Mississippi, Alabama, North Dakota, Vermont, Massachusetts and Arkansas telling their stories in powerful and entertaining songs.
Jane is the founder of the Penn Center's Museum of Low Country Culture (St. Helena's Island, South Carolina) and the Black Belt Folk Roots Festival in Greene County, AL.

She also founded the Center for Cultural and Community Development that represented an effort to link experienced cultural workers and activists with each other and with communities.
Jane is the recipient of the Resourceful Women Award sponsored by the Women's Donor Network, the Charles Bannerman Award to community activists, and the Massachusetts' Images of Influence Award. Her educational work with children is the feature of an award winning documentary—Someone Sang for Me, produced by Julie Ackeret.
"Jane Sapp is a musical and cultural power. Her work in the field as a cultural organizer is only matched by what happens when she explodes on stage."
--Bernice Johnson Reagon