The Planning Committee—Members of the Symposium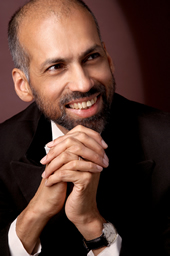 André de Quadros is the Director, School of Music. Professor of Music and Chairman, Department of Music Education. Artistic Director, Boston University Tanglewood Institute. Chairman, Department of Music, College of Arts and Sciences and Graduate School of Arts and Sciences.
BA, University of Bombay; Diploma of Humanities, La Trobe University; Graduate Diploma in Movement and Dance, University of Melbourne; Graduate Diploma in Music, Victorian College of the Arts; Master of Education, La Trobe University; Graduate Certificate of Higher Education, Monash University; graduate studies at Universität Mozarteum in Salzburg, Austria.
Violin studies with Adrian de Mello; Conducting studies with Joachim Buehler and Robert Rosen. DAAD scholarship 1979-1980 for study at the Universität Mozarteum in Salzburg.
Conducting engagements of note include Moscow State Symphony Orchestra, Prokofiev Symphony Orchestra (Ukraine), National Youth Choir of Great Britain, Baden-Baden Orchester, Shiki Daikunokai Choir and Orchestra (Japan), Penang State Symphony Orchestra and Chorus.
Invited presentations include American Orff Schulwerk Association (Philadelphia), World Symposium of Choral Music (Vancouver), Deutscher Sängerbund (Würzburg), National Choral Seminar (Singapore).
Conductor, Tanglewood Institute Young Artists Orchestra, 2003.
Conductor, Massachusetts All-State Chorus, 2004.
Former position Associate Professor and Director of Music Performance at Monash University School of Music - Conservatorium, Australia. Awards include Monash University Vice-Chancellor and President's Special Commendation for Distinguished Teaching. Accredited Teacher, SEDA (UK).
Former Artistic Director, Melbourne International Festival of Choirs. Editor, Music of Asia and the Pacific, Earthsongs, Oregon and Songs of the World, Hinshaw Music, North Carolina. Board member, International Federation for Choral Music, and Chair of its Multicultural and Ethnic Commission. Board member: Project STEP, Boston Baroque, American Choral Directors Association (Massachusetts). Member, Editorial Committee, Music Education International (International Society for Music Education journal). Member, Editorial Board, Journal of Educational Inquiry. Member, Advisory Board, Boston University Center for Excellence in Teaching. Present position, 2001.