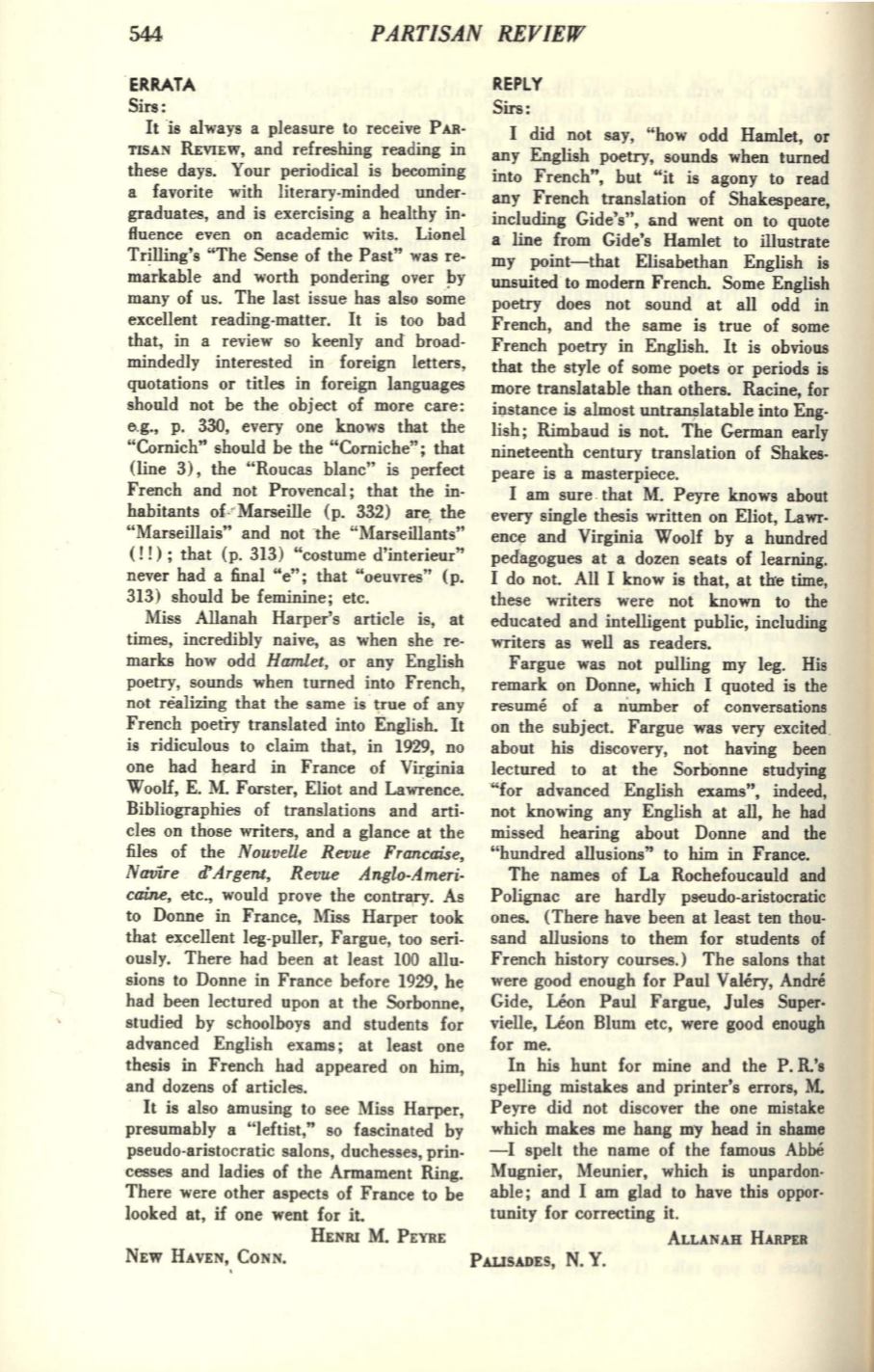 PARTISAN REVIEW
ERRATA
It 'is always a pleasure to receive PAR·
TISAN REVIEW, and refreshing reading in
these days. Your periodical is becoming
a favorite with literary-minded under·
graduates, and is exercising a healthy in•
fluence even on academic wits. Lionel
Trilling's "The Sense of the Past" was re–
markable and worth pondering over by
many of us. The last issue has also
excellent reading-matter. It is too bad
that, in a review so keenly and broad–
mindedly interested in foreign letters,
quotations or titles in foreign languages
should not be the object of more care:
e.g., p. 330, every one knows that the
"Cornich" should be the "Corniche"; that
(line 3), the "Roucas blanc" is perfect
French and not Provencal; that the in–
habitants of·'Marseille (p. 332) are, the
"Marseillais" and not "the "Marseillants"
never had a final "e"; that "oeuvres" (p.
Miss Allanah Harper's article is, at
times, incredibly naive, as when she re–
Hamlet,
poetry, sounds when turned into French,
not realizing that the same is true of any
French poetry translated into English. It
is ridiculous to claim that, in
one had hjlard in France of Virginia
Woolf, E. M. Forster, Eliot and Lawrence.
Bibliographies of translations and arti·
cles on those writers, and a glance at the
Nouvelle Revue Francaise,
Navlre
Argent, Revue Anglo-Ameri–
caine,
etc., would prove the contra,ry. As
to Donne in France, Miss Harper took
that excellent leg-puller, Fargue, too seri–
ously. There had been at least
sions to Donne in France before
had been lectured upon at the Sorbonne,
studied by schoolboys and students for
advanced English exams ; at least one
thesis in French had appeared on him,
It is also amusing to see Miss Harper,
presumably a "leftist," so fascinated by
pseudo-aristocratic salons, duchesses, prin–
cesses and ladies of the Armament Ring.
There were other aspects of France to be
looked at, if one went for it.
REPLY
I did not say, "how odd Hamlet, or
any English poetry, sounds when turned
into French", but "it is agony to read
any French translation of Shakespeare,
including Gide's", &nd went on to quote
a line from Gide's Hamlet to illustrate
my point-that Elisabethan English is
unsuited.to modern French. Some English
poetry does not sound at all odd in
French, and the same is true of some
French poetry in English. It is obvious
that the style of some poets or periods is
more translatable than others. Racine, for
!ish; Rimbaud is not. The German early
nineteenth century translation of Shakes·
I am sure . that M. Peyre knows about
every single thesis written on Eliot, Lawr·
enc!l and Virginia Woolf by a hundred
pedagogues at a dozen seats of learning.
I do not. All I know is that, at tire time,
these writers were not known to the
educated and intelligent public, including
writers as well as readers.
Fargue was not pulling my leg. His
remark on Donne, which I quoted is the
resume of a number of conversations
on the subject. Fargue was very excited.
about his discovery, not having been
lectured to at the Sorbonne studying
'"for advanced English exams", indeed,
not knowing any English at a:U, he had
missed hearing about Donne and
The names of La Rochefoucauld and
Polignac are hardly pseudo-aristocratic
ones. (There have been at least ten thou·
sand allusions to them for students of
French history courses.) The salons that
were good enough for Paul Valery, Andre
Gide, Leon Paul Fargue, Jules Super·
vielle, Leon Blum etc, were good enough
In his hunt for mine and the P. R's
spelling mistakes and printer's errors, M.
Peyre did not discover the one mistake
which makes me hang my head in shame
-1 spelt the name of the famous Abbe
Mugnier, Meunier, which is unpardon·
able; and I am glad to have this oppor·