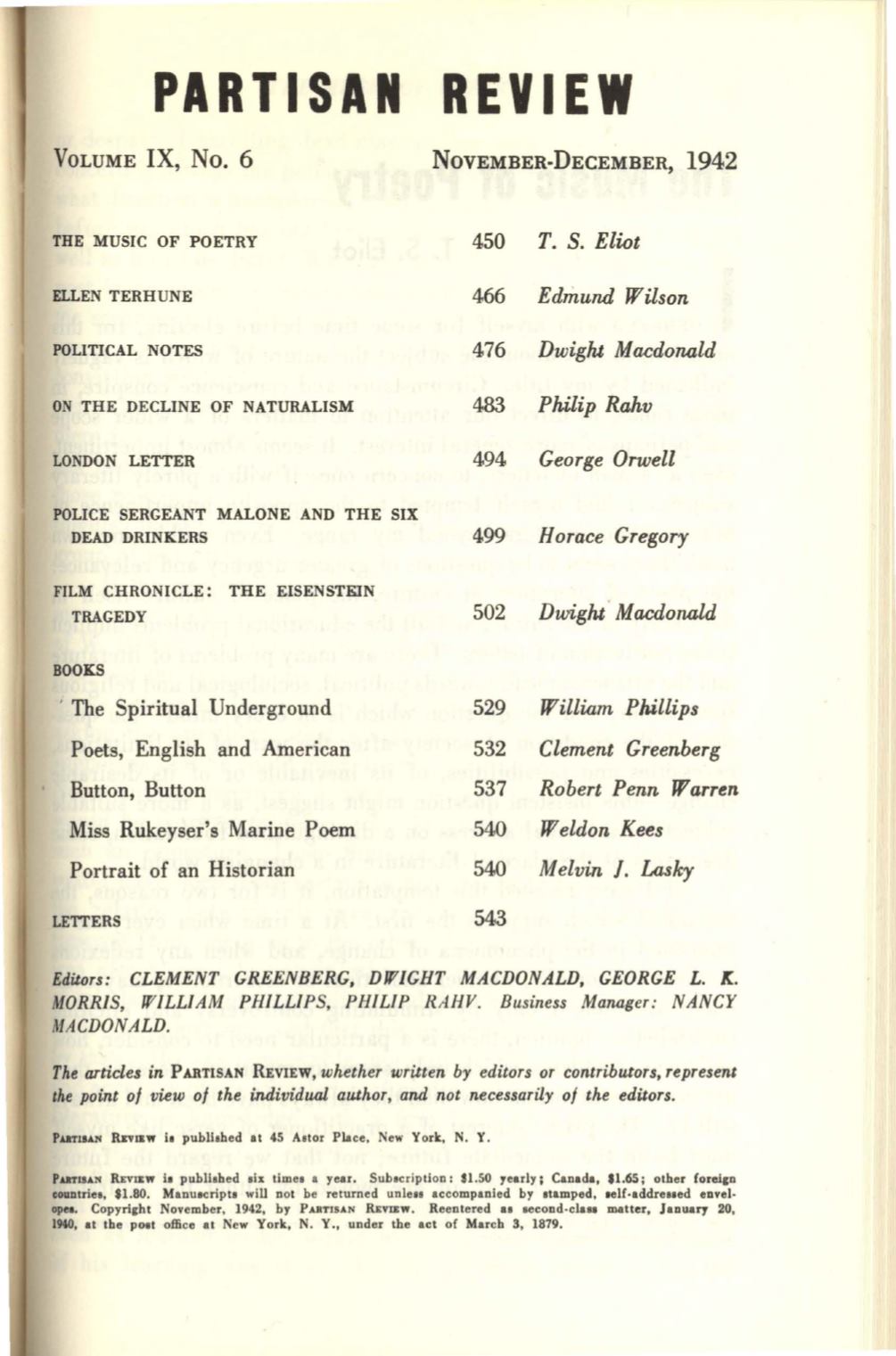 PARTISAN
ON THE DECLINE OF NATURALISM
POLICE SERGEANT MALONE AND THE SIX
FILM CHRONICLE: THE EISENSTEIN
' The Spiritual Underground
Poets, English and American
Miss Rukeyser's Marine Poem
REVIEW
Eliot
Edmund Wilson
Dwight Macdonald
Philip Rahv
George Orwell
Horace Gregory
Dwight .Macdonald
William Phillips
Clement Greenberg
Robert Penn Warren
Weldon Kees
Melvin
Lasky
Editors: CLEMENT GREENBERG, DWIGHT MACDONALD, GEORGE L.
MORRIS, WILLIAM PHILLIPS, PlllLIP RAHV. Business Manager: NANCY
MACDONALD.
The articles in
whether written by editors or contributors, represent
the point of view of the individual author, and not necessarily of the editors.
io publlobed at 45 Astor Place, New York, N. Y.
PA&TIIAN
R.Evaw
h
publiahed six timet a year.
Subtcriptioo : $1.50 yearly; Canada, 11.65;
other foreicn
eountriet, $1.80. Manuacripu will not be returned unleu accompanied by •tamped, •elf-addreaaed envel–
ope•. Copyright November, 1942,
by
PABTIU.N
R.l:vmw. Reentered u tecond-cla11 matter, January 20.
1940,
at
the
po.t
office at New York, N. Y ., under the act of March 3, 1879.