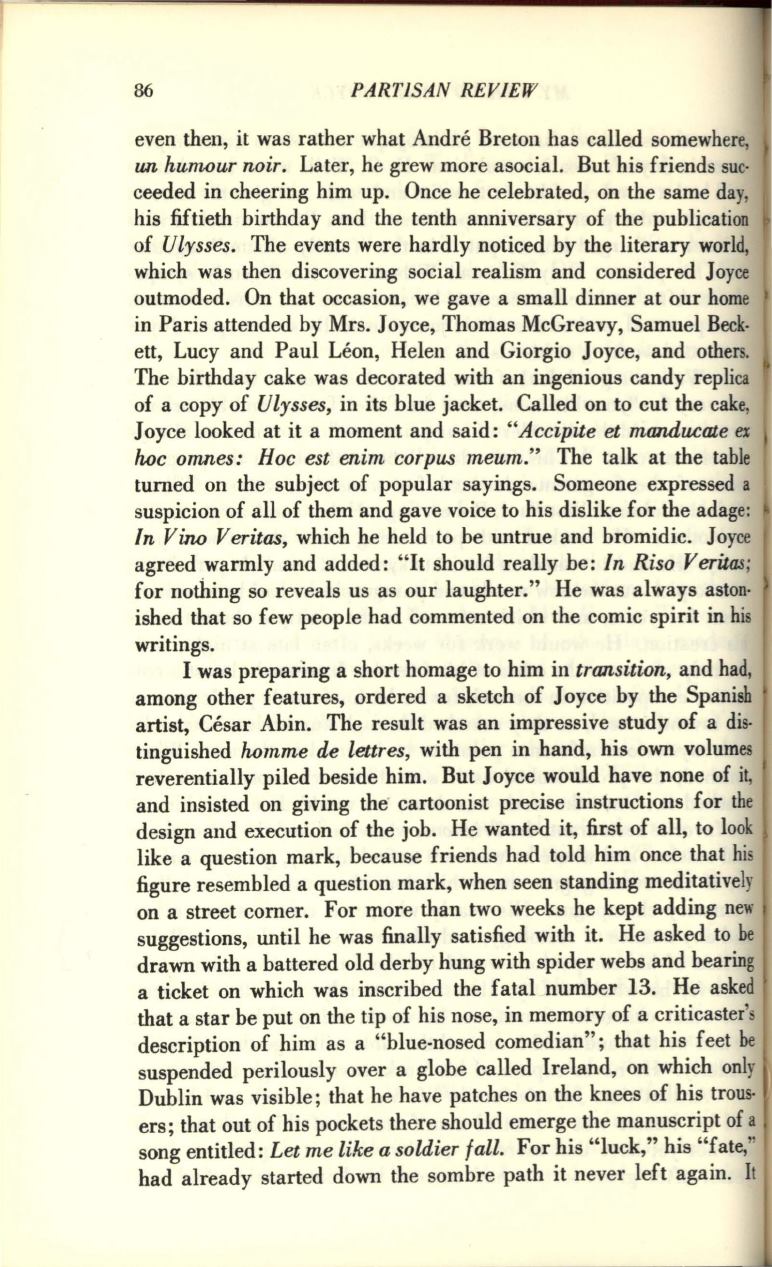 PARTISAN REVIEW
even then, it was rather what Andre Breton has called somewhere,
un humour noir.
Later, he grew more asocial. But his friends sue·
ceeded in cheering him up. Once he celebrated, on the same day,
his fiftieth birthday and the tenth anniversary of the publication
Ulysses.
The events were hardly noticed by the literary world,
which was then discovering social realism and considered Joyce
outmoded. On that occasion, we gave a small dinner at our home
in Paris attended by Mrs. Joyce, Thomas McGreavy, Samuel Beck·
ett, Lucy and Paul Leon, Helen and Giorgio Joyce, and others.
The birthday cake was decorated with an ingenious candy replica
Ulysses,
in its blue jacket. Called on to cut the cake,
Joyce looked at it a moment and said:
"Accipite et manducate
ex
/we
omnes: Hoc est enim corpus meum."
turned on the subject of popular sayings. Someone expressed a
suspicion of all of them and gave voice to his dislike for the adage:
In
ino
eritas,
which he held to be untrue and bromidic. Joyce
agreed warmly and added: "It should really be:
In Riso Verita.s;
for nothing so reveals us as our laughter." He was always aston·
ished that so few people had commented on the comic spirit in his
I was preparing a short homage to him in
transition,
among other features, ordered a sketch of Joyce by the Spanish
artist, Cesar Abin. The result was an impressive study of a dis·
lwmme de lettres,
with pen in hand, his own volumes
reverentially piled beside him. But Joyce would have none of it,
and insisted on giving the cartoonist precise instructions for the
design and execution of the job. He wanted it, first of all, to look
like a question mark, because friends had told him once that his
figure resembled a question mark, when seen standing meditatively
on a street comer. For more than two weeks he kept adding new
suggestions, until he was finally satisfied with it. He asked to be
drawn with a battered old derby hung with spider webs and bearing
a ticket on which was inscribed the fatal number 13. He asked
that a star be put on the tip of his nose, in memory of a criticaster's
description of him as a "blue-nosed comedian"; that his feet
suspended perilously over a globe called Ireland, on which only
Dublin was visible; that he have patches on the knees of his trous·
ers; that out of his pockets there should emerge the manuscript of a
Let me like a soldier fall.
For his "luck," his "fate,"
had already started down the sombre path it never left again.