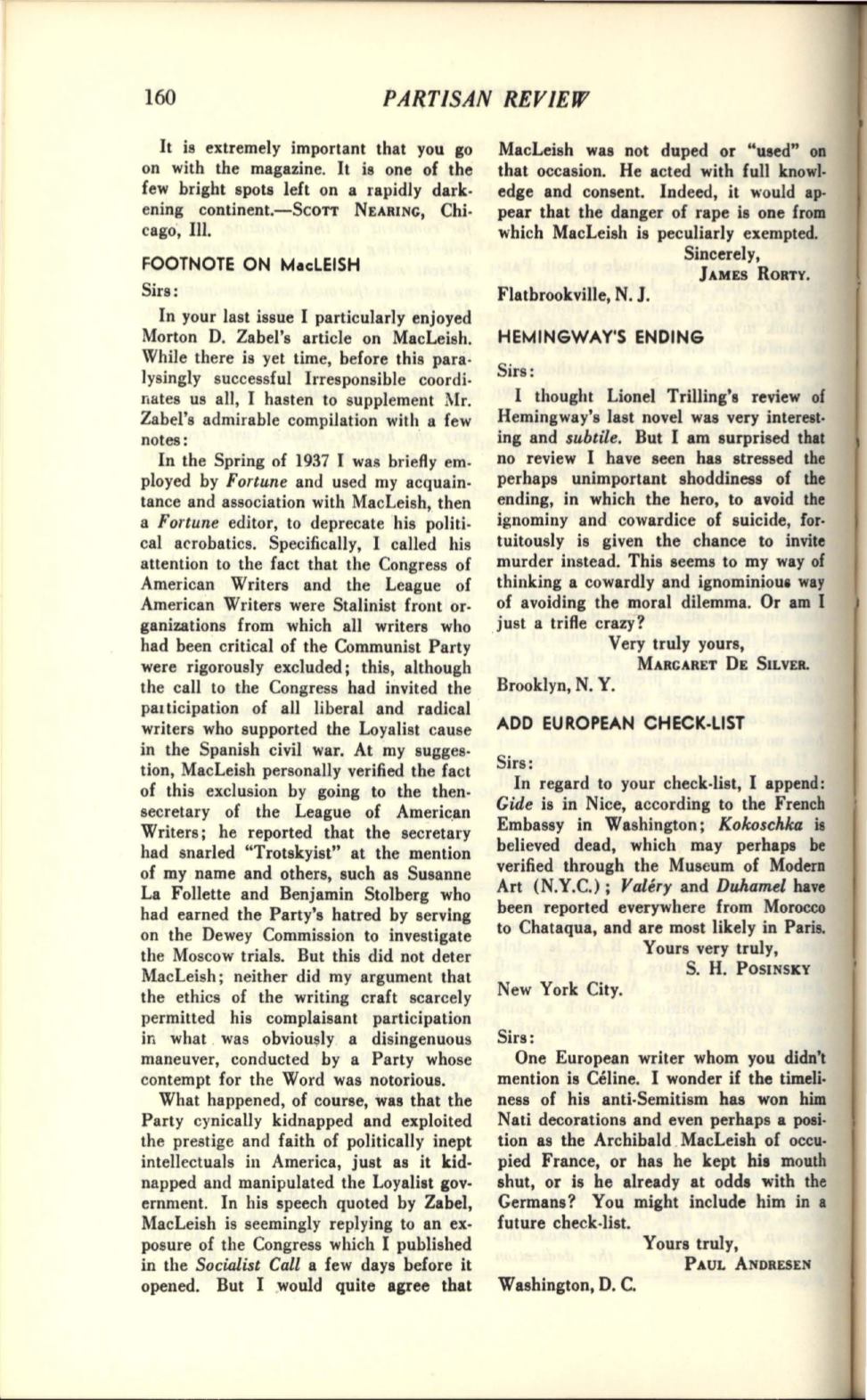 PARTISAN REVIEW
It is extremely important that you go
few bright spots left on a rapidly dark·
ening continent.-ScoTT NEARING, Chi·
In your last issue I particularly enjoyed
Morton D. Zabel's article on MacLeish.
While there is yet time, before this para·
lysingly successful Irresponsible coordi·
nates us all, I hasten to supplement Mr.
Zabel's admirable compilation with a few
Fortune
tance and association with MacLeish, then
Fortune
editor, to deprecate his politi·
cal acrobatics. Specifically, I called his
attention to the fact that the Congress of
American Writers and the League of
American Writers were Stalinist front or·
ganizations from which all writers who
had been critical of the Communist Party
were rigorously excluded; this, although
the call to the Congress had invited the
pa1 ticipation of all liberal and radical
writers who supported the Loyalist cause
in the Spanish civil war. At my sugges·
tion, MacLeish personally verified the fact
of this exclusion by going to the then·
secretary of the League of Americ.an
Writers; he reported that the secretary
had snarled "Trotskyist" at the mention
of my name and others, such as Susanne
La Follette and Benjamin Stolberg who
had earned the Party's hatred by serving
on the Dewey Commission to investigate
the Moscow trials. But this did not deter
MacLeish ; neither did my argument that
the ethics of the writing craft scarcely
permitted his complaisant participation
in what . was obviously a disingenuous
maneuver, conducted by a Party whose
contempt for the Word was notorious.
What happened, of course, was that the
Party cynically kidnapped and exploited
the prestige and faith of politically inept
intellectuals in America, just as it kid·
napped and manipulated the Loyalist gov–
ernment. In his speech quoted by Zabel,
MacLeish is seemingly replying to an ex–
posure of the Congress which I published
Socialist Call
opened. But I .would quite agree that
MacLeish was not duped or "used" on
that occasion. He acted with full know).
edge and consent. Indeed, it would ap·
pear that the danger of rape is one from
which MacLeish is peculiarly exempted.
I thought Lionel Trilling's review of
Hemingway's last novel was very interest·
subtile.
no review I have seen has stressed the
perhaps unimportant shoddiness of the
ending, in which the hero, to avoid the
ignominy and cowardice of suicide, for–
tuitously is given the chance to invite
murder instead. This seems to my way of
thinking a cowardly and ignominioua way
of avoiding the moral dilemma. Or am I
In regard to your check-list, I append:
Gide
is in Nice, according to the French
Kokoschka
believed dead, which may perhaps be
verified through the Museum of Modern
Valery
Duhamel
been reported everywhere from Morocco
to Chataqua, and are most likely in Paris.
One European writer whom you didn't
mention is Celine. I wonder if the timeJi.
ness of his anti-Semitism has won him
Nati decorations and even perhaps a posi·
tion as the Archibald .MacLeish of occu–
pied France, or has he kept his mouth
shut, or is he already at odds with the
Germans? You might include him in a