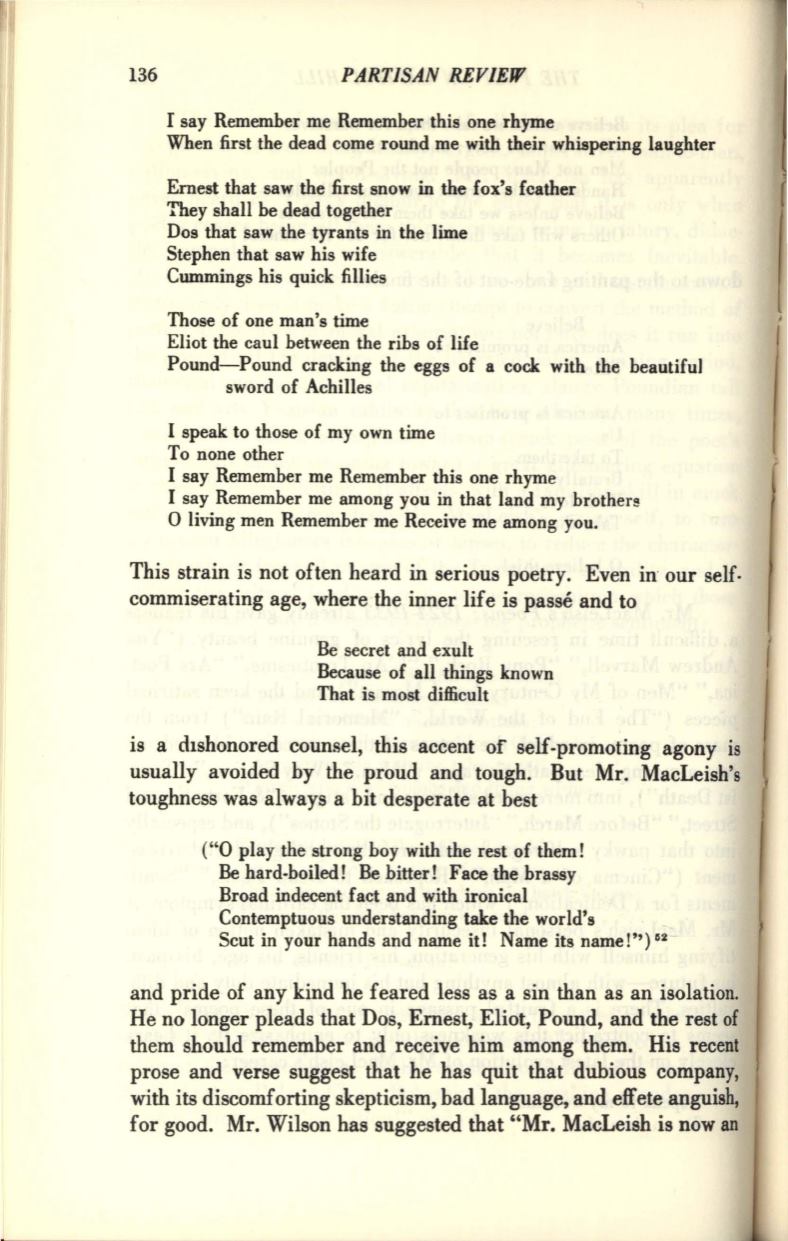 PARTISAN REVIEW
I say Remember me Remember this one rhyme
When first the dead come round me with their whispering laughter
Ernest that saw the first snow in the fox's feather
They shall he dead together
Dos that saw the tyrants in the lime
Stephen that saw his wife
Cummings his quick fillies
Eliot the caul between the ribs of life
Pound-Pound cracking the eggs of a cock with the beautiful
speak to those of my own time
say Remember me Remember this one rhyme
say Remember me among you in that land my brothers
living men Remember me Receive me among you.
This strain is not often heard
serious poetry. Even in our self.
commiserating age, where the inner life is passe and to
Because of all things known
is a dishonored counsel, this accent of self-promoting agony is
usually avoided by the proud and tough. But Mr. MacLeish's
toughness was always a bit desperate at best
play the strong boy with the rest of them!
Be hard-boiled! Be hitter! Face the brassy
Broad indecent fact and with ironical
Contemptuous understanding take the world's
Scut in your hands and name it! Name its name!'')
and pride of any kind he feared less as a sin than as an isolation.
He no longer pleads that Dos, Ernest, Eliot, Pound, and the rest
them should remember and receive him among them. His recent
prose and verse suggest that he has quit that dubious company,
with its discomforting skepticism, bad language, and effete anguish,
for good. Mr. Wilson has suggested that "Mr. MacLeish is now an